Monthly Archives:
June 2023
We were happy to open the farm for a strawberry u-pick last weekend. It was hot but everyone did great! The picking was easy and the flavor intense. I must tell you – these are the best-tasting berries we have ever grown. It's mostly because it's rained so little. We irrigate every five days or so, but can still avoid the disease problems that come with rain. With all the sunshine, the berries have intensely concentrated flavor. So, we're pretty proud of them and were glad people could experience that themselves directly in the berry patch. Enjoy this week's berries in your box.
Beth
Veggie List & Veggie Notes
Week #7, June 29/30, 2023
– Weekly shares
– BiWeekly/ purple
– Sampler/ C group
Beth's produce notes;
– We are sending dill to accompany the first batch of cucumbers, for quick pickles of course. Dill is wonderful with cabbage too and Deb found us a nice recipe for yogurt-dill sauce. That kind of sauce is great on salmon. I've seen recipes for lemon-dill aioli that I might try this weekend. FYI, this approach is useful for pasteurizing egg yolks in the microwave when making aioli or Caesar salad dressing.
– Reminder; I gathered lots of scallion recipes from previous years in last week's newsletter. Personally, I add scallions to everything I cook. Maybe not baked goods.
Strawberries, 1 pint
Caraflex cabbage
Fennel, 1 – 2 bulbs with fronds
Snap peas, and
Snow peas
(The peas are together in one bag, with total weight 3/4 lb)
Zucchini &/or yellow squash, ~2.5 lb
Cucumbers, ~3
Lettuce, red bibb OR iceberg
Scallions, 1 bunch
Dill, 1 bunch
Garlic scapes, a handful
Next week's box will probably contain cucumbers, zucchini, broccoli, scallions, basil, and more.
Strawberries – Refrigerate and eat soon! This week's berries are excellent again; great quality and so full of flavor.
'Caraflex' cabbage (pointy cabbage) – These are nice salad-types that we grow in summer. Don't you love the pointy shape? They have thinner, more tender leaves than typical green cabbage. Great in salads and slaws but can also be cooked. Here's the Caraflex description from the seed catalogue: "Inner leaves are tender, crunchy, and have an excellent, sweet and mild cabbage flavor. Perfect for summer salads, slaws, or cooked dishes."
Fennel (bulbs and lacy fronds) – Fennel is a 'swing vegetable'; it can be used raw or cooked. Clean well and slice as thinly as possible for use in raw salads. It is good simply prepared with olive oil, lime or lemon juice, salt and shaved parmesan cheese. Cooking softens and sweetens fennel, and mellows its anise flavor. Both the bulb and leaves are edible. Here are ideas from Alice Water of Chez Panisse about how to use fennel: 'It's strong anise characteristic seems to suit fish particularly well. … We use fennel all the time. We add the feathery leaves to marinades for fish and to numerous salads, sauces and soups and we use them as a garnish, too. … The bulbs are sliced and served raw in salads in various combinations with other vegetables, parboiled for pastas; caramelized and served as a side dish; braised whole; or cooked in vegetable broths & fish stocks."
Snap peas and snow peas. You only have to remove strings from the snow peas this week.
– Snap peas (plump pea pods) – These peas should be eaten pod and all. They are delicious raw, or very lightly cooked or stir-fried.
Preparation: They will need a quick rinse to remove faded gray blossoms. This week's snap pea variety does not have strings to remove, although you'll want to snap off the stem ends.
Storage: Refrigerate.
– Snow peas (larger, flatter pea pods) – These are excellent stir fried or in raw salads.
Preparation: The snow peas do have strings to remove. Snap off the stem end and pull the string down the concave side of the pod (the inward-curing side). Throw away the string and eat the pod. The thicker pea pods will usually have a string along both edges. Remove them when you snap off the stem.
Zucchini & summer squash – Zucchini and summer squash need refrigeration but do not do well at very cold temperatures, as they will soften and form pits in their surface. Refrigerate these squash but in the warmest part of your fridge.
Cucumbers – We have been waiting for these!
Storage: Store at room temperature for a few days or refrigerate in the warmest part of your fridge. Cucumbers get chilling injury if stored too cold.
Dill (bundle of lacy leaves and flowers) – The dill bunches contain a mix of leaves and flowers, and even clusters of young seeds. If you make refrigerator pickles, try the flowers or young seeds. Minced dillweed leaves are great in cabbage dishes, soups, sauces, breads.
Garlic scapes (curly green things) – Garlic scapes grow at the top of garlic plants. We snap off the young scapes to direct the plants' energy into forming garlic bulbs underground. Use scapes as a substitute for garlic cloves. They can be minced, mixed with olive oil, and added to stir fries or simple pasta dishes. The scapes can be sautéed, but will not brown like garlic cloves. Expect them to retain their crunch even when cooked, and to be milder than garlic cloves, closer in pungency to the green garlic we've sent.
RECIPES by DEB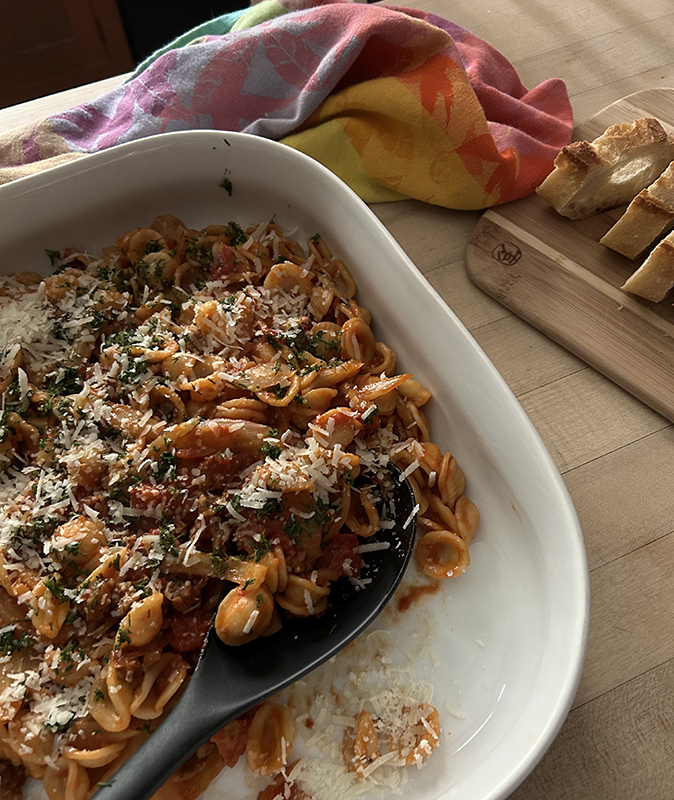 Fresh Fennel & Sausage Pasta with Fennel Frond Gremolata
Fresh fennel and sausage are a natural together – the seasoning for Italian sausage typically includes fennel seed. You could make this pasta vegetarian by simply omitting the meat – start by cooking the onions, garlic, and fennel in olive oil, and then add the tomatoes. I've used canned tomatoes here but when fresh tomatoes are available, 2 cups of fresh tomatoes, peeled and chopped, would be even better than canned!
Serves: 4-6
Takes: about 45 minutes
Sauce Ingredients:
1/2 pound pork or turkey sausage, removed from casings if links
1 tablespoon olive oil
1 cup chopped onion
2-4 cloves garlic
salt and freshly ground pepper to taste
optional (depending on how spicy your sausage is) 1 teaspoon fennel seeds, a few shakes of red pepper flakes
1/2 cup white wine
2 cups thinly sliced fennel bulb
1 14 oz can diced tomatoes
2-4 tablespoons tomato paste, dissolved in about 1/3 cup water
Gremolata:
1/4-1/3 cup fennel fronds, finely minced
zest of one large lemon
1 small garlic clove (half of a larger clove)
pinch of salt
Pasta:
1/2 pound pasta, short shapes such as orecchiette, penne, or bow ties recommended
1/3 cup Parmesan cheese, plus more for passing
Brown the sausage in a wide deep skillet with a lid, crumbling it with a wooden spoon. If you are using turkey sausage, add the olive oil to the pan first! When there's almost no pink left and the sausage is starting to brown, if using pork, drizzle in the olive oil (omit this step if your sausage has given off a lot of fat already) and add the onion, garlic, salt and pepper, and optional fennel seed and red pepper. Add the wine and let it boil off. Reduce the heat and cook gently while you slice the fennel.
Separate the stalks and fronds from the fennel bulb. Slice off the bottom of the bulb, remove any damaged leaves, and rinse. Cut the bulb in half and optionally remove the core – the core is entirely edible, but will take longer to tenderize than the rest. Slice the bulb halves lengthwise into slices as thin as you can get them. If you leave the core in you will have bigger slices of fennel held together by the core. Add the fennel to the pan with the sausage and onion, stir, and cover. Cook for about 15 minutes over low heat, checking the fennel for tenderness with a fork.
When the fennel is tender, uncover and add the tomatoes. Put the water into the empty can and stir in the tomato paste. Add to the sauce, rinsing the can with a little more water. Bring to a simmer and cook for about 15 minutes, until the tomatoes are starting to break down and the sauce is thickened.
Make the gemolata: placed the minced fennel frond in a small bowl. If you have a microplane grater, set it on top of the bowl and grate in the lemon zest and garlic. If you don't have a microplane grater, peel off the lemon zest with a peeler and dice finely, and either mince or put the garlic through a press. Add a pinch of salt and mix – taste to make sure none of the flavors is overpowering the others.
Cook the pasta in a large pot of salted water. Drain and add sauce – you might not use it all. Top with gremolata and Paremesan cheese and serve right away with baguette slices and more Parmesan.
Fresh Cabbage and Herb Slaw | Taproot Farm
By Katie Darlington
From Taproot Farm
Here's a recipe for the Caraflex cabbage and dill in this week's box, from a Pennsylvania CSA, Taproot Farm, in Berks County PA. They suggest serving this slaw on top of pulled pork sandwiches or stuffing it into a pita for a vegetarian sandwich – I suggest a little cheese in the pita too.
.
.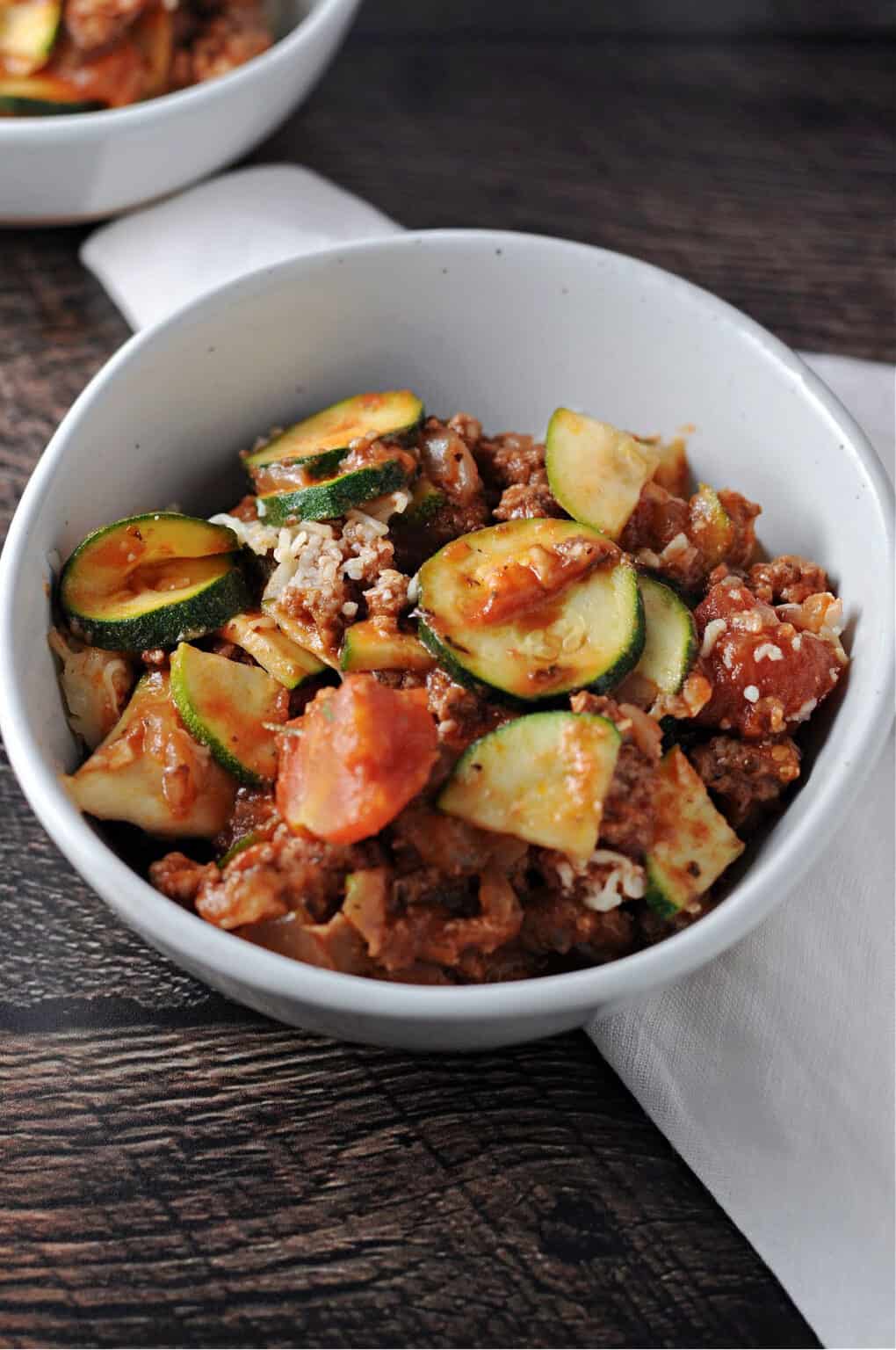 by Sula
Zucchini Casserole with Ground Beef | Sula and Spice
From Sula and Spice
I'd like to try this quick zucchini casserole with with a cornbread topping. Any cornbread recipe that fills an 8×8 pan would be the right amount – or one box of Jiffy cornbread mix! You can sub ground turkey of plant-based meat for the beef.
.
.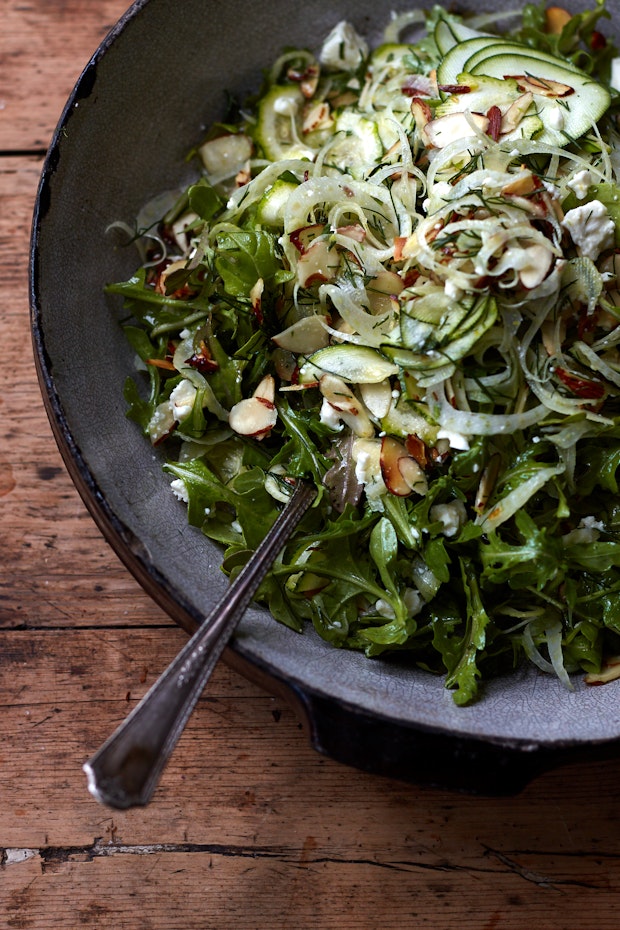 Photo by Heidi Swanson
Shaved Fennel Salad – 101 Cookbooks
From 101 Cookbooks
Food blogger, vegetarian chef, and photographer Heidi Swanson included this recipe in her book, Super Natural Every Day, but in the book it doesn't have a picture so she is remedying that here on her blog. Heidi serves this salad on arugula, but you could easily use the red leaf lettuce in this week's box as a bed for the salad.
.
.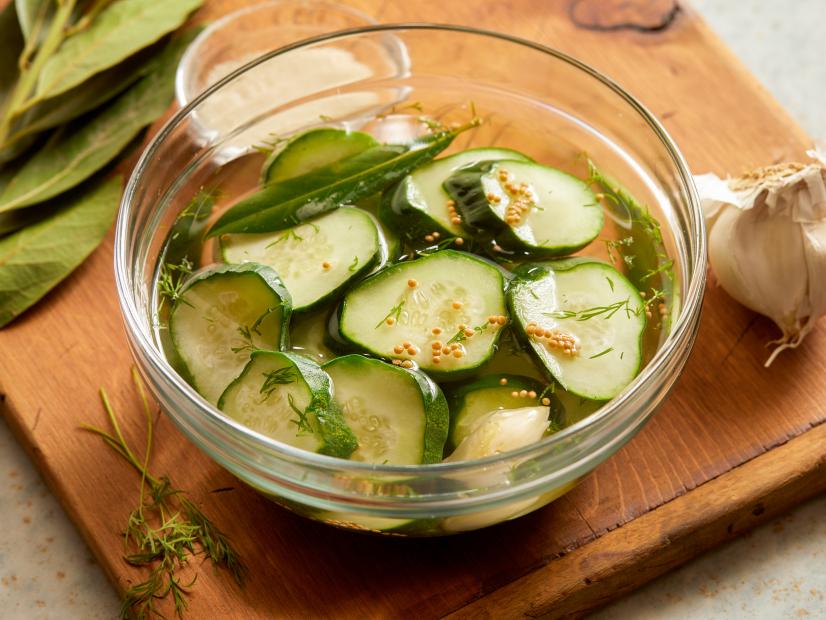 by Rachel Ray
Quick Pickles Recipe | Rachael Ray | Food Network
From Food Network
This recipe for quick refrigerator pickles calls for Kirby (pickling) cucumbers, but can be made with the cukes in our box – and you can use the same brine to pickle zucchini, summer squash, and even fennel stalks! At a restaurant in Chicago, I was recently served an arugula salad that was topped with pickled fennel stalks and red onion that was super tasty.
.
.

Photo by Géraldine
Roasted Pointed Cabbage with Tahini Sauce | La Cuisine de Géraldine
From La Cuisine de Géraldine
Caraflex cabbage is also called hipsi cabbage, or simply pointed cabbage, and while it is so tender it's very good raw, here it's roasted to serve as an elegant first course. The 100g of Greek yogurt is about 1/4 cup, and 50ml olive oil is about 3 tablespoons.
.
.

Roasted Zucchini with Yogurt Dill Sauce | The Toasted Pine Nut
From The Toasted Pine Nut
Roast your zucchini and serve with a dill yogurt sauce for a quick, summery side dish. You could roast the zucchini in the morning when it's cool.
.
.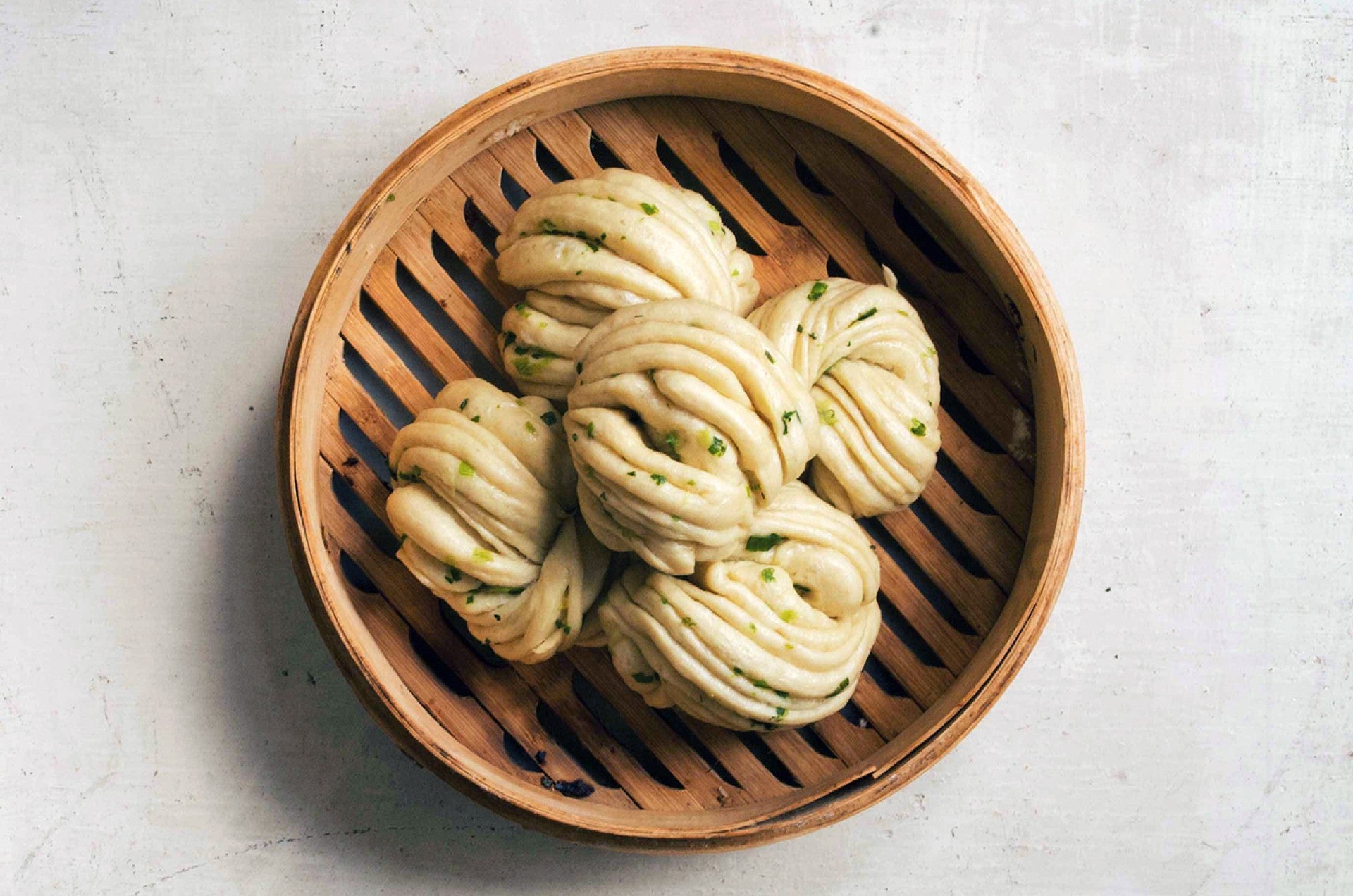 By Frankie Gaw
Scallion Buns Recipe | King Arthur Baking
From King Arthur Baking
Blogger and cookbook author Frankie Gaw contributed this steamed scallion buns recipe to King Arthur Flour. It make A LOT of buns, but leftovers can be frozen.
.
.

Cold Green Pea and Cucumber Soup | The Vegan Atlas
From The Vegan Atlas
This vegan soup calls for English cucumbers which are seedless; I recommend that you seed our cukes. To seed cucumbers, cut them in half lengthwise and scoop out the seeds with a spoon. Peeling is optional and the recipe provides a note on the question of to peel or not to peel. You will have a smoother soup if you peel. Garnish with the snow & snap peas from our box, and add extra dill if you do not have the other fresh herbs.