Week #23; Season is almost over. Nature surges on.
It is hard to believe that our regular CSA season is almost over!
Wow, it's been an excellent growing season. Let's review our final deliveries:
– This week (Oct 21) is the final delivery for our EOW/purple and Sampler/sun members.
– Deliveries ended two weeks ago for our Sampler/moon group.
– Next week (Oct 28) is the final delivery for Weekly and EOW/green.

Scallion harvest on a beautiful afternoon.
Nature surges on.
By October 21 in most years, many of our crops are shut down by cold weather and frost. We hurry about to harvest the last peppers or protect them from frost. Not this year! Our fall crops continue to absorb the late warmth, and continue to grow. The upsides of a warm fall are extra growth and pleasant working conditions. Our fall work is much easier and less stressful in mild weather.
The downside is that some crops need cold nights to trigger maturation. Some cauliflower and Romanesco broccoli varieties behave that way, and have not formed their heads yet. Other crops like Brussels sprouts and parsnips improve in quality after repeated frosts. We couldn't wait any longer, so we're sending both of those vegetables this week. They're still good, just less sweet.
Obviously, the biggest downside is concern that we're experiencing the effects of global warming.
Beth
Veggie List & Veggie Notes
Week #23
– Weekly shares
– EOW/ purple
– Sampler/ sun
Brussels sprouts, 1 lb
Parsnips, ~1.5 lb
Satina potatoes, 3.5 lb
Leeks, ~2 count
Koji greens
Poblano chiles (in Brussels sprouts bag), 2
Frying or bell peppers, 3 – 4
Scallions, 1 bunch
Shallots, 1 or 2
– Most sites get broccoli.
– A few sites get cauliflower.
– A few sites get Jester winter squash OR sweet potatoes.
Next week's box will probably contain Brussels sprouts, butternut squash, sweet potatoes, celeriac, beets and more.
Brussels sprouts – If you are a new CSA member, please approach Brussels sprouts with an open mind. Many of us grew up eating awful, overcooked Brussels sprouts. These Brussels sprouts are completely different.
This week's sprouts – These have flaws and need a close look. Peel off any bad outer leaves.
Here is our method to cook Brussels sprouts: Wash the sprouts and trim the cut ends. Cut an X in the stem end of large sprouts. Cut a single slit in small or medium sprouts. This does two things. It helps the Brussels sprouts cook evenly, plus it allows them to soak up any marinade or dressing. Place sprouts in a pot with one inch of water in the bottom and steam until tender, 7 to 10 minutes. If the sprouts are uneven in size, then set aside the smallest ones and add to the pot after the larger ones have cooked for a few minutes. Don't overcook them! You can also oven-roast Brussels sprouts.
Here are a few dressing ideas for cooked sprouts:
– Sherry vinegar/olive oil/Dijon mustard/garlic/white wine/salt and pepper. This is our favorite, especially when you combine the Brussels sprouts with slivered peppers and thinly sliced onions. Delicious warm, cold, or at room temperature.
– Balsamic vinegar/olive oil/garlic/salt and pepper
– Lemon juice and zest/melted brown butter/poppy seeds/white wine/garlic/salt
Parsnips (These look like large white carrots) – Those long, white roots are not carrots, they are parsnips. The two vegetables are related. When cooked, parsnips are sweet and starchy. For the best flavor, brown them to caramelize the sugars. Here are a few ideas for parsnip preparation:
– Caramelize the parsnips by roasting them in a vegetable medley.
– Parsnip fries are delicious: cut like French fries, oil lightly, place on a cookie sheet and roast in a hot oven until brown and cooked through.
– Try substituting grated parsnips in a potato pancake recipe. They brown beautifully and are very tasty.
– Steve loves pan-fried parsnips with onions and garlic.
Satina yellow potatoes – These are from our friends Brad and Brian Igl's farm near Antigo. Store dry at room temperature, in the paper bag to protect from light. These are good all-purpose potatoes. They roast very nicely.
Leeks (look like big scallions) – These alliums have a milder flavor than onions. Nonetheless, they can be used in recipes that call for onions. To wash, split the leek lengthwise, from the green tops about halfway to the base, leaving the base intact. Rinse well under running water, separating the layers to flush. If necessary, split the leek further if soil has penetrated more than halfway down the leek. Shake dry. Leeks are generally eaten cooked. They can be sauteed, steamed or roasted. Intact leeks will store 2 to 3 weeks if covered loosely and refrigerated. The outer leaves will yellow. Just peel them off and discard. The inner leek layers will be fine.
Koji greens (head of dark green leaves) – Refrigerate.
Koji greens are a lot like Yukina if you know that one; dark green with a nice balance of bitter flavor but not too strong. Like tat soi but with larger, lusher leaves and not so many leaf stalks. Recipes that use mustard greens or bok choy will work with Koji. In a contest for my favorite fall green, Koji runs neck and neck with bok choy.
Poblano chiles (in bag with Brussels sprouts) – Dark green or red, triangular. These have medium heat and terrific flavor. We've included them with the potatoes and leeks because they are such a great combination. Roast your poblanos, then use to top any soup or casserole you prepare with your potatoes.
Shallots (look like small red onions) – Store at room temperature. Shallots store for a long time. Excellent minced for salad dressing. They will sweeten considerably when fried and can be used in Thai or Vietnamese dishes, to top burgers, etc.
Fried shallots – Thinly slice shallots. Heat 2 Tbsp peanut oil in a small skillet over medium-low heat. Add shallots and fry gently, mixing occasionally, until golden brown.
RECIPES from DEB
Visit our 2020 Recipe Log or our 2019 Recipe Log.
Cauliflower and garbanzo bean curry
Based on a recipe by Hugh Fearnley-Whittingstall of River Cottage, I, like everyone else in the comments, do not make it exactly as written. This recipe is vegan, as long as you don't serve it with yogurt!
Serves 4-6
Takes 30 minutes, plus about 15 minutes extra cooking time if you use brown rice
1 1/2 cups raw white or brown rice
pinch of salt
2 tablespoons vegetable oil
2 cups chopped onions
1-2 poblano chiles, chopped
2-3 garlic cloves, minced or put through a press
1 1-inch piece of fresh ginger, grated
2 teaspoons ground coriander
2 teaspoons ground cumin
2-3 teaspoons garam masala or yoru favorite curry powder (I like Penzey's sweet curry)
Salt and freshly ground black pepper to taste
1 head of cauliflower (1 1/2-1 3/4 lbs.), cut into bite-size florets
1 cup chopped tomatoes, canned or fresh
About a cup (half a can)of coconut milk, or veggie broth
1 (14-ounce) can garbanzo beans, drained and rinsed
3-4 scallions, thinly sliced
Start cooking the rice – in a saucepan with a lid, combine the rice with 2 3/4 to 3 cups cold water (the smaller amount is for white rice). Bring to a boil uncovered, then add salt, cover, and turn the heat to the lowest setting. Cook about 15 minutes for white rice, and 45 minutes for brown.
Heat the oil in a deep wide skillet with a lid, over medium heat. Add the onions, garlic, and ginger and sauté for about 10 minutes, stirring often. Add the coriander, cumin, chile flakes, garam masala or curry powder, and some salt and pepper and cook for a few more minutes. Add the cauliflower, the tomatoes with their juice, and the chickpeas, and stir well. Pour in enough coconut milk or veggie broth to cover everything, and bring to a simmer. Cover and cook for 10-15 minutes, stirring once or twice, until the cauliflower is tender. Check the seasoning, and add the scallions. Serve with plain or Greek yogurt, chutney, and naan.
.
.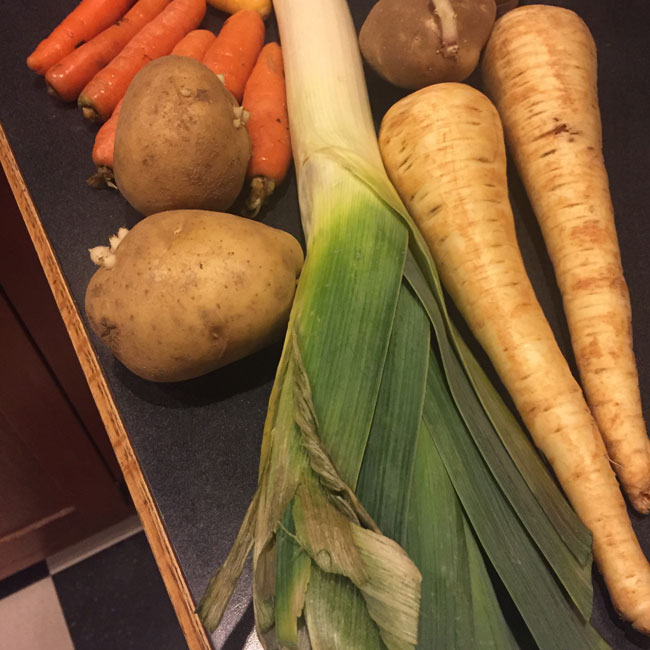 Nearing the end of the CSA potato soup
I developed this soup a few years ago, deep in the winter, to use up almost the last veggies from my Tipi storage share, what my family calls our "Thanksgiving Box", but it adapts nicely for this week's box. You can adjust the vegetables depending on what you've got – you need 4-5 cups of vegetables, so use more potatoes if you don't have any carrots; a few of this week's red peppers would add really nice color; use more leeks!
Serves 4-6
Takes about an hour, about 30 minutes active work, and the rest simmering
Ingredients:
1-2 tablespoons olive or vegetable oil
white and pale green parts of 1-2 leeks, split length-wise, well rinsed and sliced – one generous cup
2 parsnips, peeled, woody parts removed, and chopped – 3/4 cup
3 medium potatoes, peeled and chopped into 1 to 1 1/2 inch cubes – a generous cup, maybe a cup & a third
2/3 cup peeled and chopped carrots
3-4 cups veggie or chicken broth, home made if you've got it, but you can use soup base and water, or even plain water
2 tablespoons butter, or vegan butter
1/4 cup flour
2 cups milk, half & half, or a mixture (I half half & half and half 2% milk – that's a lot of halfs) – or more veggie broth to make a non-dairy soup
kosher salt and freshly ground black pepper.
Pour the olive oil into a large pot that holds at least 4 quarts, and heat till fragrant. Add the leeks and some salt and pepper, give them a stir, and let them cook gently over medium heat while you chop up the rest of the vegetables. Add the parsnips, potatoes, and carrots, and continue to cook over medium heat until softened and starting to brown. They might start sticking a little bit, don't worry about that – they'll come loose when you add the broth.
Add the broth, making sure you have enough to cover all the vegetables – add water if necessary. Raise the heat until the mixture comes to a boil, then reduce the heat and cover and simmer until all the vegetables are soft, probably 15 minutes. In my experience the carrots take the longest, oddly.
Make the roux while the vegetables cook: melt the butter in a small skillet. Add the flour, and cook and stir for a few minutes until there's no raw flour smell.
When the vegetables are all cooked, stir in the (cooled) roux, and keep stirring while the mixture thickens, to ensure there won't be any lumps. Mix the half & half and milk in a spouted glass measuring cup, heat it to just slightly warm in the microwave, and add it to the soup. Heat gently, try not to boil it after you've added the dairy, add more salt and pepper, and serve.
.
.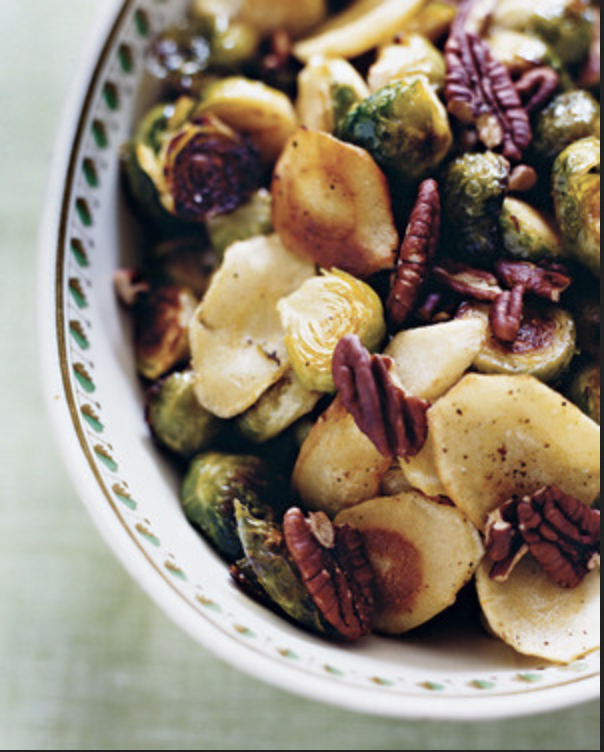 Brussels Sprouts with Parsnips
From Martha Stewart
I made this for Thanksgiving one year, and in all the excitement and people in the house, forgot about the dish, and got a really nice char on all the veggies – it was nevertheless completely eaten. Feel free to omit the pecans.
Takes about 40 minutes
Martha says serves 10, I'd say more like 6, unless it is part of a large meal with lots of other dishes.
.
.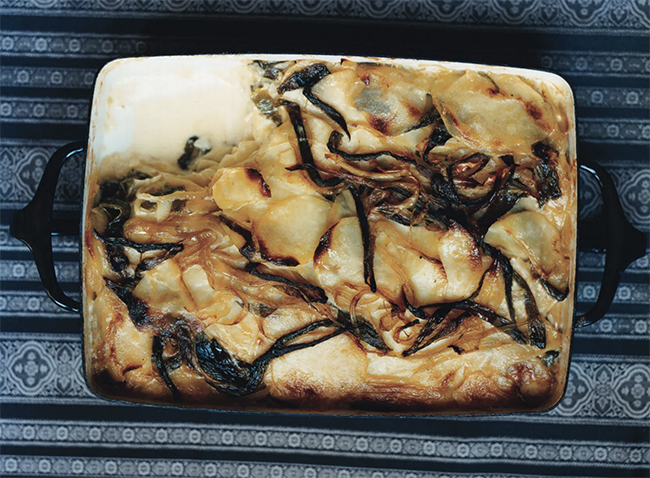 Photo by Ditte Isager
Poblano Potato Gratin
From Epicurious.
This spin on potatoes au gratin was created by Lillian Chou for Epicurious, and every time I make it, people gobble it up. We do not have quite enough poblanos to make the rajas (roasted pepper and onion strips) but you can sub in the red frying peppers from this weeks box.
.
.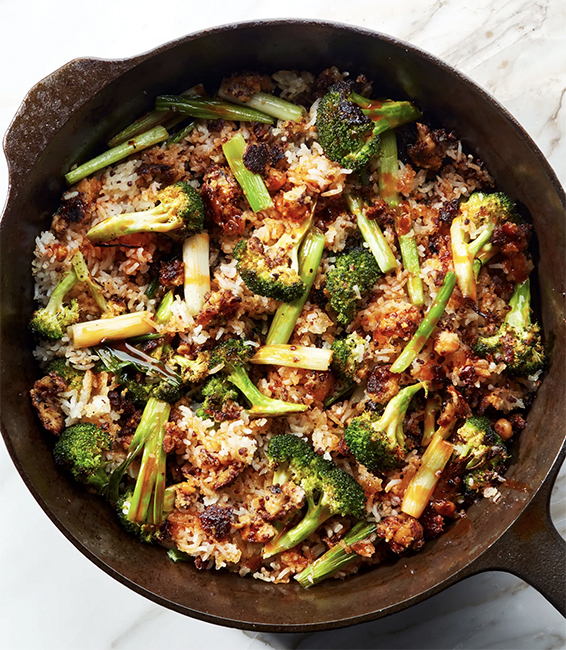 Photo by Joseph De Leo
Julia Turshen's Favorite Affordable Dinner: Vegetable Fried Rice
From Epicurious.
Use Julia Turshen's (author of the cookbooks Small Victories, Now & Again, and Feed the Resistance) formula for fried rice to use up lots of the veggies and scallions in this week's box – cook some extra rice when you make the cauliflower curry and your set! Another delicious variant is kimchi fried rice, if you made some kimchi earlier in the summer – for 2 cups cups rice, use 1 cup of drained kimchi, 4-6 strips of bacon, and all the scallions.
.
.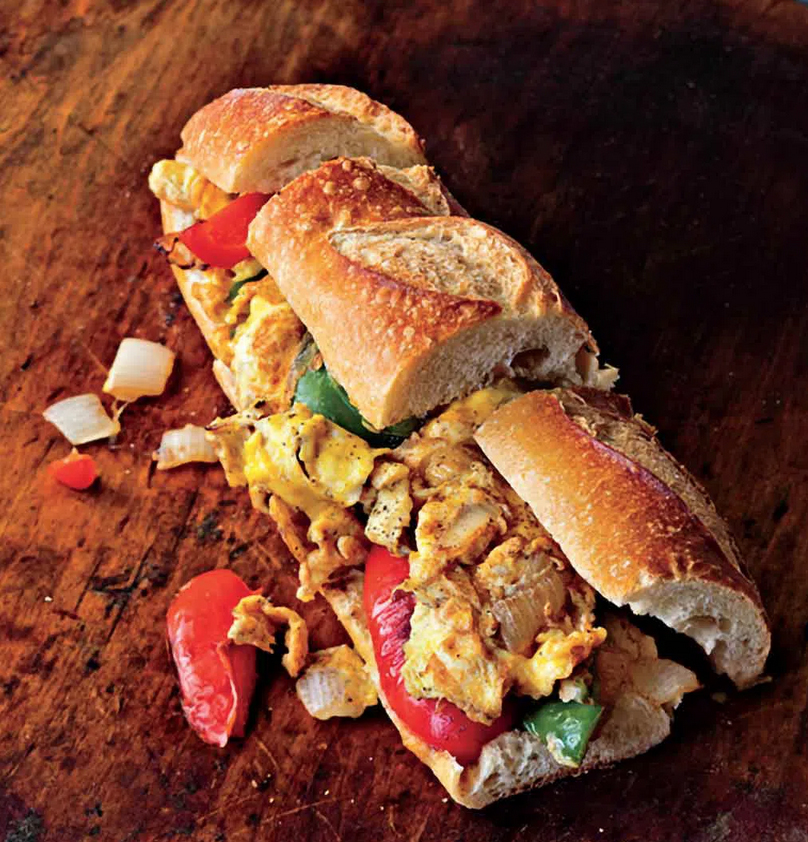 Pepper and Egg Sandwich
From Leite's Culinaria.
Here's recipe for a popular Italian-American sandwich, good for breakfast, lunch, or dinner, that you can make with the red and Poblano peppers from this week's box. You might want to cut back on the hot sauce since the Poblanos will provide some heat, and sturdy brat buns are a good stand-in for Italian bread.
.
.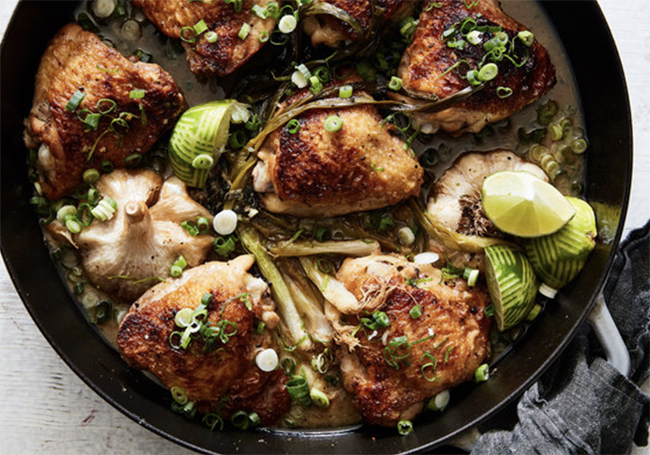 Photo by Mark Weinberg
Garlicky Chicken Thighs With Scallion and Lime
From NYT Cooking.
If you're looking for scallion ideas, here's a parting thought. To round out the meal, accompany this recipe by Alison Roman with sauteed koji greens and rice.