Week #24; Final week of the regular season

My 'garlic office' upstairs in the barn is a warm and peaceful place to sort garlic.

Kale harvest on a blue-sky day. Photo credit Matt Salbego
Season's end
This is the final delivery of our May – October season. Thank you so much for joining our farm this year. We deeply appreciate the trust you have placed in us. Thank you for letting us feed you. We hope you discovered new favorite dishes, and that we helped you and your friends and family stay healthy and well-fed.
You can expect to hear from us again this fall. We are busy hauling in storage crops and will finish that work by Thanksgiving. Soon, we'll analyze the season and will get in touch to share our thoughts on the year and will send a survey to gather your thoughts as well.
Have a happy and healthy Thanksgiving.
Love,
Beth & Steve
Veggie List & Veggie Notes
Week #24, October 28/29, 2021
– Weekly shares
– EOW/ green
Brussels sprouts, ~1 lb
'Orleans' sweet potatoes, ~3 lb
Butternut squash
Beets, ~2 lb
Celeriac, 1 root
Kale or collards, 1 bunch
A few peppers, mostly 'suntan' bells
Poblano chiles (medium heat; in bag with Brussels sprouts), 2
Yellow onion, 1
Red onion, 1
Garlic, 1/2 bulb
– Some sites get broccoli.
– Some sites get cauliflower.
– One site gets Romanesco cauliflower.
Brussels sprouts – Now the sprouts have experienced a few frosty nights, which helps them sweeten a bit. These sprouts have flaws and need a close look. Peel off any bad outer leaves.
Celeriac (knobby, round, bizarre-looking vegetable which smells like celery) – Refrigerate. Celeriac will store in your refrigerator for months. Cut off chunks as you need them. Peel before using. Flavorful celeriac is good raw or cooked. It is excellent in mixed roasted veggies or in soup. It's especially good in cream soups, alone or mixed with potatoes. Grated raw celeriac is a great starting point for winter salads.
Peppers – Everyone gets a few peppers this week. Most will be 'suntan' bell peppers. These are partly ripe; half red and half green. The season is ending so we cannot wait for them to ripen fully!
Garlic – Everyone gets a half bulb of garlic this week. These bulbs dried slowly or had bug issues, so we wanted to open and examine each one. Some of them are a little odd but all are useable.
RECIPES from PHOEBE
Visit our 2020 Recipe Log or our 2019 Recipe Log.
Fall Farro Salad with Cinnamon-Sage Dressing
Filled with sweet, nutty, and savory fall flavors, this hearty salad is a delicious lunch or side dish. It keeps well if you make it ahead of time, but wait to add the hazelnuts until right before you eat.
Serves: 4-6
Prep time: 15 minutes
Cook time: 50 minutes
Ingredients
1/3 cup raw hazelnuts
4 cups peeled and cubed butternut squash (1/2-inch cubes)
4 cups peeled and cubed celeriac (1/2-inch cubes)
1/4 cup extra-virgin olive oil, more for drizzling
3 tablespoons apple cider vinegar
1 garlic clove, grated
1 teaspoon maple syrup
1/2 teaspoon Dijon mustard
1/2 teaspoon ground sage
1/4 teaspoon cinnamon
1/4 teaspoon sea salt, more for sprinkling
Freshly ground black pepper
3 cups cooked farro
1/3 cup dried cranberries
1/3 cup diced red onion
1 kale leaf, finely chopped
Preheat the oven to 350°F and line 2 large baking sheets with parchment paper. Spread the hazelnuts on one of the baking sheets and toast in the oven for 7-10 minutes, or until fragrant. Remove from the oven and transfer to a small bowl. Set aside to cool.
Raise the oven temperature to 425°F. Place the butternut squash on one baking sheet and the celeriac on the other. Drizzle generously with olive oil and sprinkle with salt and pepper. Toss to coat, then spread in an even layer on the baking sheets. Transfer to the oven and roast for 30-40 minutes, or until fork-tender and lightly browned around the edges, tossing halfway.
Meanwhile, make the dressing. In a small bowl, place the olive oil, vinegar, garlic, maple syrup, mustard, sage, cinnamon, and 1/4 teaspoon sea salt. Add a few grinds of fresh black pepper and whisk to thoroughly combine. Set aside.
When the hazelnuts are cool to the touch, use your hands to rub off any loose skins. Roughly chop the nuts, then place in a large bowl with the farro, dried cranberries, onion, kale, and roasted vegetables. Toss to combine, then pour in the dressing and toss again. Season to taste and serve.
Roasted Beets with Cumin, Coriander, and Whipped Feta Yogurt
In this recipe, I serve sweet, earthy roasted beets over a creamy, tangy whipped feta yogurt. Toasted pepitas add crunch, and aromatic cumin and coriander seeds take it all over the top! If you want to get ahead here, you can roast the beets and prepare the yogurt up to 2 days in advance. Store them separately until you're ready to serve.
Serves: 3-4
Prep time: 30 minutes
Cook time: 1 hour
Ingredients
3 medium beets
1 tablespoon pepitas
1 teaspoon coriander seeds
Heaping 1/4 teaspoon cumin seeds
1 garlic clove
1 cup whole milk Greek yogurt
1/2 cup crumbled feta cheese
1 1/2 tablespoons extra-virgin olive oil, divided, more for drizzling
1 1/2 tablespoons fresh lemon juice, divided
1/4 teaspoon sea salt, more for sprinkling
Preheat the oven to 425°F. Wash the beets well and wrap each one in a sheet of aluminum foil with a drizzle of olive oil and a sprinkle of salt. Place on a baking sheet and roast for 45-60 minutes, or until easily pierced with a fork. Unwrap the foil and set the beets aside to cool.
Meanwhile, place a small, dry skillet over medium-low heat and add the pepitas. Toast, stirring often, until fragrant and golden brown, 2-3 minutes. Transfer the pepitas to a small bowl and add the coriander and cumin seeds to the skillet. Toast, stirring often, until fragrant, 30 seconds-1 minute. Remove from the heat and transfer to a mortar and pestle. Lightly crush the seeds and set aside.
Make the whipped feta yogurt: Place the garlic in a food processor and process until minced. Add the Greek yogurt, feta, 1 tablespoon of the olive oil, and 1 tablespoon of the lemon juice and process until smooth. Season to taste and set aside.
When the beets are cool enough to handle, slip off their skins. Chop the beets into large chunks and transfer them to a medium bowl. Add the remaining 1/2 tablespoon olive oil, the remaining 1/2 tablespoon lemon juice, and 1/4 teaspoon sea salt and toss to combine.
Spread the whipped feta yogurt on the bottom of a large plate or serving platter. Arrange the beets on top, leaving any juices behind in the bowl. Sprinkle with the pepitas and the crushed spices and serve.
Shaved Brussels Sprouts Salad
From Love & Lemons
This simple fall salad is a bright, refreshing side dish! If you don't have chives on hand, feel free to skip them. The salad is still great without.
.
.

Smoky Sweet Potato Kale Salad with Hot Ginger Dressing
From How Sweet Eats
A perfect lunch salad! It's made with massaged kale, smoky roasted sweet potatoes, and pepitas for crunch. A tangy, nutty ginger dressing ties it all together.
.
.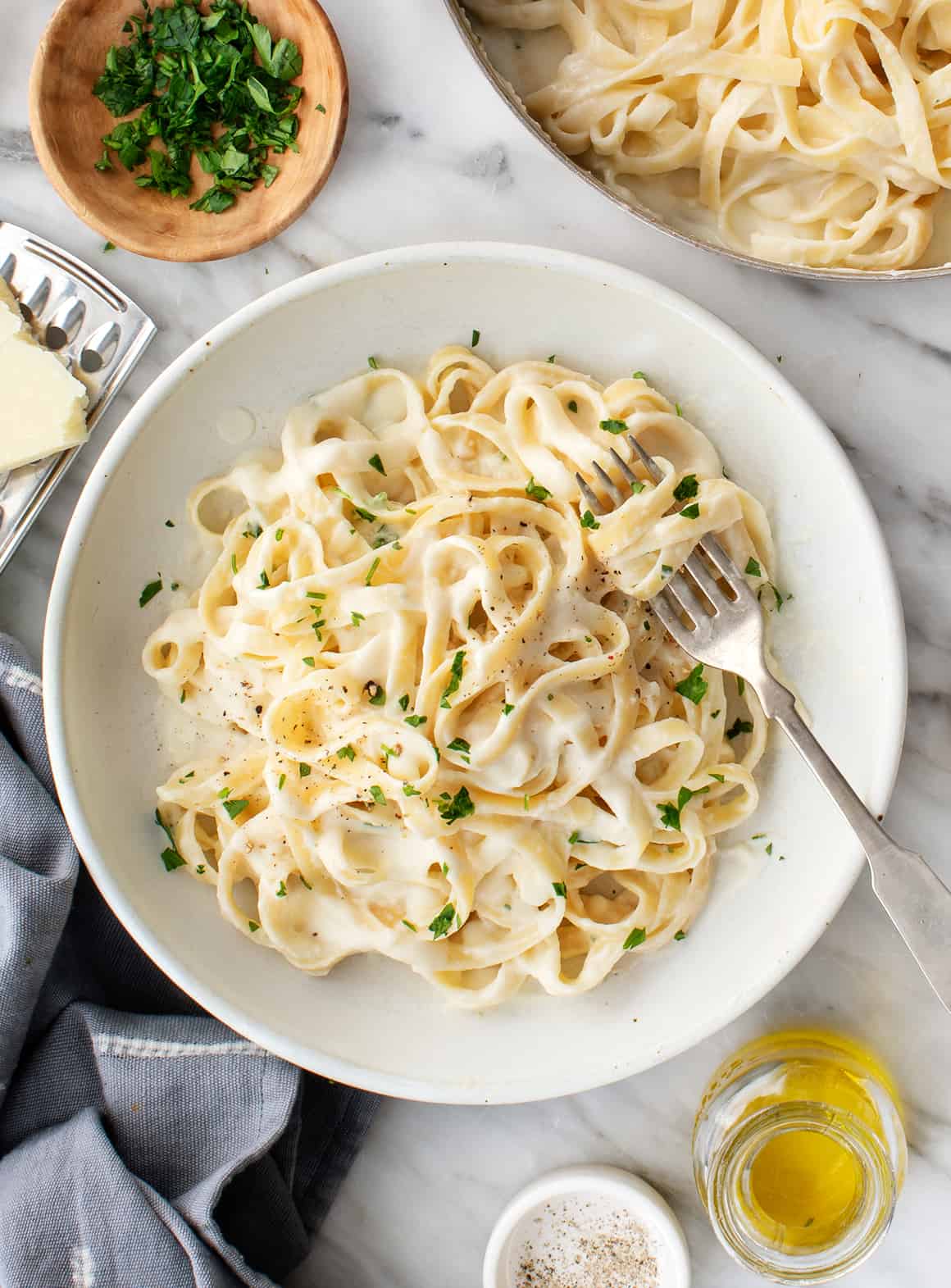 Fettuccine Alfredo
From Love & Lemons
This creamy, comforting pasta has a secret ingredient: cauliflower! For a vegan version, check out this post.
.
.

Garden Keeper's Pie with Beets, Lentils, and Creamy Celery Root Mash
From The First Mess
This recipe is a perfect match for this week's box. The filling is a saucy mix of beets, squash, and lentils, and it's topped with a creamy, savory celery root mash. If you don't have fresh thyme and rosemary on hand, dried will work just fine.
.
.

Fudgy Vegan Double Chocolate Beet Muffins
From Minimalist Baker
Blended roasted beets make these muffins wonderfully fudgy and moist. Don't worry, you won't taste them!
.
.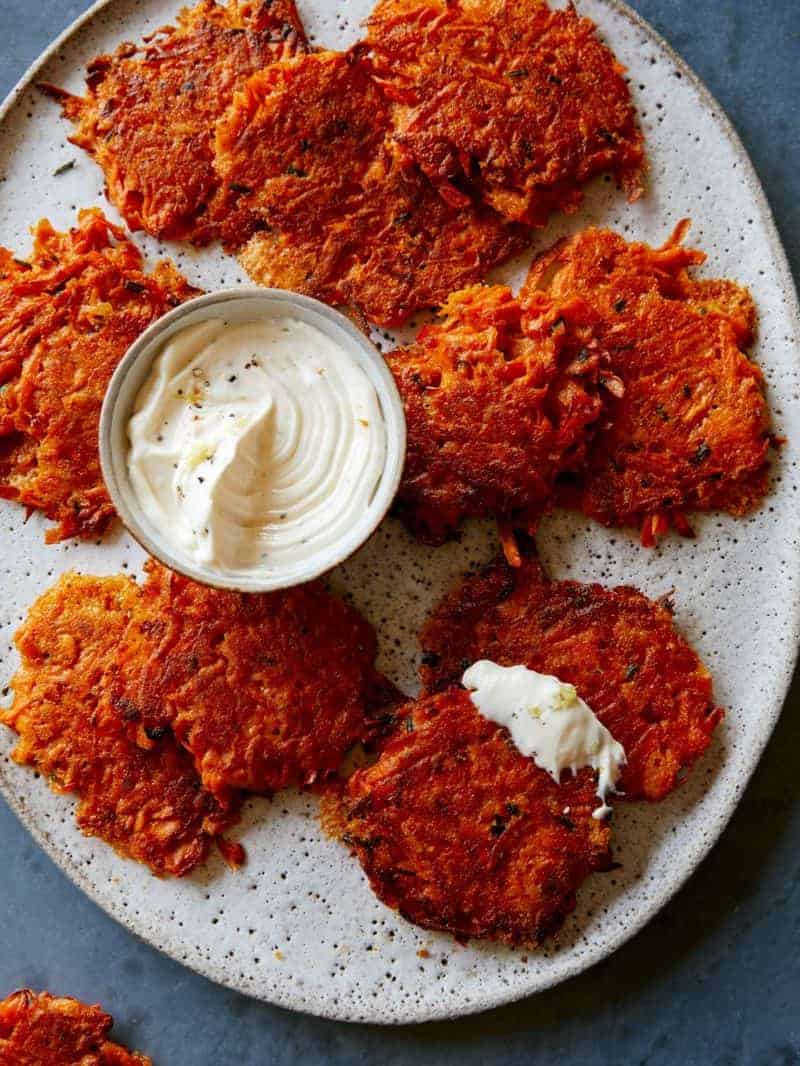 Cheesy Sweet Potato Fritters
From Spoon Fork Bacon
What a fun way to cook sweet potatoes! If you have extras, the recipe's author, Jenny Park, recommends freezing them and reheating them later in the oven. Feel free to omit the chives if you don't have any on hand.