Week #4; Berry season begins
Hey folks, we just picked your first strawberries. We waited until this afternoon, to allow more to ripen. There's a paper cup of berries for everyone, with more to come.
These berries survived a light frost two weeks ago. Their color is much more russet than usual but the flavor is intensely good. It looks like the next berries either missed or are outgrowing the frost exposure. Wow, that was a squeaker.
Too close for comfort
Would you like to see a close-up of Steve flame-weeding an asparagus field? It's a good technique to kill annual weeds without damaging our deep-rooted asparagus. I set up a trail camera to watch a badger den and caught Steve instead. I would never have stood that close to photograph. No trail cameras were harmed in the making of this video. View below or on YouTube at youtu.be/3x04c8bgW1c
Veggie List & Veggie Notes
Week #3, June 8/9, 2023 (Thurs/Fri sites)
Beth's box logic: We are sending cilantro and scallions together again this week. They are a terrific pairing for stir-fries but also for almost any dish. It's a nice combination in salad dressing or added to any pasta dish. If not everyone in your household likes cilantro (those crazy people), consider making a minced chutney to serve on the side, with cilantro, a few scallions, lime juice, olive oil, chili flakes, and salt and pepper to taste. Sort of like a simple chimichurri with fewer herbs and lime juice instead of red wine vinegar.
We have two "crunchy white things" for you this week, kohlrabi and white salad turnips. You nearly received three "crunchy white things" but the radishes have not sized up yet. I asked Deb to come up with ideas for these two less-common vegetables and she did! However, I will be making her kale casserole recipe in the next few days, while the night temperatures are cool. I am intrigued by the batter-based crust.
– Weekly shares
– BiWeekly/ green
– Sampler/ D group
Strawberries, 1 cup
Asparagus, 1/2 lb
Spinach, 1 bunch
Kale, 1 bunch
Lettuce, red or green leaf
White salad turnips, 1 bunch
Kohlrabi, 1
Scallions, 1 bunch
Cilantro, 1 bunch
Next week's box will probably contain strawberries, greens, lettuce, radishes, and more.
See last week's Veggie List & Veggie Notes for information on white salad turnips, scallions and cilantro.
Strawberries – It's just a cup so there's not much I can tell you! Eat now or refrigerate.
Asparagus – This is the final asparagus delivery. It's time to weed the field and let the plants grow strong for next year.
Kohlrabi (pale green, round vegetable with thick skin and attached leaves) – Crunchy and sweet, kohlrabi is a great addition to salads.
Storage: Kohlrabi bulbs will store for a month in the refrigerator. Remove the leaves if you plan to store for more than a few days.
Uses: Kohlrabi are good peeled and eaten out of hand, or added to sandwiches, or added to salads. It makes a nice salad on it's own. You can grate it, slice it, or cut it into matchsticks. It's also good cooked.
RECIPES by DEB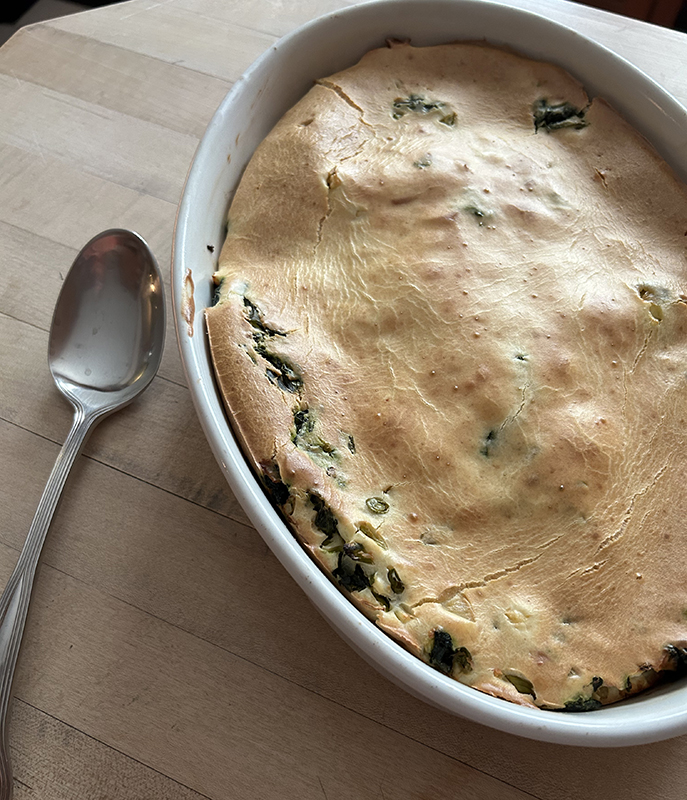 Greens, Onion, and Cheese Pie
This recipe is based on a Mark Bittman recipe called Kale or Chard Pie, from his book How to Cook Everything Vegetarian (and you'll also find it online). The fun thing about it is that it's an easy crust that doesn't requires any rolling out – it's a batter that you simply pour and spread into the pan. Bittman's original recipe calls for six eggs, three that go into the batter, and three hard boiled and chopped into the filling. I wanted the pie to have more greens, and added cheese, but I'm sure the filling with hard boiled egg would be delicious. The pie can be served warm or at room temperature, and a little tomato sauce spooned on top, if you have some around, is a nice accompaniment.
Serves: 4-6
Takes: 60 minutes, 15 minutes active time; 45 minutes baking
Filling:
2 tablespoons butter
1 cup of chopped onion
1 pound of greens, try a mixture of kale & spinach from this week's box, turnip greens can be used as well, rinsed, stems removed, and chopped
salt and freshly ground black pepper
1 bunch of scallions, thinly sliced, whites and some of the green parts
optional: 1/4 cup chopped fresh herbs such as cilantro, parsley, or dill
1 cup crumbled or grated cheese – your choice! I used a combination of feta and pepper jack
Batter:
3 large eggs
1 cup sour cream or whole-milk yogurt
3 tablespoons mayonnaise
1/2 teaspoon baking powder
1/2 teaspoon fine sea salt
1 1/4 cups flour; option: replace the 1/4 cup flour with yellow cornmeal
Heat oven to 375°. Butter a 2-quart gratin dish or deep 9-inch pie dish.
Filling: Melt the butter in a large deep skillet over medium heat. Add the onion and cook, stirring occasionally, until the onion is translucent, about 5 minutes.
Add the greens, kale first if using, stir well, and cover for a few minutes to wilt. Reduce the heat and cook covered for about 10 minutes until the greens are tender. Season with salt and pepper.
Remove the lid and cook a few more minutes to evaporate any excess moisture. Stir in the scallions and herbs if using, and remove from the heat to cool.
Batter: Beat the eggs in a large bowl, and whisk in the mayonnaise and sour cream (or yogurt). Add the baking powder, salt, and flour, and whisk until smooth.
Spread a thin layer of batter in your buttered baking dish. Mix the cheese into the filling and layer over the batter. Pour the rest of the batter over the filling, and smooth gently.
Place the baking dish in the oven and bake for 40-45 minutes until puffed and golden. Serve warm or at room temperature, with or without tomato sauce.
Parmesan Tahini Kale Salad with Breadcrumbs and Crunchy Chickpeas | Half Baked Harvest
From Half Baked Harvest
The best thing about this salad is the tahini-lemon Parmesan dressing … well, and the toasted bread crumbs and crunchy chickpeas. I omitted the avocados, and enjoyed the leftover dressing on a lettuce salad another day.
.
.

Kohlrabi Fries (Baked or Air Fryer) | Kara Lydon
From Kara Lydon, the Foodie Dietician
Most recipes for kohlrabi are for using it raw, like shredded in slaw, sliced and eaten in sandwiches, pickled. Here's a fun way to turn your kohlrabi into fries. The recipe calls for about 1.25 pounds of kohlrabi – if you get a bit less kohlrabi in your box, you can scale back the recipe. I'd suggest using a little less olive oil plus all the spices for one pound of kohlrabi.
.
.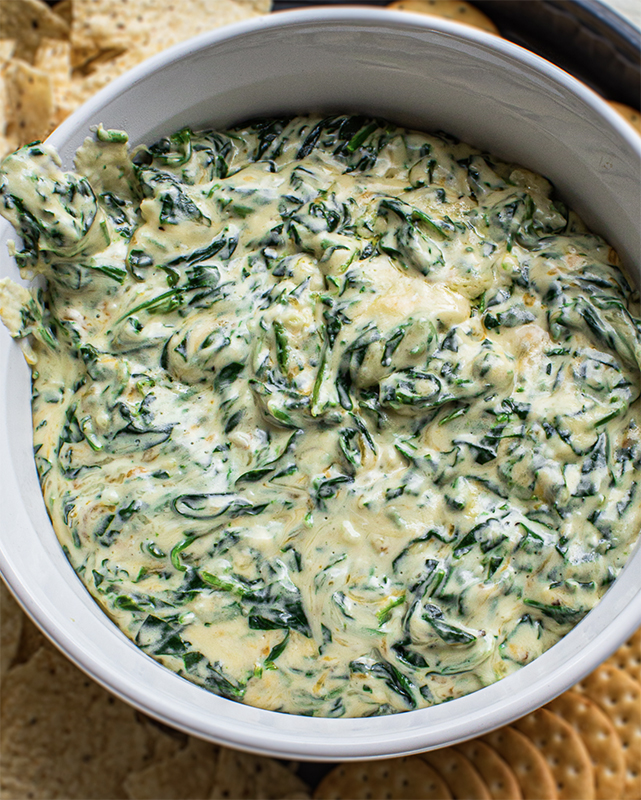 Photo by Alyona
Extra Creamy Spinach Dip | Alyona's Cooking
From Alonya's Cooking
This version of creamy and cheesy warm spinach dip can be served with bread or crackers, but the salad turnips, kohlrabi, and asparagus in this week's box are all great dippers as well. I suggested lightly steaming the asparagus and cooling before serving as a dip accompaniment.
.
.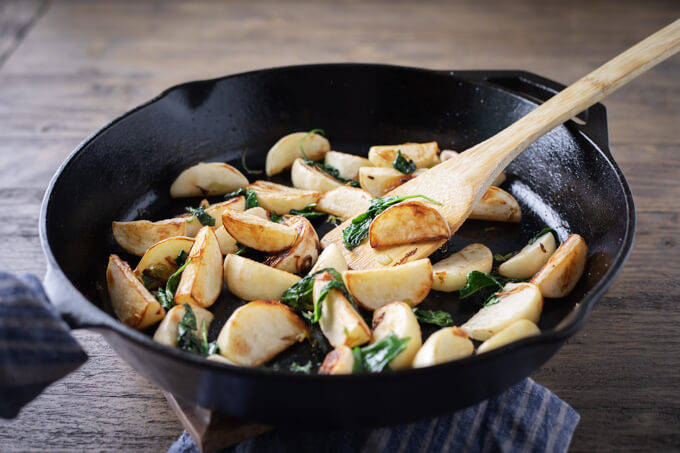 Pan Fried Turnips Recipe with Onions and Spinach | Low Carb Maven
From Low Carb Maven
My family are all carb lovers, so how much carbs are in a dish is usually not a concern at my house. This recipe stresses that these pan-fried turnips are low-carb, but that doesn't have to be te only reason to eat them because they also taste great.
.
.

Easy Scallion Pancakes (Only 4 Ingredients!) | The Woks of Life
From The Woks of Life
I've made scallion pancakes from scratch quite a few times, and have enjoyed rolling out the dough, filling it with scallions, twisting it into a spiral, and rolling flat and frying. But it takes a good bit if time! This short cut provides a quick way to make scallion pancake by layering the scallions in round dumpling wrappers, and the recipe provides a link to an ingredients glossary to make sure you purchase the right kind.
.
.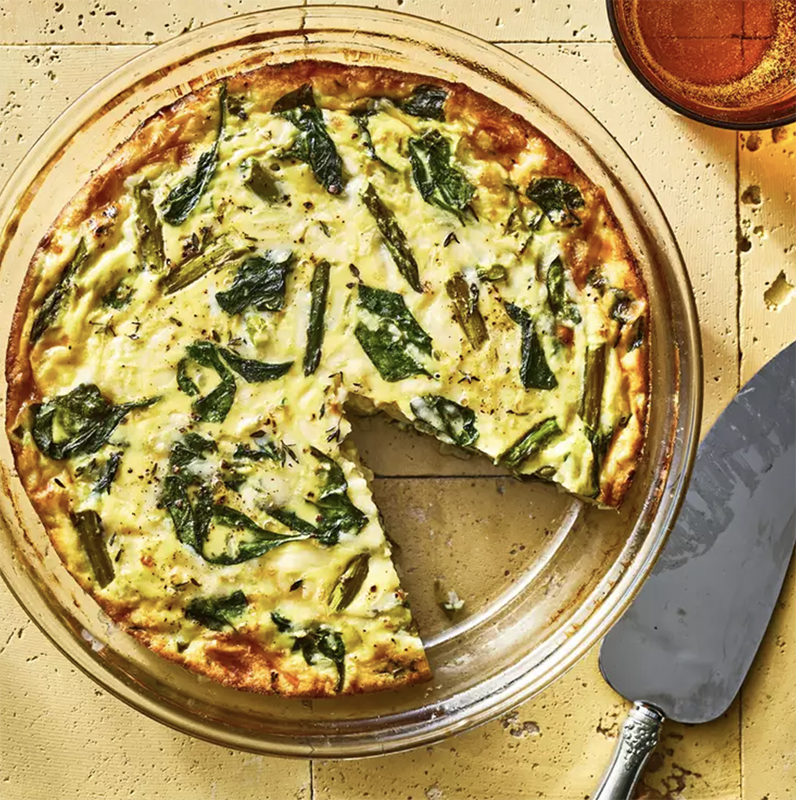 Crustless Spinach & Asparagus Quiche with Gruyère | Eating Well
From Eating Well
We're starting and ending this week with recipes for "pies" featuring greens, but while the first recipe features a batter-based, no-roll crust, this recipe from Eating Well is crustless. The 3/4 pound of asparagus we got in the box will work fine in the quiche, and feel free to sub a small pinch of dried thyme for the fresh, or omit. A few grates of fresh nutmeg would also be tasty here.