Week #8; Cucumber bounty

Ari readies cucumbers for washing.

Look at this beautiful cucumber field, with strong vines and few gaps. From the left in the distance, Ari, Karen, Maggie and Chelsea. Every cucumber team includes Maggie and Ari, our greatest cucumber enthusiasts. They compete to find the first cucumber but then share what they find.
Let's talk about the cukes and zuccs.
Hello all! We are sending four cucumbers this week, on the heels of five last week. The cucumber field started with unusually big harvests. Enjoy the bounty now, knowing that both the zucchini and cucumber fields will settle into smaller harvests. We are lucky that both plantings established so well this spring. Cucumber seedlings are fragile and we sometimes lose one third of them soon after planting. Not this year! Our crew was very attentive during transplanting. Rough handling leaves invisible damage that leads to dead plants. Our experienced crew knows this well, but our newest employees did a great job too. That's what happens when you hire UW/Horticulture students and gardeners and people with prior farming experience! This spring we covered each cucumber bed with its own narrow piece of floating row cover, using extra care to secure the covers snugly. Loose covers flap in the wind and beat down on the seedlings. Some crops can handle that but cucumbers cannot. We certainly had a lot of strong winds this spring (good grief!) so the effort paid off.
Soon the cucumber and squash harvests will slow and we'll send smaller amounts. Enjoy them now!
Strategies
Cucumbers – We routinely make cucumber salads with five cucumbers. That's a big batch but they hold well in the fridge and improve over a few days. Think about using half your Walla Walla onion portion in whatever cucumber salad you choose. They are a great combo.
Zucchini – If you are undecided what to do with your zucchini and Zephyr squash, grill it then add to whatever you cook this week. Grilled squash s a great topping for pasta dishes (cold or hot), etc. Here's my usual method.
Thinly slice squash lengthwise, about 1/4 inch thick or whatever thickness works for your squash.
Marinate in a light dressing of rice vinegar, sesame oil, soy sauce and garlic.
Grill the squash until tender.
Return to the marinade – now it will soak up more flavor.

Thanks for reading.
Beth
Veggie List & Veggie Notes
Week #8, July 14/15, 2022
– Weekly shares
– EOW/ purple
– Sampler/ moon
Broccoli, 1.5 to 2 lb
Swiss chard, 1 bunch
Green leaf lettuce
Snap peas, 0.4 lb
Zucchini &/or Zephyr squash, 2.5 – 3 lb
Cucumbers, 4
Green bell pepper, 1
Walla Walla onion
Curly parsley, 1 nice bunch
For a few sites; 1 sunflower
Next week's box will probably contain lots of summer veggies.
Broccoli – If your broccoli seems wilted, soak in cold water for fifteen minutes and it will plump back up.
Storage: Cover and refrigerate.
Swiss chard – Cover and refrigerate. Now that spinach is done for the year, it's time to re-purpose your spinach recipes to Swiss chard. They are closely related. Chard has a thicker leaf and requires a few minutes more cooking to achieve tenderness, unlike spinach which wilts quickly.
Walla Walla onion – These fat onions are sweet, crisp and very mild. Wonderful raw or lightly cooked. Try cutting into wedges, threading on a skewer and grilling. Do not try to fry these onions – it doesn't work because of their high water content.
Storage: It's OK to store at room temperature for up to one week. Otherwise, refrigerate.
Parsley – The herb of the week! A great addition to salad dressing, tomato dishes or casseroles. Tabouli is a great use for tender parsley
Storage: Cover and refrigerate.
Sunflowers – We will send sunflowers to one or two sites at a time, as they are ready to harvest. Trim the stem and put in fresh water. If you re-trim the stem and change the water, it will last a little longer.
Snap peas – Storage: Refrigerate. String the pods as usual.
Please be alert to occasional off-type pods. Sometimes there will be shell peas mixed in. Those peas are edible but the fibrous pods are not. If you find shell peas mixed in, it will be a very small amount.

Shell pea (left) and snap pea pods (right). Shell pea pods are darker green and often less waxy. When in doubt, try eating it. Snap pea pods are crunchy and edible. Shell pea pods are fibrous.
RECIPES by PHOEBE
Bulgur, Chickpeas & Chard with Lemony Chard Stems & Coriander Yogurt
This recipe is very loosely adapted from the bulgur mejadra recipe in Sami Tamimi and Tara Wigley's cookbook Falastin. A tangy coriander yogurt sauce and lemony marinated chard stems brighten the earthy bulgur and chickpea pilaf. Enjoy this dish as a vegetarian main, or serve it as a side with any protein you like.
Serves 4 to 6
Prep time: 15 minutes
Cook time: 35 minutes
1 bunch Swiss chard
2 tablespoons plus 2 teaspoons fresh lemon juice
1 cup whole milk Greek yogurt
1 teaspoon ground coriander
2 tablespoons extra-virgin olive oil
1 medium onion, thinly sliced
2 teaspoons ground cumin
½ teaspoon ground turmeric
1½ cups dry coarse bulgur
1½ cups cooked chickpeas, drained and rinsed
2¾ cups water
¼ cup raisins
Sea salt and freshly ground black pepper
Remove the stems from the chard. Roughly chop the leaves and set aside, then dice the stems. In a small bowl or jar, toss the diced chard stems with 2 tablespoons of the lemon juice and ½ teaspoon sea salt. Set aside to marinate while you prepare the rest of the dish.
Make the coriander yogurt. In a small bowl, stir together the yogurt, coriander, the remaining 2 teaspoons lemon juice, and ½ teaspoon sea salt. If the yogurt is very thick, add water, 1 teaspoon at a time, until it has a creamy, dollop-able consistency. Set aside.
Heat the olive oil in a large, deep lidded skillet over medium heat. Add the onion and ½ teaspoon sea salt and cook, stirring occasionally, until soft and browned, about 10 minutes. Stir in the cumin, turmeric, another ½ teaspoon sea salt, and several grinds of pepper. Add the bulgur and chickpeas and stir to coat in the oil and spices. Add the water and bring to a boil. Reduce the heat to low, cover, and simmer until all the liquid is absorbed, about 15 minutes.
Remove the pan from the heat, uncover it, and quickly add the chard leaves and raisins. Cover the pan with a clean dish towel, then firmly place the lid back on the pan and set aside to steam for 10 minutes.
Remove the lid and dish towel from the pan and gently toss the wilted chard leaves and raisins with the bulgur mixture. Season to taste, portion onto plates, and serve with dollops of the coriander yogurt and the pickled chard stems on top.
Skillet Gnocchi with Snap Peas and Lemon Butter
In this quick, one-pan recipe, crisp snap peas and crunchy pistachios offer a delicious contrast to chewy pan-seared gnocchi. Shelf-stable and refrigerated gnocchi both work well here – no need to boil them first.
Serves 2 generously or 4 modestly
Prep time: 10 minutes
Cook time: 15 minutes
2 tablespoons unsalted butter, at room temperature
1 tablespoon lemon zest
1 garlic clove, grated
½ teaspoon sea salt, plus more to taste
3 teaspoons extra-virgin olive oil
6 ounces snap peas, strings removed, peas thinly sliced on the bias
1 (17-ounce) package refrigerated or shelf-stable store-bought gnocchi
1 tablespoon fresh lemon juice, plus more to taste
¼ cup freshly grated Parmesan cheese
Freshly ground black pepper
1 tablespoon crushed toasted pistachios
In a small bowl, place the butter, lemon zest, garlic, and salt. Use a fork or spatula to cream them together. Set aside.
Heat 1 teaspoon of the olive oil in a large nonstick skillet over medium heat. Add the snap peas and a pinch of salt and cook, stirring occasionally, until the peas are crisp-tender and bright green, 2 to 3 minutes. Remove from the pan and set aside.
Return the skillet to medium heat and add the remaining 2 teaspoons olive oil. Add the gnocchi and spread it in a single layer. Cook without stirring until it becomes golden and lightly crisp on the bottom, about 3 minutes. Toss and cook for another 3 minutes without stirring, then toss and cook for another 2 to 3 minutes without stirring, until the gnocchi is crisp and golden on all sides.
Stir in the snap peas and turn off the heat. Add the lemon juice and lemon butter and stir until the butter melts and coats the gnocchi and peas. Stir in the cheese and several grinds of pepper. Season to taste with more salt, pepper, and/or lemon juice, if desired. Garnish with the pistachios, and serve.
.
.


Photo by Jeanine Donofrio and Jack Mathews
Spaghetti Aglio e Olio
From Love & Lemons
Spaghetti aglio e olio (spaghetti with garlic and oil) is a wonderful dish to make when you have lots of fresh parsley on hand. This recipe also calls for kale, which isn't traditional, though you could easily leave it out or replace it with the Swiss chard from this week's box.
.
.


Photo by Cookie + Kate
Favorite Quinoa Salad
From Cookie + Kate
Packed with fresh parsley, this quinoa salad is like a twist on Lebanese tabbouleh. It would be a great salad to make ahead for a picnic or cookout or to pack for lunch. The recipe calls for red onion and red bell pepper. Feel free to swap in Walla Walla onion and the green bell pepper from your box.
.
.


Photo by How Sweet Eats
Honey Mustard Grilled Chicken
From How Sweet Eats
Have you tried grilled broccoli? The florets become lightly crisp, and they take on a delicious charred, smoky flavor. While you're grilling, cook this honey mustard chicken alongside the broccoli to make a complete meal.
.
.


Photo by Jeanine Donofrio and Phoebe Moore
Sautéed Yellow Squash
From Love & Lemons
This recipe is a simple, flavorful veggie side dish that you could serve alongside almost any summer meal. A bright parsley oil coats tender slices of summer squash (or zucchini), and a quick bread crumb topping adds crunch. We call for Love & Lemons' vegan Parmesan in the topping, which is a nutty, savory blend of lemon zest, cashews, and nutritional yeast. If you don't keep these ingredients on hand, you could swap in regular Parmesan cheese instead.
.
.


Photo by A Couple Cooks
Cucumber Salad with Vinegar
From A Couple Cooks
This type of vinegary cucumber salad is one of my favorite summer side dishes. It's salty, tangy, lightly sweet, and super refreshing. I recommend slicing the cucumbers in half lengthwise and removing the seeds with a spoon before preparing this recipe.
.
.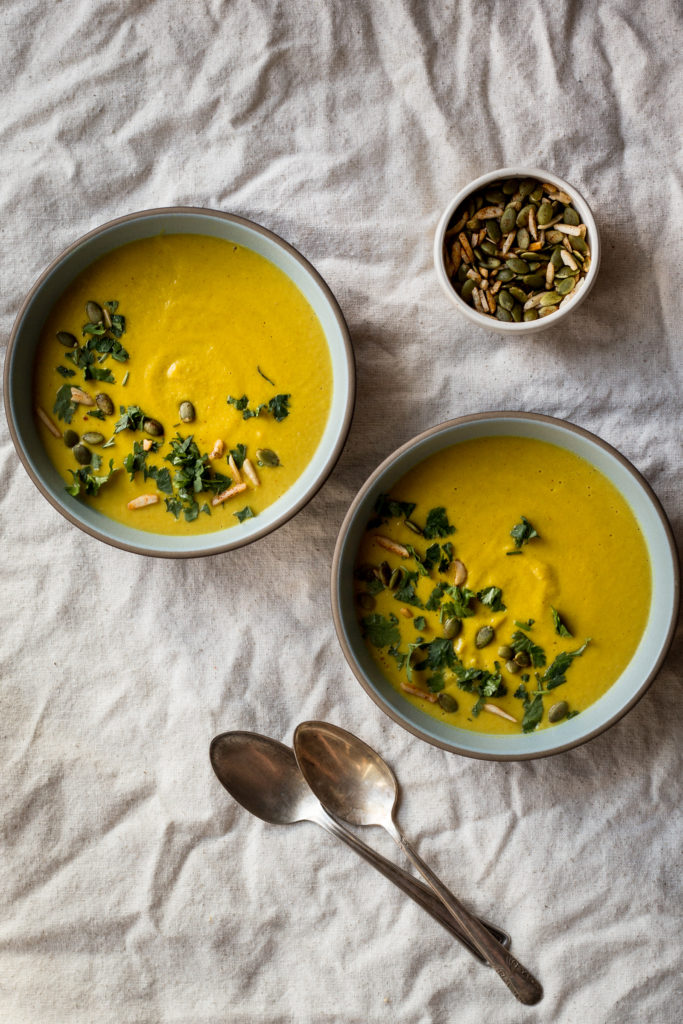 Photo by Andrea Bemis
Spiced Summer Squash & Chickpea Bisque
From Dishing Up The Dirt
This thick, creamy, and aromatic soup would be a delicious way to use the summer squash (or zucchini) in your box this week. Blended chickpeas and a can of coconut milk create its luscious texture.