Week #1; Weekly & EOW/green members

Much of your produce came from this field planted in mid April. From left, spinach, escarole (for a future delivery), bok choy. Radishes are far to the right and the red block at the back is red leaf lettuce.

The strawberries are blossoming and look great! Berries won't ripen until later June but it's exciting to see lots of blossoms.
Farm News
We are busy starting our harvest season and training new employees. I'll write more about the farm in future but wanted to share the photos above. We have kept to our usual planting schedule but crops are growing slowly because of the cool, cloudy weather.
Deliveries begin this week for our Weekly and Every-other-week/green members, on May 26/27 (Thurs/Fri sites)
If you are uncertain of your schedule, log into your account and view the calendar on your dashboard. If you've forgotten your password, use the password re-set. Having a live calendar for each member is pretty darn nice.
Things you need to know.
♦ On Thursday, we deliver CSA boxes to Evansville, Fitchburg, Madison, McFarland, Middleton, Oregon and Verona.
♦ On Friday, we deliver CSA boxes to Janesville.
♦ We post this newsletter/blog each Wednesday night, with a list of veggies for the week, quantities, information about storage and preparation, news of the farm, recipes, and a forecast for the next week's box. I'll send an email on Wednesday night once the newsletter is posted and ready to read. I send the Wednesday email to everyone, not just the people receiving a box that week.
♦ EOW, Sampler and Weekly members, we assume you read all the newsletters, even on your "off" weeks. This newsletter (and our emails to you) are our means to communicate with you.
♦ Want earlier notice of what will be in the box? Check the sidebar on our website homepage around 7 – 8 p.m. on Wednesday night. I'll post the list under "Box Contents." Also, the Veggie List section of this newsletter each week contains a forecast for the following week. The list is rarely complete but the items listed are ones we feel confident about.
♦ The first few boxes of the season are often the lightest. EOW members, do not worry that you have signed up for the wrong share! Our deliveries get heavier and more abundant as the season progresses.
How to wash greens efficiently and to maximize storage life
Washing and drying your lettuce, spinach, and other greens prolongs their storage life. Here's our approach. It works.
1. Fill your sink or a basin halfway with cold tap water. If you have two sinks, fill one sink partway with cold water.
2. Chop your lettuce, spinach, escarole or other green to the size you wish.
3. Dump it into the water and swish around gently but thoroughly.
4. Working in two batches (for average lettuce head) or more batches (big spinach bunches, Romaine), pull handfuls out of the water and drain in the basket of a salad spinner.
5. After all the greens have been rinsed one time, dump the water. Rinse the sink/basin and refill with cold tap water.
6. Repeat the process.
7. Spin your greens dry and store in a dry container. They store much longer when spun dry.
This works because …
– pre-chopping the greens frees soil trapped in the head.
– the large amount of water washes and dilutes away the grit.
– By pulling the greens out of the water, you take advantage of the draining action to pull the grit with it.
– Drying (spinning) the greens before storage reduces spoilage.
Veggie List & Veggie Notes
Week #1, May 26/27, 2022
– Weekly shares
– EOW/ green
Asparagus, ~1 lb
Bok choy, 1 medium
Green garlic, 1 bunch
Lettuce, red leaf, 2 heads
Potatoes, Dark Red Norlands, ~3.5 lb
Rhubarb, 1.75 lb
Salad radishes, 1 bunch
Spinach, 1 bunch
Next week's box will probably contain asparagus, green garlic, lettuce, rhubarb, salad radishes, spinach, and mushrooms and more.
Asparagus – This is my favorite spring treat! Some of the asparagus is from our farm and some is from our friends Tim and April's Lotfotl Farm. They have a larger asparagus field than they need, so we go and pick it for them once a week.
Prep: Wash your asparagus thoroughly to remove hidden grit. Submerge in water with the tips pointing down, soak briefly, then swish vigorously and pull out of the water. The draining action helps pull the grit out of the asparagus tips. Repeat several times.
Storage: Asparagus is perishable, so eat it as soon as possible. Store in a paper towel, cloth or paper bag, then wrap loosely in a plastic bag. The paper bag protects the asparagus tips from direct contact with the plastic bag. The plastic bag keeps the asparagus from wilting.
Preparation: We snap our asparagus at harvest, rather than cutting. Therefore, there is no need to snap the stalks to remove fibrous ends. For the same reason, it is not necessary to peel the asparagus stalks. It's OK to trim the cut end a bit.
Cooking: If your asparagus stalks vary greatly in size, you will want to cook the thicker ones longer. Put an empty steamer pot over water, and bring the water to a boil. Add the asparagus. Cover and steam over medium heat until just tender. Use two forks or a spatula to turn the asparagus during cooking, rotating the bottom spears to the top. Drain and serve. Alternatively, you can lay spears flat in the bottom of a broad pan, with ½ inch of water. Also excellent broiled or grilled. Good dressed with vinaigrette, or with lime juice, salt and pepper.
Bok choy (rosette with thick white stems and green leaves) – This Asian green is good for stir-frying or sautéing or in soup. You can think of the stems and leaves as two separate vegetables. The stems require longer cooking. The leaves will cook almost as quickly as spinach. Bok choy stores well, so feel free to pull off leaves as you need them, or use the whole head at once. Storage: Refrigerate in a plastic bag or other container.
Some heads have small flower stalks which you can eat or remove. The plants have begun flowering in response to cold – hot – cold weather this spring.
Green garlic (looks like scallions, tastes like garlic) – Last fall, we planted garlic cloves that grew into the stalks we harvested this week. If left to grow until mid-summer, the slim white bulb on this week's garlic will divide and form the usual cluster of cloves in a garlic bulb.
Preparation: Green garlic is more pungent than scallions, so slice thinly and use sparingly when raw. It mellows when cooked. Chop and add to any cooked dish that would benefit from garlic. Use the white bulbs and pale green stems. Avoid the dark green stems and leaves, as these are fibrous.
Lettuce – See notes about about washing and spinning dry. Storage: Refrigerate in a bag or other container.
Potatoes, Dark Red Norlands – Please refrigerate these potatoes. They are in great shape now but will sprout within days if stored at room temperature! They've been stored all winter and want to grow. Store in a paper bag to protect from light, even in the fridge. We grow everything we send in our CSA boxes except potatoes, mushrooms and some asparagus, all of which we buy from organic growers that we trust. We purchased these potatoes from Jesse & Jonnah Perkins at Mythic Farm (formerly Vermont Valley Farm.) Jesse says the potatoes have a higher sugar content because of starch to sugar conversion during cold storage. That means the potatoes taste a bit sweet, and will darken slightly when fried. It's a harmless color change due to the sugar conversion.
Rhubarb – Storage: Refrigerate in a plastic bag. FYI, 1.75 lb of rhubarb yields 5 – 5.5 cups when chopped.
Stewed rhubarb: This is the simplest way to prepare rhubarb. Chop rhubarb into one inch chunks. Stir over medium heat with a small amount of water in the bottom of the pan. The rhubarb will release moisture as it cooks. Stew until it softens and falls apart. Sweeten to taste with honey or sugar. Eat warm on its own, over vanilla ice cream, on pancakes, etc.
Preserve: Rhubarb is so easy to freeze. Wash, chop and pop it in a freezer bag. That's it; no need for blanching. When baking muffins or cakes, add the frozen rhubarb directly to the batter.
Salad radishes – These are so good right now; tender, crisp and not too spicy. They are great in salads or thinly sliced on sandwiches. A few years ago, I was served open-faced radish and butter sandwiches on toast and was impressed with how tasty they were. Use good quality butter.
Storage: Cover and refrigerate.
Spinach – This batch is tender and excellent for salads cooking.
RECIPES from PHOEBE
Spinach & Ricotta Pizza
I started making this pizza after eating a similar one at Spacca Napoli, a great Italian restaurant in our neighborhood. I love that it's both super simple and super flavorful, topped with a creamy layer of lemon ricotta, lots of sautéed spinach, and a shower of Parmesan cheese. Look for fresh pizza dough at your grocery store, or try making your own. I've had success with this recipe and this recipe.
Serves: 2-3
Prep time: 15 minutes
Cook time: 15 minutes
Cornmeal, for the pan
1 cup whole milk ricotta cheese
2 teaspoons lemon zest
1 garlic clove, grated
¼ teaspoon sea salt
1 teaspoon extra-virgin olive oil
3 cups fresh spinach
1 pound pizza dough
½ cup freshly grated Parmesan cheese
Red pepper flakes
Freshly ground black pepper
Preheat the oven to 500°F and dust a large baking sheet or pizza pan with cornmeal.
In a medium bowl, stir together the ricotta, lemon zest, garlic, salt, and several grinds of pepper. Set aside.
Heat the olive oil in large skillet over medium heat. Add the spinach and a pinch of salt and cook, tossing, until just wilted, 1 to 2 minutes.
Place the pizza dough on the prepared pan and stretch it into a large circle about 12 inches in diameter. Spread the ricotta mixture evenly over the dough, leaving a ½-inch border around the edges. Top with the spinach, then sprinkle on the Parmesan cheese.
Bake until the crust is golden brown, about 12 minutes, rotating the pan halfway through.
Sprinkle with red pepper flakes, slice, and serve.
Pickled Bok Choy Stems
Juicy, crunchy bok choy stems are perfect for pickling! Try adding these sweet and tangy pickles to salads, sandwiches, and wraps like the one below.
Prep time: overnight
Cook time: 1 minute
1½ cups diced bok choy stems
½ teaspoon black peppercorns
¼ teaspoon mustard seeds
⅔ cup water
⅓ cup distilled white vinegar
1½ tablespoons cane sugar
1 teaspoon sea salt
Place the bok choy stems, peppercorns, and mustard seeds in a lidded jar and set aside.
Heat the water, vinegar, sugar, and salt in a small saucepan over low heat. Stir until the sugar and salt dissolve, then pour the brine over the bok choy stems. Cover the jar and shake, then uncover and allow to cool to room temperature.
Transfer to the fridge to chill overnight. The pickles should keep in the fridge for about 2 weeks.
Curried Chickpea & Bok Choy Wraps
These refreshing wraps have been one of our go-to lunches this spring. A creamy curried chickpea salad contrasts with crisp bok choy leaves and crunchy, tangy pickled bok choy stems. If you make the bok choy stem pickles ahead of time, the wraps only take a few minutes to put together, but for even quicker assembly, you can also prep the chickpea salad and the greens up to two days in advance.
Serves: 2
Prep time: 15 minutes with pre-made pickled bok choy stems
1½ cups cooked chickpeas, drained and rinsed
¼ cup whole milk Greek yogurt
2 teaspoons extra-virgin olive oil, plus more for drizzling
1 teaspoon fresh lemon juice
1 teaspoon curry powder
½ teaspoon sea salt
Freshly ground black pepper
2 tablespoons raisins
8 medium bok choy leaves, roughly chopped
2 large tortillas
¼ cup Pickled Bok Choy Stems (recipe above)
In a medium bowl, place the chickpeas, yogurt, olive oil, lemon juice, curry powder, salt, and several grinds of pepper. Stir to combine, then mash with a potato masher until the mixture is thick and creamy with some whole chickpeas still intact. Fold in the raisins.
In another medium bowl, toss the bok choy leaves with a drizzle of olive oil and a pinch of salt.
Fill each tortilla with half the chickpea salad, half the bok choy leaves, and half the pickled bok choy stems. Fold the left and right sides of the tortillas over the fillings, then tuck and roll the wraps closed. Slice in half, if desired, and serve.
Green Garlic Risotto
From Dishing Up The Dirt
This creamy spring risotto is a perfect way to showcase the green garlic in this week's box. The recipe calls for mizuna, but a big handful of spinach (or even thinly sliced asparagus) would work just as well.
.
.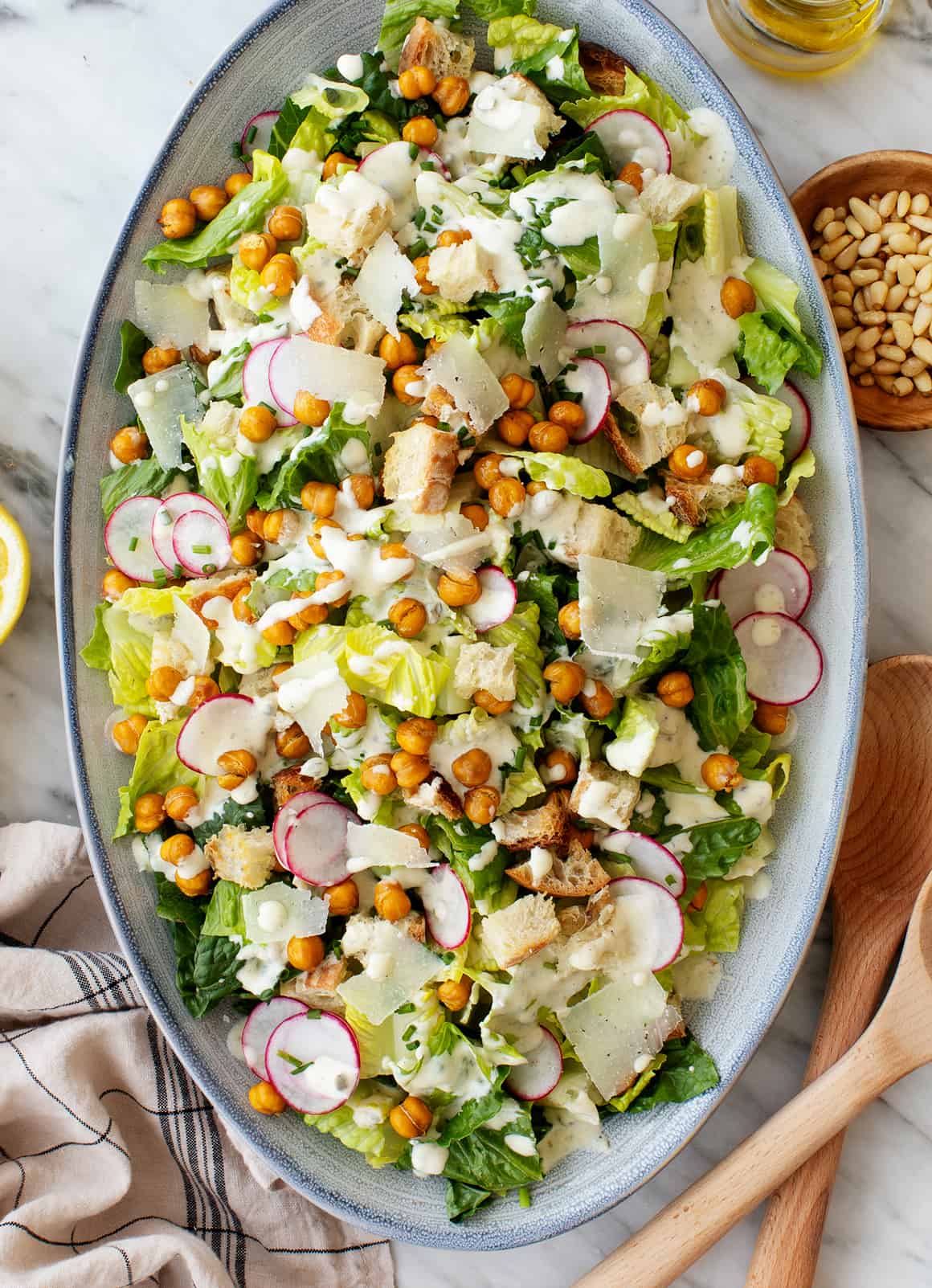 Photo by Jeanine Donofrio & Phoebe Moore
Caesar Salad
From Love & Lemons
Romaine is traditional for Caesar salad, but the red leaf lettuce from this week's box would taste fantastic in this recipe, too! Radishes, roasted chickpeas, and croutons give it lots of crunch, and a creamy homemade dressing packs it with tangy, briny flavor. For more ideas on how to dress your lettuce, check out this roundup of easy homemade salad dressings from Love & Lemons.
.
.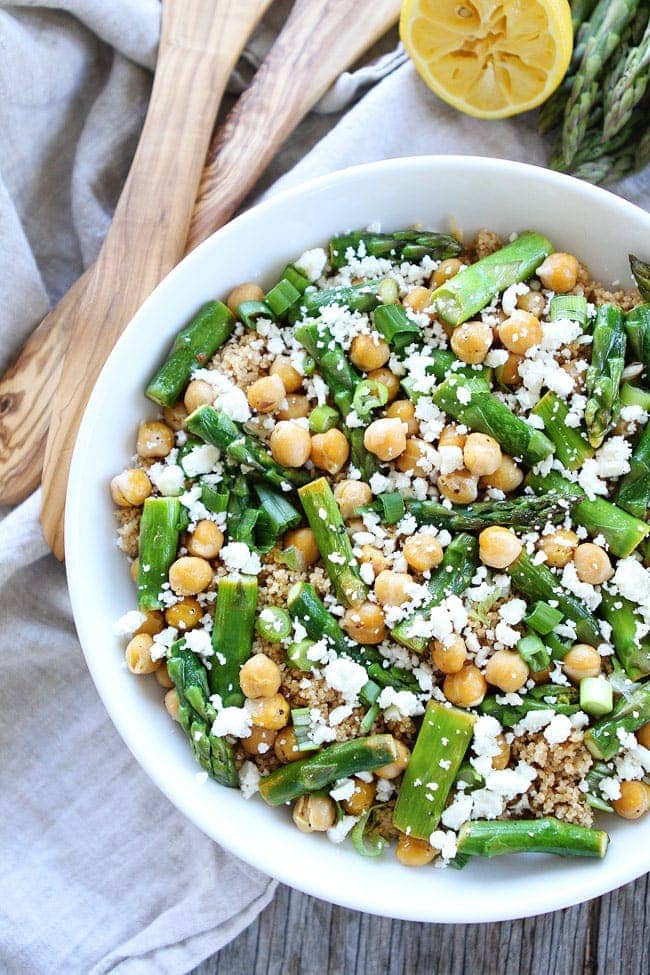 Photo by Two Peas & Their Pod
Asparagus Chickpea Quinoa Salad
From Two Peas & Their Pod
This lemony asparagus, feta, and grain salad would be a great make-ahead lunch or picnic side dish! The recipe calls for green onions, but you could easily substitute thinly sliced green garlic from this week's box.
.
.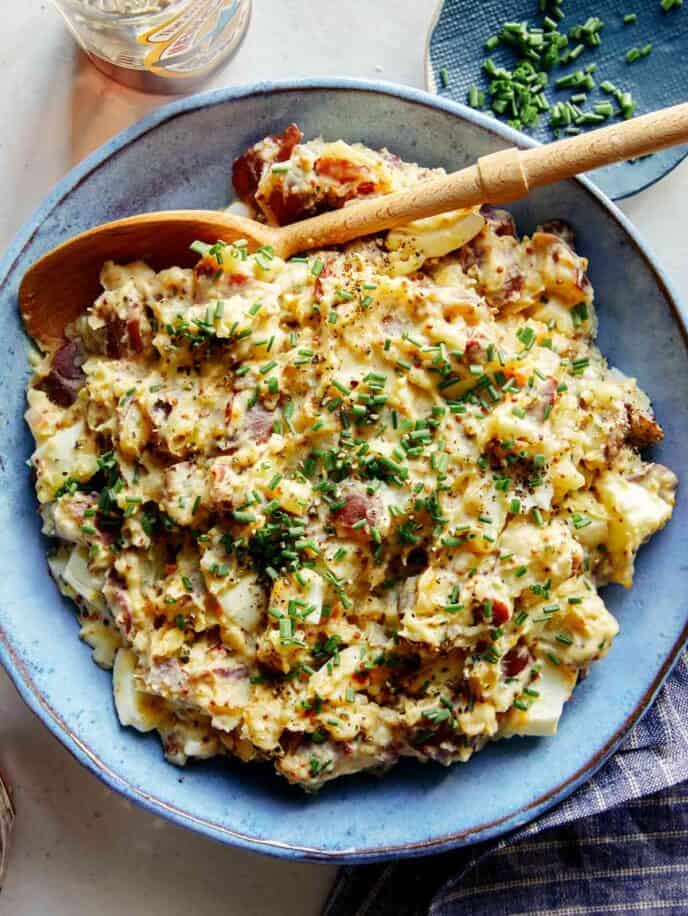 Photo by Spoon Fork Bacon
Creamy Potato Salad
From Spoon Fork Bacon
Perfect for a weekend cookout! This recipe calls for mashing some of the potatoes, which gives the salad an extra-creamy texture. If you don't have a shallot or chives, add a few tablespoons of minced green garlic instead.
.
.


Photo by Jeanine Donofrio & Jack Mathews
Oven Roasted Potatoes
From Love & Lemons
In this mouthwatering side dish, crispy roasted potatoes are tossed in a zingy lemon dressing. If you don't have fresh rosemary, substitute 1 teaspoon dried, or feel free to skip it. The dressing is still plenty flavorful without it!
.
.


Photo by Cookie + Kate
Rhubarb Chia Jam
From Cookie + Kate
A really simple way to enjoy your rhubarb! This sweet and sour jam would be fantastic on oatmeal, yogurt, toast, and more.
.