Week #17, Sept 15/16, 2022
Pepper ID
I am posting photos of the types of peppers we grow, so you can recognize the ones you receive this week. You will receive three, four or five peppers depending on size. The only hot pepper is the cayenne chile, which is packed in your paper bag of potatoes, so you can recognize it. All other peppers this week are sweet.
Bell peppers (sweet) are blocky and thick-walled, great for salads, stuffing, grilling, and roasting, where their thick walls are an advantage. This week's bell peppers are red or yellow, but we grow red, yellow, orange, purple and green bell peppers.
Frying peppers (sweet) are thinner walled, with a pointed tip. This type is great for frying. They have lower moisture, which allows them to fry and brown in hot oil. Frying peppers can also be stuffed or used for salads. They are less useful for roasting, because of their thinner walls, and lower yield after roasting. We grow red, yellow and green frying peppers.
Oranos (sweet) are crisp, sweet snack peppers. Hand them to the kids on the drive home.
Cayenne chile (HOT). Yes, these are HOT. Keep labelled and separate from your other peppers. They are smaller than the others but can overlap in size with the smallest frying peppers.
Veggie List & Veggie Notes
Week #17, September 15/16, 2022
– Weekly shares
– EOW/ green
Yellow potatoes, 3 lb
Colored peppers, mixed colors & types, 3 to 5, ~1.5 lb total
Slicing & plum tomatoes, ~3.5 lb
Koji greens, 1 bunch
Leeks, ~1 lb
Yellow onion
Parsley, 1 bunch
Basil, 1 stalk
Cayenne chile (HOT), 1
Korean Red garlic, 1 head
Next week's box will probably contain tomatoes, peppers, winter squash, fall greens, garlic and more.
Yellow potatoes – These organic potatoes are from our farmer friends Josh and Noah Engel at Driftless Organics.
Koji greens (head of dark green leaves) – Refrigerate.
Koji greens are a lot like tatsoi if you know that one; dark green with a nice balance of bitter flavor but not too strong. I prefer Koji to tatsoi because it has larger, lusher leaves and not so many leaf stalks. Recipes that use mustard greens or bok choy will work with Koji. In a contest for my favorite fall green, Koji runs neck and neck with bok choy.

Koji greens
RECIPES by PHOEBE
Simple Fresh Tomato Pasta
Unlike a typical red sauce pasta, this recipe relies on grated fresh tomatoes instead of canned ones. You'll only cook them for a few minutes, so you can really taste their sweet, fresh flavor in the final dish. Note that you'll need to undercook the pasta for this recipe. It finishes cooking with the tomatoes, soaking up their juices as they thicken into a light sauce.
Serves 4 to 6
Prep time: 10 minutes
Cook time: 20 minutes
2 pounds slicing tomatoes, halved horizontally
1 pound bucatini pasta
¼ cup extra-virgin olive oil
3 garlic cloves, thinly sliced
¼ teaspoon red pepper flakes
½ teaspoon sea salt
Freshly ground black pepper
½ cup grated pecorino cheese, plus more for serving
Big handful fresh basil leaves
Set a box grater upright in a large bowl. Press the cut side of one tomato half into the large holes of the grater and grate the tomato flesh into the bowl. Discard the skin and repeat with the remaining tomatoes.
Bring a large pot of salted water to a boil. Cook the pasta 2 minutes shy of al dente, then drain. It will finish cooking in the sauce.
Heat the olive oil in a large, deep skillet over medium heat. Add the garlic and red pepper flakes, reduce the heat to medium-low, and cook, stirring, until the garlic softens and begins to turn golden, 2 to 3 minutes. Raise the heat to medium and add the grated tomatoes, the salt, and several grinds of pepper. Stir and cook for 2 minutes to heat the tomatoes through.
Add the cooked pasta and toss. Gradually add the cheese, tossing between each addition, then cook, tossing often, until the tomato juices thicken and coat the pasta, 4 to 7 minutes. Remove from the heat and stir in the basil. Season to taste with salt and pepper and serve with more cheese, as desired.
Quick Peperonata
This recipe is a quick, small-batch version of the Italian side dish peperonata, or peppers cooked in olive oil with onions and tomatoes. I dice the peppers and onions here so that you can enjoy this recipe as a dip with crackers or crostini, but it also makes a great filling for an omelet, topping for polenta, or spread for a sandwich.
Serves 4
Prep time: 10 minutes
Cook time: 25 minutes
2 tablespoons extra-virgin olive oil, plus more for drizzling
½ yellow onion, diced
12 ounces colorful sweet peppers (about 2 medium bells), stemmed, seeded, and diced
½ teaspoon sea salt
8 ounces tomatoes (about 1 large slicer), chopped
2 garlic cloves, grated
1 teaspoon red wine vinegar
Freshly ground black pepper
Fresh basil leaves, for garnish
Heat the olive oil in a large skillet over medium heat. Add the onion and cook, stirring occasionally, until soft and translucent, about 5 minutes. Add the peppers and salt and cook, stirring occasionally, until the peppers soften, about 8 minutes.
Add the tomatoes and cook, stirring often, until they break down and the mixture becomes saucy, about 5 minutes. Reduce the heat to medium-low and stir in the garlic and vinegar. Cook, stirring often, until the peppers are tender, another 5 minutes. Remove from the heat and season to taste with salt, pepper, and more vinegar, as desired.
Serve warm or at room temperature, topped with a drizzle of olive oil and garnished with fresh basil leaves.
.
.


Photo by The Modern Proper
Baked Cod with Parsley Olive Tapenade
From The Modern Proper
This recipe would be a great use for the parsley in this week's box. Mixed with lemon, garlic, and chopped green olives, it creates a fresh, briny, and zesty topping for simple baked fish.
.
.


Photo by i am a food blog
Sweet and Sour Pork
From i am a food blog
Peppers and onions add freshness and crunch to this flavorful sweet and sour pork recipe. Serve it with rice for an easy weeknight meal!
.
.


Photo by Jeanine Donofrio and Phoebe Moore
Breakfast Potatoes
From Love & Lemons
Spiced with smoked paprika and tossed with sautéed peppers and onions, these crispy potatoes are a great side dish at any meal, not just breakfast!
.
.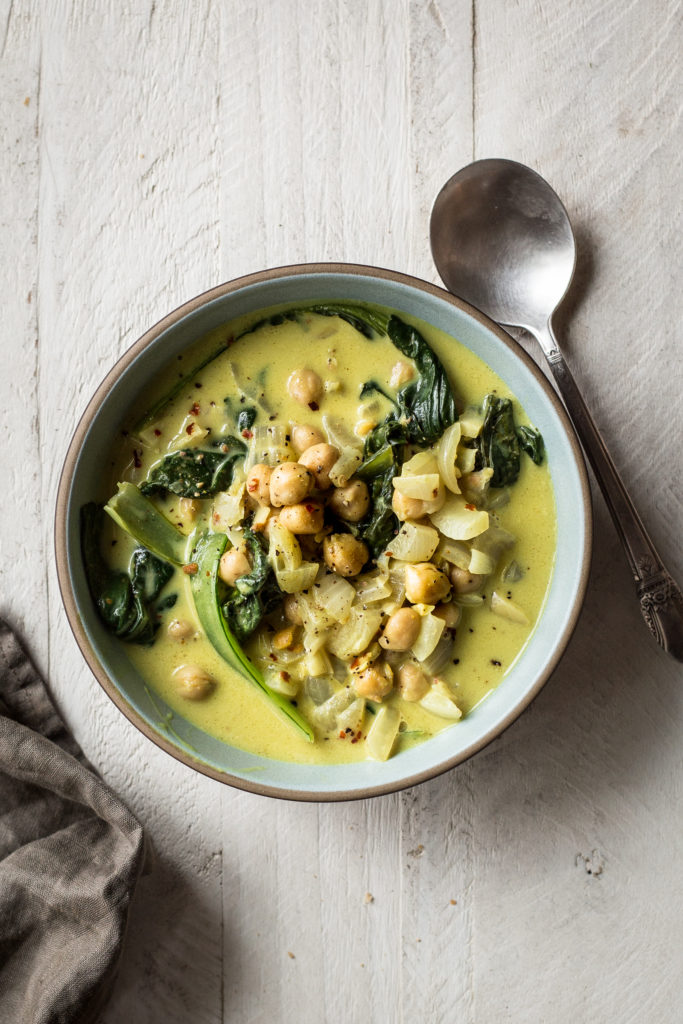 Photo by Andrea Bemis
Bok Choy Coconut Curry
From Dishing Up The Dirt
Sub koji greens for the bok choy in this quick chickpea curry recipe.
.
.


Photo by Cookie + Kate
Spicy Kale and Coconut Fried Rice
From Cookie + Kate
Koji greens would be a fantastic sub for the kale in this veggie-forward fried rice. Kathryne calls for a cup of additional chopped vegetables as well, and peppers would be great! Replace the green onions with an equal amount of chopped yellow onion. It'll just take a minute or two longer to soften; adjust the cooking time accordingly.
.
.


Photo by Jeanine Donofrio and Phoebe Moore
Crispy Smashed Potatoes
From Love & Lemons
Who doesn't love smashed potatoes? They're crispy on the outside, creamy in the middle, and filled with delicious garlicky flavor. Serve them hot off the baking sheet, topped with a sprinkle of parsley, red pepper flakes, and Parmesan cheese.