Week #15, September 1/2, 2022
I am back to work part-time now and still catching up. Thank you for all the well wishes! Here more photos our son Ari took before returning to college. He has worked on the farm crew for years and knows all the ins and outs of the farm. I like that he photographs different things than I do.
Beth

Plum tomatoes being washed in our brusher washer. Plums are firm enough to wash this way. Slicing tomatoes are too delicate, so we send those to you unwashed or lightly wiped.

Our crew spends many hours harvesting zucchini or yellow 'Zephyr' squash. We sweep the field three days per week, diving into the spiny plants to find squash big enough to cut free. Your squash this week comes from our second planting which is quite a bit smaller than the first field. By this time of year, we know there will be many other vegetables to harvest, and will only want a few squash per CSA box, so we plant a smaller field.

So … have I ever showed you our cull pile? Apparently Ari wants you to see it! This is where we dump problematic produce, mostly flawed vegetables we find at washing. Don't worry – none of it is worth saving or donating to Second Harvest Food Bank. The pile rots undisturbed at the edge of our fields. Every few years, we'll load it in a spreader and spread it on grasslands at the edge of the farm. I'll be blunt – it smells pretty bad.
Veggie List & Veggie Notes
Week #15, September 1/2, 2022
– Weekly shares
– EOW/ green
Sweet corn, 9 ears
Carrots, 2 lb
Slicing & plum tomatoes, 4 lb total
Cherry tomatoes, 1 pint
Red bell peppers, 2 (mixed #1, #2)
Colored frying peppers, 2 (mixed #1, #2)
Zucchini or yellow summer squash, 2 to 3 squash
Yellow onion
Jalapeno chile (HOT), 1
Basil, 1 husky branch
Next week's box will probably contain sweet corn, carrots, tomatoes, peppers, zucchini, onions and more.
Sweet corn 'Vision' – This batch is especially tasty, perhaps because of steady recent rains. Bug report: There are a few bugs at the tips at low frequency.
Basil – Look at the beautiful basil! We have begun harvesting our second planting. We were able to protect these plants from Japanese beetles so this batch of basil is in good shape.
RECIPES by PHOEBE
Black Bean Tacos with Smoky Sweet Corn Sauce
These veggie tacos use sweet corn 2 ways (technically 3, if you serve them in corn tortillas)! I mix some whole kernels into the black bean and bell pepper filling and blend the rest into a creamy, sweet, and tangy sauce. Top them with quick-pickled jalapeños for a bright pop of flavor and a kick of heat. I like to char the corn and peppers in a hot skillet because I don't have an outdoor grill, but if you do, feel free to use it. Grilling the veggies works just as well here.
Makes 12 tacos
Prep time: 20 minutes
Cook time: 20 minutes
For the quick-pickled jalapeños
1 jalapeño pepper, thinly sliced
2 tablespoons fresh lime juice
Pinch sea salt
Pinch sugar
For the tacos
1 red bell pepper
4 ears sweet corn, husked
⅓ cup raw cashews*
3 tablespoons fresh lime juice
2 tablespoons avocado oil
1 tablespoon rice vinegar
¼ teaspoon smoked paprika
⅛ teaspoon cayenne pepper
⅛ teaspoon garlic powder
⅛ teaspoon onion powder
1½ cups cooked black beans, drained and rinsed
1 teaspoon chili powder
1 garlic clove, grated
½ teaspoon ground cumin
12 tortillas, warmed
Fresh cilantro, for garnish (optional)
Sea salt and freshly ground black pepper
Make the quick-pickled jalapeños: In a small lidded container or jar, place the jalapeño slices, lime juice, salt, and sugar. Shake to combine and chill until ready to use.
Heat a large, dry cast-iron skillet over medium-high heat. When the pan is hot, add the whole red bell pepper and as many ears of corn as you can fit. Cook, rotating the vegetables every few minutes, until the pepper is blackened and blistering on all sides and the corn is tender, bright yellow, and lightly charred all around. Repeat as necessary with the remaining ears of corn.
Place the charred pepper in a large bowl and cover with a lid or dish towel. Set aside for 10 minutes to steam and soften, then use your hands to peel away the loose, charred skin. Slice the pepper in half and remove the stem, seeds, and membranes. Dice the pepper.
Slice the kernels off the corncobs and transfer 1 cup to a high-speed blender with the cashews, 1 tablespoon of the lime juice, 1 tablespoon of the avocado oil, the rice vinegar, paprika, cayenne, garlic powder, onion powder, and a heaping ¼ teaspoon sea salt. Blend until smooth and creamy and season to taste.
Place the remaining corn kernels in a large bowl. Add the diced red pepper, black beans, chili powder, grated garlic, cumin, the remaining 2 tablespoons lime juice, and the remaining 1 tablespoon avocado oil. Stir well to combine, then season with ½ teaspoon sea salt and several grinds of pepper and stir again. Season to taste.
Assemble tacos in the tortillas with a dollop of the smoky sweet corn sauce, the corn and black bean mixture, the quick-pickled jalalepeños, and fresh cilantro, if using.
*If you do not have a high-speed blender, soak the cashews for at least 4 hours, or overnight, before making the sauce.
Sweet Corn Grits with Roasted Tomatoes and Fried Eggs
Enjoy this recipe for any meal of the day: breakfast, lunch, dinner, or even brunch. It's another corn-2-ways dish, made with fresh sweet corn as well as stone-ground grits. I puree most of the fresh corn kernels, stirring them into the grits to make them sweeter and creamier. The remaining kernels I leave whole for texture. The exact cooking time will vary here depending on the grits you're using. Be sure to use stone-ground grits, not quick-cooking or instant ones, and cook until they're thick, creamy, and have just a slight bite. Top with a fried egg and roasted tomatoes for a delicious balance of sweet and savory flavors.
Serves 6
Prep time: 15 minutes
Cook time: 45 minutes
2 pounds tomatoes (about 4 large)
4 cups water
½ teaspoon sea salt, plus more for sprinkling
5 ears sweet corn, husked
1 cup dry stone-ground grits (not instant)
½ cup freshly grated Parmesan cheese
1 tablespoon extra-virgin olive oil, plus more for drizzling
1 garlic clove, grated
6 large eggs
Freshly ground black pepper
Preheat the oven to 350°F and line a baking sheet with parchment paper.
Cut the tomatoes into ½-inch wedges, then cut the wedges in half crosswise. Place the tomato chunks on the baking sheet, skin side down. Drizzle with olive oil, sprinkle with salt, and roast until shriveled and lightly browned around the edges, about 40 minutes.
Place 3½ cups of the water and the salt in a medium pot and bring to a boil. Slice the kernels off the corncobs. Set aside the kernels from 1 ear of corn and add the remaining corn to the boiling water. Cook for 3 minutes, or until tender and bright yellow, then use a slotted spoon to scoop the kernels out of the water and into a blender, leaving behind as much water as you can. (It's ok if you leave behind a few corn kernels too.)
Slowly pour the grits into the boiling water, stirring constantly. Reduce the heat to low, cover, and simmer, stirring often, until the grits are thick and creamy, about 20 minutes.
Meanwhile, blend the boiled corn kernels into a smooth puree. When the grits are thick and creamy, stir the puree into the pot along with the remaining ½ cup water and the raw corn kernels. Cover and cook, stirring often, until the mixture thickens and the grits are tender, about 15 minutes.
Turn off the heat and stir in the Parmesan, olive oil, and garlic. Cover and let stand for 10 minutes while you fry the eggs.
Heat a large nonstick skillet over medium-low heat and brush it with olive oil. Crack in the eggs, cover, and cook until the yolks are just set, 2 to 4 minutes. Work in batches if necessary.
Portion the grits onto plates and top with the fried eggs and roasted tomatoes. Season with salt and black pepper to taste.
.
.


Photo by The Modern Proper
Sheet Pan Italian Sausage Heros with Honey Mustard
From The Modern Proper
Fit for a Labor Day celebration or an easy weeknight meal, these hearty sandwiches are packed with roasted Italian sausages, sweet peppers and onions, and a creamy, 4-ingredient honey mustard sauce.
.
.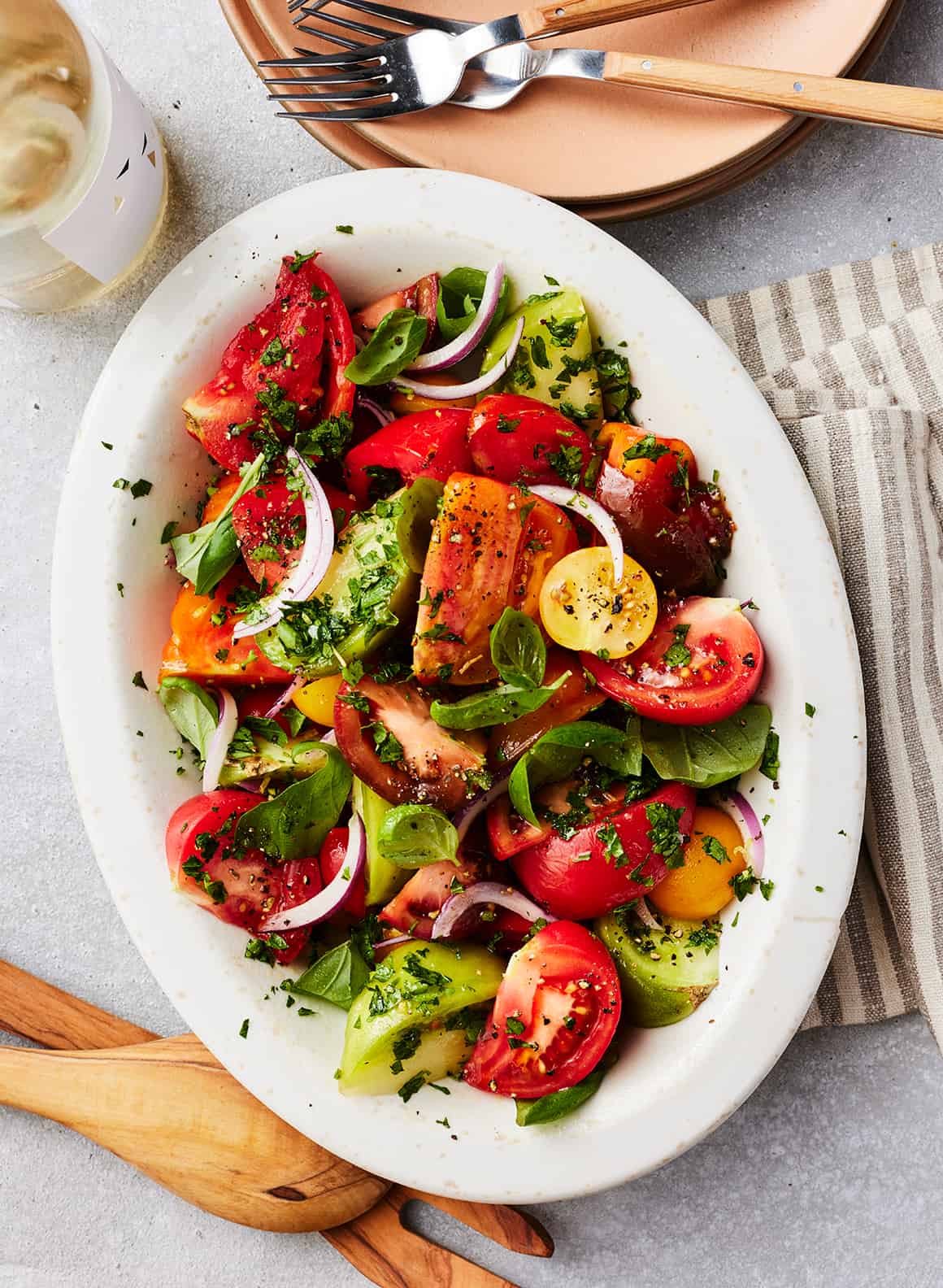 Photo by Eva Kolenko
Tomato Salad
From Love & Lemons
This tomato salad is as simple as they come, designed to highlight peak-season summer tomatoes. If you don't have parsley, feel free to skip it. Just toss the salad with lemon zest and grated garlic instead of the gremolata.
.
.


Photo by Erin Alderson
Cumin Braised Carrots and Chickpeas
From Naturally Ella
This recipe is one of my favorite pantry meals. It's so simple, calling for under 10 ingredients, but it's still full of delicious sweet and earthy flavor. As written, the recipe serves 2, but you can easily scale it up to feed a larger group.
.
.


Photo by Cookie+Kate
Mediterranean Couscous Salad with Raw Squash and Feta
From Cookie+Kate
This summery couscous salad would be great for picnics this weekend or lunches next week. If you don't have a shallot on hand for the dressing, feel free to skip it, or replace it with half the amount of finely chopped yellow onion. You'll find the rest of the fresh ingredients–zucchini, cherry tomatoes, and basil–in your box.
.
.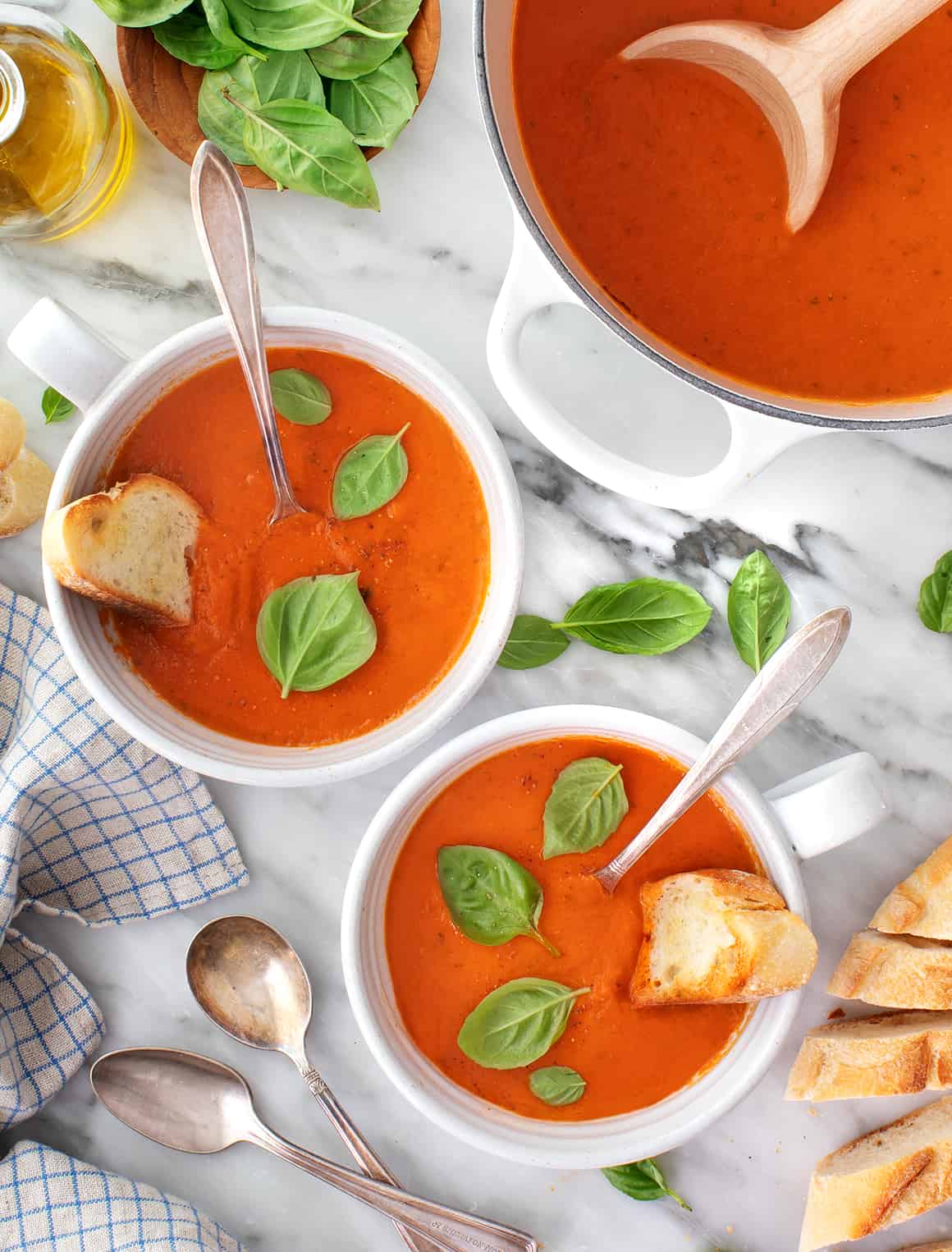 Photo by Jeanine Donofrio and Phoebe Moore
Tomato Basil Soup
From Love & Lemons
This roasted tomato soup freezes perfectly, so if you want to preserve some of your summer tomatoes to enjoy later this fall, I highly recommend making and freezing a batch. Of course, it's great hot off the stove too.
.
.


Photo by The First Mess
Vegan Barley Risotto with Roasted Carrots
From The First Mess
This unconventional risotto calls for pearled barley instead of arborio rice, giving it a more complex texture and flavor. If you can't find pearled barley, Laura says that pearled farro would work nicely too. Sub onion for the shallot, and top the creamy, savory risotto with roasted carrots from your box.