Monthly Archives:
November 2022

You each get one full Brussels sprouts stalk. It took the entire season to grow these amazing stalks. This field was planted in June. We had to cut the stalks in half to fit them in the boxes.

On Saturday, Bekah helped us harvest your cauliflower in the snow. We rarely ask crew members to work on the weekend but couldn't risk the cauliflower on cold nights. What a trooper!
Storage Share this week

Your produce is in one box labelled "A" and one box labelled "B". Bring lots of bags and containers.
Things you need to know about your winter share
* Your delivery will consist of two different boxes, labeled "A" and "B". Take produce from one "A" box and one "B" box. The boxes contain different vegetables. The stacks may be covered with blankets. Look around.
* Please pick up your boxes on the day of delivery, during the normal hours for your site.
* Bring extra bags or containers this time. Leave the Tipi boxes at your site, take the produce home in your own bags/containers.
* If you send someone to pick up your produce, make sure they know what to do.
Strategy
We hope you enjoy this shipment of veggies. Strategize to use them well, as some will last longer than others.
* These are the most perishable vegetables: Broccoli, cauliflower.
* These are the next-most perishable: Brussels sprouts, fennel. Keep an eye on your butternut, onions, potatoes and sweet potatoes. The last two are susceptible to drying out. Expect the largest butternuts to last the longest.
* Onions are next in line. We sent you our best long-storing onions but you should still store them cool if possible (but don't let freeze). If you don't have room in your fridge, find a cool spot in your house.
* These will last the longest: beets, cabbage, carrots, celeriac, daikon, garlic, parsnips and shallots.
Veggie List
Storage Share, Nov. 17/18, 2022 (Th/Fri sites)
Box "A"
Refrigerate everything in this box.
Broccoli, 2.25 – 2.5 lb
Brussels sprouts, on the stalk
Cabbage, 1 head
Carrots, 6 lb mixed orange, red, yellow & purple
Cauliflower, 1 medium head
Celeriac, 1 large
Daikon radishes, white & purple
Fennel, 2 bulbs
Parsnips, ~2 lb
Box "B"
Everything in this box (except the beets) can be stored cool or at room temperature. See notes below for more detail.
'Autumn Frost' winter squash
Butternut squash, several
Sweet potatoes, ~8 lb
Beets, 3 lb
Onions, red & yellow, 5 lb total
Russet potatoes, 5 lb
Yellow potatoes, 5 lb
Shallots, ~1/2 lb
Garlic, 3 or 4 bulbs, some bulbs will be split into cloves (in shallot bag)

Shallots. Yours are packed in a paper bag with the garlic.
Beets – Refrigerate in a bag or container. Beets will store for two months or longer.
Broccoli – Refrigerate and eat soon.
Brussels sprouts – Eat within 2 to 3 weeks.
Cabbage – Refrigerate. You can cut off sections as needed. Once cut, use within two weeks.
Carrots – Refrigerate in a plastic bag. Will keep for several weeks.
Cauliflower – Refrigerate. These should store for two weeks.
Celeriac – Will store for months in your fridge. Cut off chunks as needed. Peel before using. I find it easiest to cut the celeriac into flat slices, then peel.
Daikon radishes (white and purple) – Cover and refrigerate. They are susceptible to drying out in your fridge so put them in a container or bag. If the skins look dry, a quick peel freshens them up.
Fennel – Cover and refrigerate.
Garlic – Store at room temperature. Some of your bulbs might be in halves, leftover from when we cracked nice bulbs for planting.
Onions: Refrigerate or store in a cool, dark spot and protect from light. Exposure to light stimulates sprouting.
Parsnips (These look like large white carrots.) – Refrigerate in a plastic bag. Parsnips will store for several months but will darken in color. That is a harmless change.
Potatoes – Can be stored at room temperature or in a cool spot, but must be kept in the dark so they do not turn green. A cloth or loose plastic bag draped over the paper bag will slow moisture loss, but do not close the plastic bag. Potatoes store longer if kept cool. Around 40 – 50 F is ideal. These organic potatoes were grown by the Igl family near Antigo.
Russets – We got the big 'baking' grade so you have nice bakers for Thanksgiving. Excellent for baked or mashed potatoes.
Yellows – These are good all-purpose potatoes.
Shallots (look like small red onions) – Good for salad dressing. We're still learning how to grow shallots and are thrilled to have a small bag for everyone!
Sweet potatoes – We're sending a mix of three indistinguishable varieties, Beauregard, Covington and Orleans. All have excellent flavor and sweetness. Store at room temperature, no lower than 55 F, but 60+ F is better. Keep them on your kitchen counter where it's easy to keep an eye on them. I like to keep ours in a paper bag so they don't dehydrate. Cook promptly if they start to soften. The roots come in a wide ranges of sizes and all are good.
WINTER SQUASH – Store all winter squash cool and dry. 60 F is ideal. Do not put in a plastic bag. Check your squash regularly and eat promptly if flaws develop.
Autumn Frost (frosted pumpkin) – This beautiful frosted squash has both pumpkin and butternut squash breeding. It cooks and tastes like an unusually good butternut, with rich, smooth texture. The skin is edible.
Butternut winter squash (All sites; tan, oblong) – We've sent several varieties, some of which store better than others. Expect the largest butternuts to store the longest. If your butternuts show signs of drying or wrinkling, use them promptly. They will still taste great, but it's a sign that they are nearing the end of their storage life. Remember, you can cook, mash and freeze the squash for future use. I find that you can refrigerate cut raw squash for up to one week. This runs counter to the accepted way to store squash, but is useful if you want to cook just half a squash. Some of them are big!
Safety tip: Microwave your squash for one to two minutes before cutting or peeling. This softens the squash and makes a squash easier and safer to cut.
Thanksgiving Menus
It's time for our annual Thanksgiving menu round-up! Right now, websites are loaded with great recipes suited to your Storage Share vegetables. Peruse and bookmark soon. The Thanksgiving collections are taken down quickly after the holiday but individual recipes are not. This is a good chance to gather recipes to try this winter. With one exception, no new dishes will make it to our Thanksgiving table – we already have too many competing favorites! See below for the exception.
Smitten Kitchen
You could begin and end your Thanksgiving planning with Deb Perelman. She's an amazing cook who publishes workable recipes. She has an extensive list of Thanksgiving dishes collected over the years. I really trust her recipes.
Food52.com
I recommend one corner of the Food52 Thanksgiving spread. Honestly, the rest of their Thanksgiving offerings are over-commercialized this year but this one section is great: "Our 76 Best Thanksgiving Side Dishes to Complete the Feast, The greatest hits plus new classics", curated by Eric Kim.
I'm intrigued by the interesting sauces offered.
eg, Blistered Green Beans & Sweet Potatoes With Tahini. I've never thought to top roasted sweet potatoes with a lemony tahini sauce!
eg, Roasted Potato Salad With Mustard-Walnut Vinaigrette .
Love & Lemons
They have a beautiful collection of "50 Thanksgiving Side Dishes".
Maple Balsamic Roasted Brussels Sprouts
Our daughter Sophie announced that she is taking over Brussels sprouts this Thanksgiving, booting our treasured Brussels Sprouts in Mustard & White Wine Vinaigrette dish. She tells me that I should "just stop steaming Brussels sprouts." She prefers roasted. Such strong opinions! This is a 'non-recipe' recipe. She tells me that it gets devoured by twenty-somethings at potlucks. What a great recommendation.
Preheat oven to 425 degrees.
Cut Brussels in half and put on a baking sheet.
Toss with maple syrup, balsamic vinegar, olive oil, salt, pepper, and garlic powder until the glaze tastes how you want it.
Roast at 425.
Taste halfway through cooking to see if it needs more glaze or seasoning.
This week's delivery is a stand-alone Extension Share, for those who registered.

The light has been amazing this week.
Top, Steve and Maggie harvest a field of carrots, against a backdrop of lush green cover crops.
Bottom, red cabbage harvest. Cabbages in this field are smaller than we would like but we cannot wait any longer for them to grow. Time is up.

This week's red napa is lovely. It's a fine batch this year. Look how it harmonizes with Maggie's hand-knit hat. Actually, it's not just hand-knit. She starts with a wool fleece, spins the yarn, dyes it, then knits. Some day I'll do a montage of all the hats she's knitted for co-workers and for herself. She often includes purplish tones like the red napa.
We are in a hurry to bring all our remaining crops by the end of Saturday. Temperatures drop dramatically at the end of the week, with no warm-up in the forecast. Most falls are more gradual, allowing us time to harvest crops calmly and in sequence. This year is a rush. Anyway, we are almost certain we can pull it off. Wish us luck!
Beth & Steve
Veggie List & Veggie Notes
Red napa cabbage
Brussels sprouts, 1 stalk
Red potatoes, 3 1/3 lb
Green broccoli, 2 to 2.5 lb
Sweet potatoes, ~2 lb
Winter squash, Autumn Frost or Metro butternut
Carrots, 2 lb
Red onion
Yellow onion
Red napa cabbage (purplish cabbage with crinkled leaves) –
This red/purple cabbage will hold it's color if it's prepared with a little acid. See photos below. Otherwise, it turns a blue/purple hue. Also pretty, but different. Napa cabbage is an interesting vegetable, useful for both fresh, raw salads and for cooking.
Storage: Napa stores very well. When refrigerated, it will keep for several weeks. Peel off the outer layer and it will be ready to use. Here are a few preparation ideas from the 'Asparagus to Zucchini' cookbook.
– Chop raw napa into green salads.
– Substitute napa in traditional coleslaw.
– Napa cabbage cooks quickly. Steam 3-5 minutes, or until leaves are wilted down but remain slightly crisp.
– Substitute napa cabbage for common cabbage in recipes, but reduce the cooking time by 2 minutes.
– Napa cabbage is the main ingredient in egg rolls. Try making an egg roll mixture to eat as a cooked side dish instead of preparing time-consuming egg rolls.
Brussels sprouts – We are sending your Brussels still on the stalk. You get to pluck them! Twist off and store in a bag or container. Discard the stalk.
Red potatoes – These organic potatoes are from Brad and Brian Igl of Igl Farms in Antigo.
Sweet potatoes – Variety is Beauregard or Orleans. Storage at room temperature.

Brussels sprouts on the stalk.
RECIPES by PHOEBE
Sheet Pan Chicken and Cabbage Wraps
When you chop the cabbage for this recipe, it's going to seem like way too much to roast on a single sheet pan. But trust me on this one–it'll wilt down in the oven, becoming caramelized and silky. It's really good on its own (I often roast it this way to serve as a side dish), but these turmeric chicken wraps with creamy yogurt sauce are a delicious way to turn it into a complete meal.
Serves 4
Prep time: 20 minutes
Cook time: 30 minutes
2 tablespoons extra-virgin olive oil, plus more for drizzling
2 tablespoons fresh lemon juice, plus wedges for serving
2 teaspoons ground turmeric
1½ teaspoons sea salt, plus more for sprinkling
½ teaspoon freshly ground black pepper, plus more for sprinkling
1½ pounds boneless, skinless chicken thighs, cut into ½-inch-thick strips
1 pound cabbage, shredded (about 8 cups)
1 onion, thinly sliced
1 teaspoon ground cumin
1 teaspoon smoked paprika
4 pita or lavash breads, warmed
Garlic Yogurt Sauce
1 cup whole milk Greek yogurt
2 teaspoons fresh lemon juice
1 garlic clove, grated
½ teaspoon sea salt
In a large bowl, whisk together the olive oil, lemon juice, turmeric, salt, and pepper. Add the chicken and mix well to coat. Set aside to marinate while you preheat the oven and prepare the cabbage.
Preheat the oven to 425°F. Arrange one oven rack in the upper third of the oven and one oven rack in the lower third. Line two large baking sheets with parchment paper.
Place the cabbage and onion on one of the baking sheets, drizzle with olive oil, and sprinkle with the cumin, smoked paprika, and pinches of salt and pepper. Toss to coat. Spread evenly on the baking sheet and roast on the lower oven rack until the vegetables are soft, wilted, and browned in places, 25 to 30 minutes, tossing every 10 minutes.
Arrange the chicken in an even layer on the second baking sheet, leaving any excess liquid behind in the bowl. Roast on the upper oven rack until cooked through, 15 to 20 minutes.
Meanwhile, make the yogurt sauce: In a medium bowl, stir together the yogurt, lemon juice, garlic, and salt.
Assemble wraps in the pita with the yogurt sauce, roasted cabbage, and chicken. Serve with lemon wedges for squeezing.
Cumin-Spiced Couscous & Carrot Salad
I love the crunch of the pistachios against the chewy dried apricots, tender couscous, and crisp carrots in this quick side salad. Toasted, crushed cumin seeds infuse it all with warm, earthy flavor.
Serves 4
Prep time: 15 minutes
Cook time: 5 minutes
1 teaspoon cumin seeds
2 tablespoons extra-virgin olive oil
2 tablespoons fresh lemon juice
1 teaspoon lemon zest
1 garlic clove, grated
½ teaspoon sea salt
Freshly ground black pepper
1 cup dry Israeli couscous
2 medium carrots, grated on the small holes of a box grater
10 dried apricots, diced
½ cup toasted pistachios, chopped
Toast the cumin seeds in a dry skillet over medium-low heat until fragrant, 30 seconds to 1 minute. Transfer to a mortar and pestle and roughly crush.
In a large bowl, whisk together the olive oil, lemon juice and zest, garlic, salt, and several grinds of pepper. Add the cumin and mix to combine.
Bring a medium pot of salted water to a boil. Prepare the couscous according to the package instructions, cooking until al dente (I typically cook mine for about 5 minutes). Drain and transfer to the bowl with the dressing. Toss to coat.
Stir in the carrots, apricots, and pistachios. Season to taste and serve.
Acorn Squash Soup
From Love & Lemons
I developed this recipe for Love & Lemons earlier this fall. It calls for two acorn squash, but the one butternut in your share this week would work just as well. The blended, roasted squash gives the soup a wonderful creamy texture and a slight sweetness that I balance with warming nutmeg, woodsy thyme, and a kick of cayenne pepper. Use 1 teaspoon dried thyme if you don't have fresh.
.
.


Photo by Minimalist Baker
Crunchy Cabbage Slaw with Shredded Chicken & Sesame Ginger Dressing
From Minimalist Baker
This gingery chicken and cabbage slaw would be a great side dish or make-ahead lunch. To make it with the produce in your share, use all napa cabbage instead of a mix of cabbages (5 cups total), and substitute 1/2 cup thinly sliced red onion for the scallions.
.
.


Photo by Kathryne Tyler
Greek Broccoli Salad
From Cookie + Kate
This salad is super simple, but it still packs a huge punch of nutty, zingy flavor. It's been one of my favorites for years. Here are two tips for making it:
Make it at least 30 minutes, and up to 2 days, ahead. The raw veggies only get better as they marinate in the lemon dressing!
Cut the broccoli florets small. That way, they'll really soak up the dressing's flavor, and they'll have less of a raw bite.
Broccoli Cheddar Soup
From Smitten Kitchen
It's dipping down into the 30s this weekend, so it could be the perfect time to make a comforting pot of broccoli cheddar soup. This creamy, cheesy classic is loaded with fresh broccoli and carrots.
.
.


Photo by Jeanine Donofrio & Jack Mathews
Oven Roasted Potatoes
From Love & Lemons
Crispy roasted potatoes are always tasty, but if you toss them with the lemon-rosemary dressing in this recipe, they become completely irresistible. Substitute 1 teaspoon dried rosemary if you don't have fresh on hand.
.
.


Photo by Laura Wright
Sweet Potato Muffins with Pecan Streusel
From The First Mess
Soft roasted sweet potato flesh adds delicious moisture to these warmly spiced autumn muffins. I recommend using this method to cook the sweet potatoes before you make the muffins; you can roast them up to 3 days in advance and store them in an airtight container in the fridge.
This is the final delivery of our 24-week summer CSA. The season has sped by! Thank you for being members of our farm this year. We could not farm without your support.
Our hard-working crew deserves a round of applause. What a great crew! We feel lucky to have worked with all of these wonderful people. It takes multiple photos to capture everyone.

Here's the crew in August, before college students returned to school. From left, Raul, Abby, Owin, Madalyn, Ari, Chelsea, Steve, Karen, Maggie, Beth, Ben and Mat.

From left, Bekah, Carrot, Ken, Simone and John.
Bekah and Carrot were new hires this fall. Ken returned in September. Simone is finishing her 23rd season with us, and John his fourth.

Clockwise from top left; Mike on a tractor (as usual!), Sarg joined us in fall, Heather and Rebecca help us pack CSA boxes each Thursday. MIA: Charlotte and Ava.
Mellow fall
Top; Prepping garlic in the barn loft.
Middle; Planting garlic cloves. In spring, we'll harvest some as green garlic but most will mature to garlic bulbs for next year's CSA.
Bottom; Celeriac harvest is easier and more pleasant in warm dry weather
We are enjoying and making good use of the mild fall weather! How often do we get to work in short sleeves in November? Most of our garlic is planted and we are racing through other fall harvests, stashing away carrots, beets, celeriac, parsnips, cabbage, etc to sell through the winter to Willy Street Coop, Basics Coop and Outpost Natural Foods. We'll be busy right up to Thanksgiving this year, weather permitting.
Thank you so much for joining us this year.
Beth & Steve & crew
Veggie List & Veggie Notes
Week #24, November 3/4, 2022
– Weekly shares
– EOW/ purple
– Sampler/ moon
Brussels sprouts, 1 lb
Leeks, 1 lb
Fennel, 1 or 2 bulbs
Sweet potatoes, 2 to 2.5 lb
'Autumn Frost' winter squash
Celeriac, 1 large
Parsnips, ~1.5 lb
Green bell pepper, 1 or 2
Red onion
Shallots, a few
By site: purple broccoli OR Koji greens
Leeks (look like big scallions) – These alliums have a milder flavor than onions. Nonetheless, they can be used in recipes that call for onions. To wash, split the leek lengthwise, from the green tops about halfway to the base, leaving the base intact. Rinse well under running water, separating the layers to flush. If necessary, split the leek further if soil has penetrated more than halfway down the leek. Shake dry. Leeks are generally eaten cooked. They can be sauteed, steamed or roasted. Intact leeks will store 2 to 3 weeks if covered loosely and refrigerated. The outer leaves will yellow. Just peel them off and discard. The inner leek layers will be fine.
Fennel (bulbs with a tuft of lacy fronds) – Fennel is a 'swing vegetable'; it can be used raw or cooked. Clean well and slice as thinly as possible for use in raw salads. It is good simply prepared with olive oil, lime or lemon juice, salt and shaved parmesan cheese. Cooking softens and sweetens fennel, and mellows its anise flavor. Both the bulb and leaves are edible. Here are ideas from Alice Water of Chez Panisse about how to use fennel: 'It's strong anise characteristic seems to suit fish particularly well. … We use fennel all the time. We add the feathery leaves to marinades for fish and to numerous salads, sauces and soups and we use them as a garnish, too. … The bulbs are sliced and served raw in salads in various combinations with other vegetables, parboiled for pastas; caramelized and served as a side dish; braised whole; or cooked in vegetable broths & fish stocks."
Storage: Cover and refrigerate.
'Autumn Frost' squash – Store cool and dry. 60 F is ideal.
This beautiful frosted squash has both pumpkin and butternut squash breeding. They cook and taste like an unusually good butternut, with rich, smooth texture. They are quite nice. The skin is edible. They store very well but you have to keep an eye on them. If you see flaws developing, eat promptly.
Celeriac (knobby, round, bizarre-looking vegetable which smells like celery) – Refrigerate. Celeriac will store in your refrigerator for months. Cut off chunks as you need them. Peel before using. Flavorful celeriac is good raw or cooked. It is excellent in mixed roasted veggies or in soup. It's especially good in cream soups, alone or mixed with potatoes. Grated raw celeriac is a great starting point for winter salads.
Parsnips (These look like large white carrots) – Those long, white roots are not carrots, they are parsnips. The two vegetables are related. When cooked, parsnips are sweet and starchy. For the best flavor, brown them to caramelize the sugars. Here are a few ideas for parsnip preparation:
– Caramelize the parsnips by roasting them in a vegetable medley.
– Parsnip fries are delicious: cut like French fries, oil lightly, place on a cookie sheet and roast in a hot oven until brown and cooked through.
– Try substituting grated parsnips in a potato pancake recipe. They brown beautifully and are very tasty.
– Steve loves pan-fried parsnips with onions and garlic.
Green bell peppers – Use soon! These were exposed to cold temperatures under row cover, then harvested and held in our cooler. We've examined them carefully so they are in good shape now but will not store for long. It's a last gasp of summer and we're having trouble letting go.
Shallots (look like small red onions) – Store at room temperature. Shallots store for a long time. Excellent minced for salad dressing. They will sweeten considerably when fried and can be used in Thai or Vietnamese dishes, to top burgers, etc.

Pretty, pretty 'Autumn Frost' squash
RECIPES by PHOEBE
Cheesy White Pizza with Roasted Fennel & Brussels Sprouts
If you're stumped by how to use fennel, you can't go wrong with putting it on a pizza. I roast the fennel first, which brings out its natural sweetness and gives it a tender, silky texture. I love the way it plays off the salty pecorino and crispy shredded Brussels sprouts here.
Serves 2 to 3
Prep time: 15 minutes
Cook time: 30 minutes
1 pound pizza dough, store-bought or homemade (I like this recipe or this one.)
1 medium fennel bulb (5 ounces), cut into thin wedges
½ small red onion, cut into thin wedges
Extra-virgin olive oil, for drizzling
Sea salt
Cornmeal, for the pan
5 ounces low-moisture, part-skim mozzarella cheese, shredded on the large holes of a box grater (2 scant cups)
Heaping ½ cup thinly sliced Brussels sprouts
1 ounce pecorino or Parmesan cheese, shredded on the small holes of a box grater (⅓ cup)
Red pepper flakes
If using store-bought pizza dough, let it sit at room temperature for 1 hour before assembling the pizza.

Preheat the oven to 425°F and line a baking sheet with parchment paper. Place the fennel and onion wedges on the baking sheet. Drizzle with olive oil, sprinkle with salt, and use your hands to coat. Arrange in a single layer on the baking sheet and roast until tender and browned, 20 to 30 minutes. When the roasted vegetables are cool enough to handle, transfer to a cutting board and roughly chop.

Raise the oven temperature to 500°F.

Dust a pizza pan or another large baking sheet with cornmeal and place the dough on the pan. Stretch the dough into a circle about 12 inches in diameter. Evenly sprinkle with the mozzarella, leaving a ½-inch border around the edges. Top with the roasted fennel and onions, then sprinkle on the Brussels sprouts. Top with the pecorino cheese, scattering some cheese over the bare edges of the crust.

Bake until the crust is golden brown, 10 to 15 minutes, rotating the pan halfway through the bake time.

Sprinkle with red pepper flakes, slice, and serve.
Chipotle, Sweet Potato & Lentil Stew
Sweet potatoes and chipotles in adobo sauce create a delicious sweet and spicy pairing in this hearty stew. This recipe has a bit of a kick, so if you're sensitive to spice, I recommend starting with just 1 chipotle pepper and adding more to taste. Recipe inspired by Martha Rose Shulman's Spicy Lentil and Sweet Potato Stew with Chipotles.
Serves 4
Prep time: 10 minutes
Cook time: 40 minutes
2 tablespoons extra-virgin olive oil
1 medium onion, chopped
3 garlic cloves, chopped
1 tablespoon tomato paste
1 teaspoon ground cumin
4 cups vegetable broth
1 cup French green lentils, rinsed
1 pound sweet potatoes (about 2 medium), peeled and cut into ½-inch chunks
2 chipotle peppers from a can of chipotles in adobo sauce, minced
½ teaspoon sea salt, plus more to taste
Bay leaf
Freshly ground black pepper
1 teaspoon apple cider vinegar
Heat the olive oil in a large pot or Dutch oven over medium heat. Add the onion and a pinch of salt and cook, stirring occasionally, until softened, about 5 minutes. Add the garlic, tomato paste, and cumin and cook, stirring, for 1 more minute.

Add the broth, lentils, sweet potatoes, chipotles, salt, bay leaf, and several grinds of pepper. Bring to a boil. Reduce the heat to a simmer, cover, and cook, stirring occasionally, until the lentils and sweet potatoes are tender, about 30 minutes.

Remove from the heat and discard the bay leaf. Stir in the vinegar, season to taste, and serve.
Curry Roasted Parsnip Fries
From Minimalist Baker
Parsnips crisp up surprisingly well in the oven, so they're perfect for making unconventional baked fries like these. Serve with your favorite dipping sauce!
.
.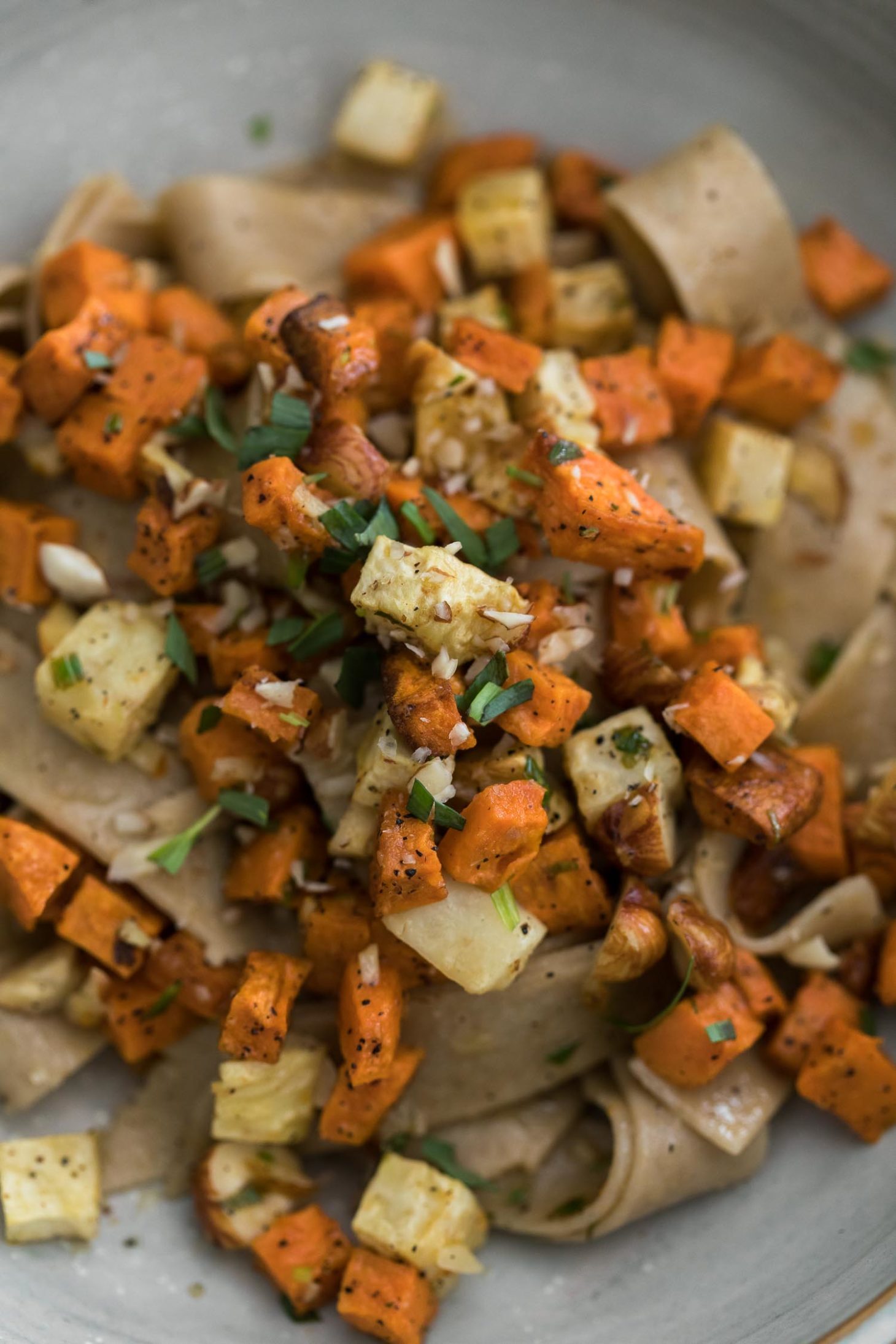 Photo by Erin Alderson
Sweet Potato Celeriac Pasta with Tarragon Butter Sauce
From Naturally Ella
In this simple pasta, a tarragon butter sauce coats chewy whole wheat noodles, crunchy hazelnuts, and tender roasted root veggies. If you don't have fresh tarragon handy, you can skip it (garlic and lemon still give the sauce plenty of flavor) or substitute another herb such as parsley or thyme.
.
.


Photo by Cookie + Kate
Honey Mustard Brussels Sprout Slaw
From Cookie + Kate
This sweet and tangy slaw couldn't be simpler to toss together! It calls for 4 main ingredients–Brussels sprouts, dried cranberries, toasted almonds, and Parm–plus a quick homemade honey mustard dressing.
.
.


Photo by Deb Perelman
Root Vegetable Gratin
From Smitten Kitchen
This comforting side dish was made for this week's box! The recipe calls for fennel, sweet potatoes, and celeriac (check, check, and check) in addition to Yukon gold potato. You can replace the potato with extra sweet potato and/or celeriac, or add parsnips for a unique twist.
.
.


Photo by Laura Wright
Ginger Sweet Potato Dal with Coconut Leeks
From The First Mess
Laura uses sautéed leeks as a topping for this dal. Cooked with coconut and lime, they offer a bright, fresh contrast to the creamy lentil and sweet potato stew.
.
.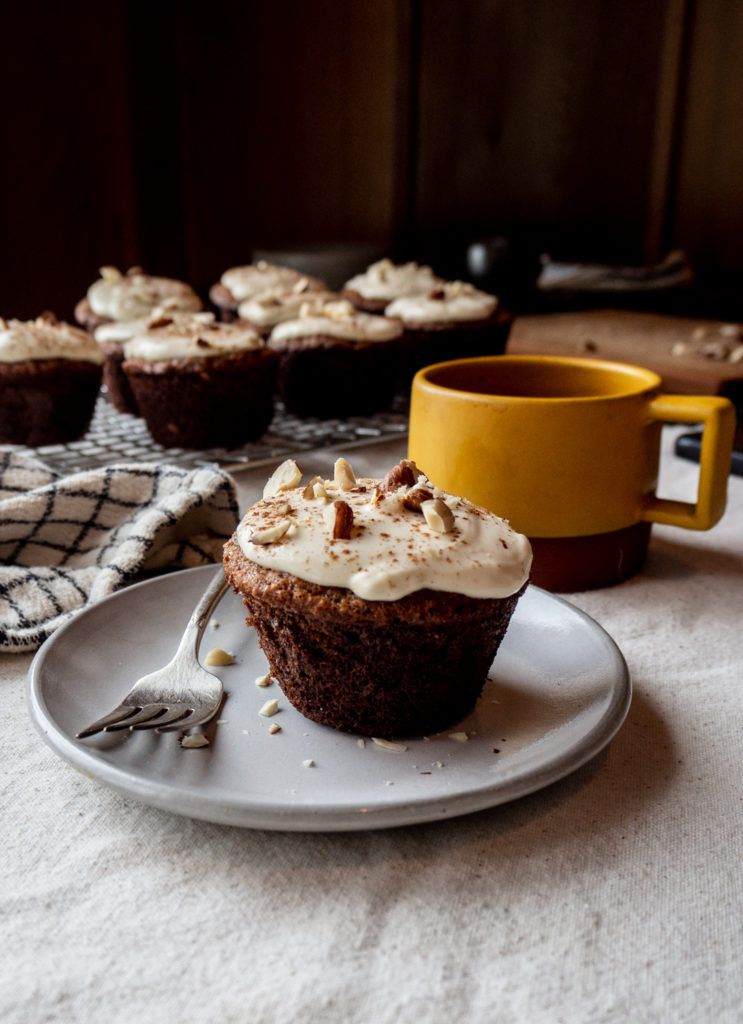 Photo by Andrea Bemis
Cardamom Spiced Parsnip & Date Muffins
From Dishing Up The Dirt
Parsnips' sweet, nutty flavor makes them a great candidate for use in baking recipes like this one. The idea might seem unconventional, but we're all on board with the veggies in zucchini bread and carrot cake. Why not parsnip muffins, too? Enjoy these ultra-moist muffins on their own, or top them with honey cream cheese frosting for a more decadent treat.