Week #5, June 21/22, 2018

I guess we won't be weeding this week.
That was a lot of rain.
Honestly, this has been a stressful spring, with such changeable weather. It was over 95 degrees last weekend (again) followed by too much rain. That was very hard on your strawberries, lettuce and peas. We should have twice as many berries for you this week but we lost many to the heavy rain on Monday and Tuesday. It is very frustrating to nurture a strawberry field for a full year then lose berries to bad weather just as they ripen. We'll see how the younger berries develop. There are a gazillion due to ripen this weekend and next week. Generally it's only the ripe berries that are sensitive to too much moisture, and the younger berries look OK as yet. Keep your fingers crossed. See Veggie Notes below for lettuce info.

Eat your berries soon. Most have expansion cracks because they swelled after the rain. They are delicious now but will not last.

Fortunately, Steve did a beautiful job mulching the strawberry field. Without it, soil would splash all over the berries. Instead, they are quite clean. We've enjoyed working in this well-mulched field. I like this photo because you can see Steve racing off on his bike plus a bug that flew into view in the top right corner. It could be a damselfly.
Cooking Ideas from Beth and from members
My friend Victoria wrote in our Tipi CSA Facebook group that she's newly returned to full-time work and struggling to find time for food prep. She sparked a discussion. I think we all struggle with juggling busy lives and getting meals on the table. Here's a very cogent response from member Jane Applegate, followed by ideas from our household. Jane and everyone else, thank you for sharing your ideas in the group. Keep discussing in the Facebook group, and I'll bring some ideas here to the newsletter (with permission!) for those who don't use Facebook.
BETH'S IDEAS
I love Jane's proficiency with pizza. It's wonderful to have pizza dough ready in the fridge. I use this pizza dough recipe most often (using half whole wheat flour), but am still experimenting.
Here is some advice from our household.
– Get everyone in the family involved. Stay-at-home parents, ask for help if you transition back to work. Sure, everyone is used to you doing all the cooking but that cannot continue. I switched from PT to FT on the farm when our kids were 1 and 4 years old. I often worked at night (a persistent habit!). After wrangling an uncooperative database until 3 am one night, I asked Steve to take over breakfast and packing lunches. He did, growing proud of his skill as a short-order breakfast cook.
– Kids can help. They can peel garlic, shuck corn, wash salad greens, learn to make simple dishes, and take on more responsibility as they get older. I haven't made smoothies, cooked tofu, or washed spinach in years. Those are Sophie and Ari's jobs, among others. Cooking with your kids is a nice thing to do together.
– Cook on the weekend. This is a well-known strategy but essential for us. We have Sunday dinner every week and I make sure there are leftovers for Monday dinner plus a few lunches.
– Prep on the weekend. By the end of Sunday, choose a few dishes for the week and do whatever advance prep you can. Sometimes decision-making is the hardest part. It's tough to walk in the door and pull together a meal if you don't have a plan.
– Prep your salad greens in advance. We cut, wash, and spin-dry our lettuce so we're ready to make salads with whatever else is on hand. We also cut, wash and spin-dry our spinach and Swiss chard, even without a plan for using them. If nothing else, we just wilt them into noodles near the end of cooking (chard) or just after the noodles are drained (spinach). I don't prep kale or collards in advance. Those are inherently cleaner because they grow further from the ground.
– Be strategic with leftovers. I've started making frittatas with handfuls of leftover cooked vegetables, using this base recipe. This is the recipe I offered in the newsletter two weeks ago. I'll post a photo below. It's very quick, sort of my version of Jane's egg bake.
– Make and freeze your favorite pasta salad sauce(s). Most spring and summer CSA boxes have ingredients to anchor a pasta salad. We start with asparagus, spinach, scallions, radishes, turnips, snap peas, etc. Almost all spring vegetables will work. Maybe not the rhubarb. In summer, we switch to cucumbers, sweet onions and grilled vegetables. Grilled zucchini is another thing I prep first, then find a way to use later. We never waste it!
– In spring, we have lemon vinaigrette in the fridge. It's good with asparagus, or as pasta salad sauce, or for fresh salads. In fall, we switch to mustard vinaigrette, good for Brussels sprouts or potatoes.
– Cooking and cleaning the kitchen are separate jobs. I cook most dinners. Steve and the kids wash the dishes.
Thanks for reading! If you have your own strategies to share, post them on our Facebook page for others to see. Beth

Frittatas are adaptable. This one from a few weeks ago had sautéed mushrooms and green garlic plus spinach, asparagus and feta cheese.
Veggie List and Veggie Notes
June 21/22, 2018, week #5
Weekly & green EOW shares
Strawberries, 1 quart
Snap peas, 0.9 lb
Snow peas, 0.45 lb
Fennel, 1 large or 2 small bulbs with fronds
Kale, 1 bunch, red russian or lacinato
Zucchini and summer squash, 2 – 2.2 lb
Scallions, 1 bunch
Garlic scapes, a small handful
Oregano, 1 bunch
– Some sites get a small lettuce. See below for types.
– Some sites get 1 medium broccoli head.
Next week's box will probably contain strawberries, peas, zucchini, napa cabbage, scallions and more.
Strawberries – Eat these soon!
Snap peas and snow peas. These will be together in one bag. Both types have strings to remove. Snap off the stem end and pull the string down the concave side of the pod (the inward-curing side). Throw away the string and eat the pod. The thicker pea pods will usually have a string along both edges. Remove them when you snap off the stem.
– Snap peas (plump pea pods) – These peas should be eaten pod and all. They are delicious raw, or very lightly cooked or stir-fried. Preparation: They will need a quick rinse to remove faded gray blossoms. Storage: Refrigerate.
– Snow peas (flat pea pods) – These are excellent stir fried or in raw salads.
Kale – Each site gets either Red Russian kale (green leaves, pink midveins) or lacinato kale (dark green, pebbled texture). They can be used interchangeably. Super nutritious, this first picking of the year is great cooked or used in raw salads. Storage: Cover and refrigerate.
Fennel (large vegetable with a fat bulb and lacy fronds) – Fennel is a 'swing vegetable'; it can be used raw or cooked. Clean well and slice as thinly as possible for use in raw salads. It is good simply prepared with olive oil, lime or lemon juice, salt and shaved parmesan cheese. Cooking softens and sweetens fennel, and mellows its anise flavor. Both the bulb and leaves are edible. Here are ideas from Alice Water of Chez Panisse about how to use fennel: 'It's strong anise characteristic seems to suit fish particularly well. … We use fennel all the time. We add the feathery leaves to marinades for fish and to numerous salads, sauces and soups and we use them as a garnish, too. … The bulbs are sliced and served raw in salads in various combinations with other vegetables, parboiled for pastas; caramelized and served as a side dish; braised whole; or cooked in vegetable broths & fish stocks."
Garlic scapes (curly green things) – Garlic scapes grow at the top of garlic plants. They look like flower buds but are actually clusters of tiny bulblets. We snap off the young scapes to direct the plants' energy into forming garlic bulbs underground. Use scapes as a substitute for garlic cloves. They can be minced, mixed with olive oil, and added to stir fries or simple pasta dishes. The scapes can be sautéed, but will not brown like garlic cloves. Expect them to retain their crunch even when cooked, and to be milder than garlic cloves, closer in pungency to the green garlic we've sent.
Greek oregano – We timed the oregano to go with zucchini and garlic scapes. Seems like a good combination! To store your oregano, you can …
– Wrap in a cloth or paper towel, place in a plastic bag and refrigerate. OR
– Alternatively, you can wash it well then hang it up to dry in a place with good air movement.
Broccoli (for some sites) – Cover and refrigerate.
Lettuce (for some sites) – If you receive lettuce, you will get either red bibb lettuce or red Salanova or green Salanova. Red bibb is a very round, crunchy head with buttery leaves. The Salanova types are in middling shape after the rain. There is a fair amount of 'rust' discoloration at the base of the stems. You can prepare as I show below (with photos from last year!) but you will need to cut high enough to remove the rust. It will work.
Salanova is a new innovation in lettuce breeding that lets you prepare salad mix easily. Cut the head across the base and it will fall apart into individual leaves. Dunk and swish in a tub of water. Drain and spin dry to store.

Cut the lettuce head at the base and it falls apart into salad mix.
RECIPES
Visit our 2018 Recipe Log.
Visit our 2017 Recipe Log.
Join our Facebook discussion group.
LOCAL THYME/ Comforting Classics
Fennel, Kale or Mustard Greens and Pastina Soup
Quinoa Salad with Zucchini and Snap Peas
Fennel Slaw with Olive Vinaigrette
Greek Kale Fritters
LOCAL THYME/ Outside the Box Recipes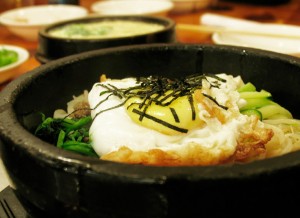 Bibimbap with Kale, Summer Squash, and Ground Pork or Tofu
Grilled Salmon with Summer Squash and Snap Pea Relish
Kale Pesto Pizza
Fennel Risotto
LOCAL THYME/ Quick and Easy Meal
Pan Fried Tofu on Chopped Snap Pea Salad
RECIPES FROM LAUREN
SPRING PEA, FENNEL & PICKLED STRAWBERRY SALAD
Fennel gets such a bad rap and it's really not fair. Fennel is a beautiful, delicate vegetable that you can learn to love if you can just find ways to mellow it's strong flavor. I love it sauteed, roasted or grilled (all things that make the flavor much milder) but I also really love the texture when it's sliced super thin and eaten raw— especially in bright salads like this one. The technique outlined below where you soak both scallions and fennel in ice cold water really helps make the flavors of fennel more palatable.
Serves 4-6 easily
Takes 30 minutes (including time to pickle strawberries though you can absolutely do that in advance)
1 cup hulled and halved strawberries
1/2 cup balsamic vinegar
1/4 cup champagne vinegar (just use 3/4 cup balsamic if you don't have champagne vinegar on hand)
1/3 cup water
2 tablespoons sugar
1 tablespoon + 1/2 teaspoon Kosher salt, divided
1 large fennel bulb (or two small), halved, cored, and very thinly sliced (it should almost look like coleslaw)
3-5 scallion, white, pale green and dark green portions, sliced thin
1/2- 3/4 pound mixture of snow and snap peas (or as many as you can stand to spare), ends trimmed and cut in half
1/2-1 teaspoon red pepper flakes
1/4 teaspoon freshly ground black pepper
1/4 cup olive oil
1/2 cup pistachios
8 ounces burrata, optinoal
You will start by pickling your strawberries! Place the strawberries in a mason jar. Then in a small sauce pan combine vinegars, water, sugar and 1 tablespoon Kosher salt. Bring to a boil over high heat and as soon as it starts boiling pour over strawberries. Seal jar and flip upside down. Allow to cool while you cut up your vegetables for the salad.
Start first by cutting up your fennel and scallions. Place in a medium bowl, fill it with cold water and a few ice cubes. Let sit in the bowl of ice water for 20 minutes then drain well and pat dry with a towel if the veggies still look super wet. This will dull the sharpness and intensity of the raw scallions and fennel.
In a large bowl, combine the fennel, scallions, and pickled strawberries with peas, 1/4 cup pickling liquid, remaining 1 teaspoon salt, red pepper flakes, and freshly ground black pepper. Drizzle with olive oil. Taste and adjust flavors as desired. You may want a bit more of the pickling liquid for more brightness or red pepper flakes for more heat. Once you get the flavors right, top with the pistachios.
You can absolutely be done right here and serve the salad immediately with no more frills. It's perfect. I promise. But, if you can find burratta (available at the Willy Street Co-op) you should absolutely buy 8 ounces and serve this salad with a ball of beautiful burrata in the middle.
.
VEGETABLE LASAGNA WITH WHITE SAUCE
Recipe by my darling mother: a woman who is unparalleled in her ability to make simple recipes with abundant veggies from the garden. This recipe does use a lot of dishes (which I hate to do to you all) but it's okay because it also makes a LOT of food! Lauren.
Makes 1 large lasagna
Serves 6-8
Takes 1 hour, 15 minutes
4 tablespoons butter, divided
1 tablespoon olive oil
3-4 medium zucchini or summer squash, halved lengthwise and thinly sliced
8 ounces carton of fresh mushrooms, sliced
3 or 4 sliced scallions , white and light green portions only, sliced
3 or 4 garlic scapes, sliced
1-1/2 teaspoon Kosher salt, divided
1/2 teaspoon freshly ground black pepper
1 kale bunch, center stems removed and thinly sliced
2 tablespoons minced fresh oregano
16 ounce container of cottage cheese (lowfat is fine)
2 eggs
12-16 lasagna noodles
1/4 cup flour
2-1/2 cup warm or room temperature milk
1/4 cup grated Parmesan cheese
8 ounces sliced or shredded mozzarella
Preheat oven to 350 degrees and bring a large pot of salted water to a boil.
In a large skillet, melt 1 tablespoon butter with 1 tablespoon olive oil. Saute first zucchini, mushrooms, scallions and garlic scapes until tender, season with 1 teaspoon salt and pepper. Add kale and oregano, and stir until wilted. Remove from heat, set aside.
Once water is boiling, cook lasagna noodles according to package directions. Drain, set aside.
In a medium sauce pan, melt remaining 3 tablespoons butter, stir in flour and cook for one minute until smooth. Whisk in milk and stir until mixture is smooth. Cook over medium heat until thickened, about 10 minutes. Remove from heat, stir in remaining 1/2 teaspoon salt and parmesan cheese.
In a medium bowl, stir together cottage cheese and eggs, set aside.
Assemble lasagna: In a 9 X 13 baking dish, spoon 1/2 cup sauce over the bottom of the pan. Then layer 1/3 of noodles, 1/3 cottage cheese mixture, 1/3 veggie mixture and 1/3 shredded or sliced cheese. Top with 1/3 of sauce. Repeat 2 more times. For final layer, put cheese last after sauce.
Bake 40 to 45 minutes or until hot and bubbly. Let stand 10 minutes before cutting.
.