Week #9; Cold Spring + Blazing Summer = Normal??

Alex helped me harvest sunflowers this week. Does he remind you of anyone? Van Gogh, of course, without the happy smile.
Cold Spring + Blazing Summer = Normal??
The current weather is overcompensating for our cold spring. Are any of you familiar with "degree days"? Basically, it's a measure of heat accumulation. Farmers use degree days to gauge a season's warmth and development. They are useful in many ways, e.g. for predicting when pests will emerge.
During the cold spring, we were lagging below normal, by about 25%. We have accumulated so much heat in the last few weeks that our degree days have almost caught up; we are currently just 6% below normal. We are likely to surpass "normal" with the current heat wave. I say "normal" because, with climate change, any standards of "normal" are shifting.
Our summer crops are primed to use the heat. They were well-established with strong roots before the weather turned hot. Tomatoes, sweet corn, melons – they all love hot weather.
We are doing our best to keep up with the explosive tomato vines. We trellis varieties that are expected to have a long harvest season. It keeps the tomatoes off the ground so they don't rot, makes them easier to find, and keeps paths open so we can get into the fields. Smitty and crew are keeping up with trellising. It's an on-going job.
Watch out for the heat on Friday. We're hustling to get our farm work done so everyone can go home early on Friday. It's going to be a scorcher. Beth

Smitty winds twine around the tomato plants in a figure eight pattern so they are supported on both sides.

We need many posts keep the plants upright. These plants will be ready for a third string in a few days. See the taller posts in the row to the right? Those support cherry tomato plants which get quite tall.
Veggie List and Veggie Notes
Week #9, July 18/19, 2019
– Weekly shares
– EOW/ purple
– Sampler/ moon
Tipi tomato juice, 1 qt
Walla Walla onion
Green peppers, 2
Cucumbers, ~4
Zucchini &/or summer squash, 2.5+ lb
Collard greens, 1 bunch
Broccoli, several medium heads
Flowering dill, 1 small bunch
Sunflower
– Some sites get 1 green frying pepper.
– Some sites get 1 pt cherry tomatoes.
Next week's box will probably contain Caraflex cabbage, cucumbers, Walla Walla onion, zucchini and more.
Tipi tomato juice – At peak season, we take our ripe tomatoes to a small batch processor in East Troy, to make into tomato juice for all of you. It's a great way to capture ripe tomatoes when abundant. Drink the juice or try making an easy soup. Simmer your choice of vegetables from the box in the juice (diced zucchini, bell peppers, &/or broccoli). Add minced Walla Walla onion near the end of cooking. If you have some basil or parsley to add, that's good but optional. Voila! Soup!
Storage: Store the juice out of sunlight at room temperature when unopened. Refrigerate after opening. The juice is already seasoned so do not add salt if you cook with it.
Ingredients: organic tomatoes from Tipi Produce, salt, organic garlic, organic onion, organic black pepper. Nutritional information is posted here.
Walla Walla onions – These fat onions are sweet, crisp and very mild. Wonderful raw or lightly cooked. Try cutting into wedges, threading on a skewer and grilling. Do not try to fry these onions – it doesn't work because of their high water content. Storage: It's OK to store at room temperature for up to one week. Otherwise, refrigerate.
Green peppers – Here are the first bell peppers. Refrigerate but in a warmer part of your fridge.
Flowering dill – We've timed the dill for delivery with lots of cucumbers, so you can make refrigerator pickles. Both leaves and flowers can be used as an herb. Storage: Refrigerate. Wash and freeze if you don't plan to use within one week.
Sunflower – Trim your sunflower stem once you're home and put in a jar or vase. The sunflower is for beauty and joy, not to eat! If you re-trim the stem and change the water a few times, the flower should last about one week.
RECIPES
Visit our 2019 Recipe Log or our 2018 Recipe Log or join our Facebook discussion group.
Grilled vegetables
This is a great weekend to throw vegetables on the grill and avoid heating up the house! Add your grilled veggies to pasta, rice or grain bowls, or make Lauren's Noodle Bowl recipe below. Beth
Zucchini – Slice lengthwise, about 1/4 to 1/2 inch thick. Marinate in your favorite sauce for 15 minutes. Make sure the marinade contains some oil. Grill until soft and a bit charred, flipping once or twice. Return to the marinade to soak up flavor.
We use this mixture: 2 Tbsp soy sauce + 2 Tbsp rice vinegar + 1 Tbsp toasted sesame oil.
Walla Walla onion – Cut in wedges. Thread onto skewers. Rub or spray with oil. Grill, turning occasionally, until nicely charred and sweet.
Peppers – Even green peppers are delicious when roasted!
1. Instead of roasting intact peppers, I prefer to cut each pepper into 3 or 4 slabs (depending on the pepper's shape), oil the pieces, and lay them flat on the grill. Start with the skin side up, then flip and grill with the skin side down until lightly charred. Do not blackened the entire skin. Place in a bowl, cover with a cloth for 5 minutes, then peel off the skins.
2. Alternatively, you can thread bite-size pepper pieces onto skewers and grill. You'll have to pull off some charred edges but you get roasted pepper flavor, without the hassle of peeling the skins.
LOCAL THYME RECIPES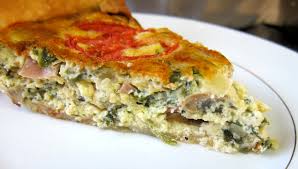 Puff Pastry Quiche with Broccoli
LOCAL THYME/ Comforting Classics
Spiced Chickpea and Chopped Vegetable Salad
New and Improved Zucchini Bread
Spiced Tomato Juice Stewed Greens
Puff Pastry Quiche with Broccoli
LOCAL THYME/ Outside the Box Recipes
German Braised Cucumbers
Lemon Blueberry Zucchini Cake with Lemon Glaze
Slow Cooker Pork Stuffed Collard Rolls
Broccoli, Cucumber and Pepper Salad with Sesame
LOCAL THYME/ Quick & Easy Meal
Szechuan Grilled Zucchini and Pepper Kebabs with Shrimp
????????????
RECIPES FROM LAUREN
CREAMY CUCUMBERS
Serves 2-4 as a side (though I am known to eat the whole bowl for dinner)
Takes 15 minutes (but gets better the longer you let it sit)
4 cucumbers, cut into 1/8-inch slices
1 Walla Walla onion, halved and sliced
1/3 cup Greek yogurt
1/3 cup mayonnaise
2 tablespoons sugar
2 tablespoon white vinegar
Salt and pepper to taste
Dill, optional
In a large bowl, combine cucumbers and onions.
In a small bowl, whisk together yogurt, mayo, sugar, vinegar, salt and pepper until smooth. Pour over cucumbers and onions and toss gently to combine. Garnish or season with dill (if you like).
Serve immediately or chill for an hour to let the flavors really meld together.
.
????????????
.
MISO ROASTED VEGGIE NOODLE BOWL
Adapted from Sweet Lizzy
Serves 4-6
Takes 1 hour
1-2 pounds broccoli, cut into florets
1-2 pounds diced zucchini and/or summer squash
4 tablespoons olive oil, divided
1 tablespoon white miso paste
2 tablespoons maple syrup, divided
1 tablespoon soy sauce
1 tablespoon toasted sesame oil
4 cups roughly chopped mushrooms (I used a mixture of shittakes and cremini)
8-10 ounces rice noodles (I love the Lotus Foods Millet & Brown Rice Ramen)
1 bunch collards, stems removed and cut into very thin slices
1 tablespoon lemon juice
2-3 avocados, sliced
1/2 cup Almond Miso Dressing (see below)
2 tablespoons white or black sesame seeds, optional
Kimchi, optional
Preheat oven to 400 degrees.
Spread out zucchini and broccoli on a parchment paper-lined baking sheet. If you decide to use the full two pounds of each vegetable, you may want to use two parchment paper-lined baking sheets for more even browning.
In a small bowl, whisk together 3 tablespoons olive oil, white miso paste and 1 tablespoon maple syrup until smooth. Brush broccoli and zucchini with this mixture then roast for 20 minutes. Remove from the oven, toss veggies and then roast 20 minutes longer.
In a medium saucepan, mix together soy sauce, toasted sesame oil and remaining 1 tablespoon maple syrup. Add mushrooms and toss until they're well-coated. Cook over medium low heat for 15-20 minutes. The mushrooms will first release a lot of liquid, then reduce down. Once fully cooked and soft, remove from the heat.
Cook noodles according to package directions.
Divide collards evenly into dinner bowls. Add a bit of lemon juice, olive oil and a pinch of salt to each bowl. Gently massage collards until they turn a brighter shade of green (about a minute). Top with noodles and miso roasted veg. Spoon mushroom mixture (sauce and mushrooms) over noodles. Add 1/2 avocado to each bowl. Drizzle 2-3 tablespoons of Almond Miso dressing and then sprinkle with sesame seeds. Add kimchi to your preference.
.
ALMOND MISO DRESSING
1/2 cup almonds
5 tablespoons olive oil
3 tablespoons water
2 tablespoons rice wine vinegar
1 tablespoon white miso
1 tablespoon maple syrup
In a food processor, process almonds until finely chopped (so it looks roughly like minced garlic). Add remaining ingredients and process until smooth. You may have to scrape down edges a couple times.
.