Week #6; Weird berry year

Small Jewel berries (left) and medium Jewel
This was an odd year for strawberries. Steve and I have spent hours analyzing this year's field. Let's review what we think happened.
We grew five varieties this year (to extend the season) but flowering was unusually concentrated across all the varieties following bursts of warm weather. That was an exciting moment because it predicted a massive u-pick. Sadly, hot, dry winds arrived at the flowering peak and damaged the blossoms. Earlier in May, I watched a different bout of hot, dry wind blast the flowers off my farmyard cherry and plum trees. Literally, every blossom was blown off the trees or left limp and damaged. There are zero cherries or plums on those trees. We think something similar happened in the strawberry patch. Even without wind, high temperatures damage strawberry pollen and flowers and there were many days in the 90s during the flowering season. Berries that do form during hot weather are smaller in size.
Basically, we got all of this year's berries from three of the seven beds we planted. The remaining four beds were a bust, including one variety that succumbed to thrips, a pest that thrives in hot, dry weather. Home gardeners, we highly recommend the variety 'Jewel'. It is a champ and produced almost all of this year's berries.
The strawberries that formed this year are smaller than usual. Right now, we should be picking medium-sized berries, like you see in the right photo. We spent just as many hours harvesting, but have pints for you instead of quarts.
The fruiting peak coincided with our u-pick last weekend. That caught us by surprise, following weeks of sparse, small berries. The abundance was wonderful because we had berries for all who came to the farm and because you folks were here to pick the ripe fruit. Those berries would never have lasted long enough to harvest for the CSA boxes. The berries you receive this week all ripened since the weekend.
The best news is that the berries we have are intensely flavored, some of the best we've ever grown. The plants absorbed all that sunshine and turned it into small but amazing berries. We hope you enjoy and savor them.
Thank you for reading.
Beth
Veggie List & Veggie Notes
Week #6, June 30/ July 1, 2022
– Weekly shares
– EOW/ purple
– Sampler/ sun
Strawberries, 1 pint
Cucumbers, 2 or 3
Fennel, 2 to 3 bulbs with fronds
Lacinato kale, 1 medium bunch
Spinach, 1 medium bunch
Romaine lettuce
Zucchini & Zephyr summer squash, 3 to 3.5 lb
Snow peas, a small bag
Scallions, 1 bunch
Next week's box will probably contain cabbage, zucchini, cucumbers, and more.
Strawberries – These are ripe so refrigerate and eat soon!
Cucumbers – Yeah, cucumber season begins! Our first cucumber field is a beauty this year. I'll have to take some photos. We're starting with a bang and everyone gets two this week.
Storage: Cucumbers store well at room temperature, especially if your house is cool. If you choose to refrigerate, choose a warmer part of your fridge. This is different than how most people handle their cucumbers but we've experimented with this and think room temperature is better.
Fennel (bulbs and lacy fronds) – Fennel is a 'swing vegetable'; it can be used raw or cooked. Clean well and slice as thinly as possible for use in raw salads. It is good simply prepared with olive oil, lime or lemon juice, salt and shaved parmesan cheese. Cooking softens and sweetens fennel, and mellows its anise flavor. Both the bulb and leaves are edible. Here are ideas from Alice Water of Chez Panisse about how to use fennel: 'It's strong anise characteristic seems to suit fish particularly well. … We use fennel all the time. We add the feathery leaves to marinades for fish and to numerous salads, sauces and soups and we use them as a garnish, too. … The bulbs are sliced and served raw in salads in various combinations with other vegetables, parboiled for pastas; caramelized and served as a side dish; braised whole; or cooked in vegetable broths & fish stocks."
Storage: Cover and refrigerate.
Lacinato kale (bundle of dark green leaves with pebbled texture. Also called 'dinosaur kale) – Lacinato is such a nice variety of kale, quite tender with good flavor. Thin leaves means it's a good choice for massaged salads. Lacinato is less productive than other varieties so it's a treat to send it to you in the CSA boxes.
Spinach – This is the final bundle of spinach. Somehow this planting survived the hot weather! Honestly, it's kind of a miracle. Yeah!
Snow peas. We have a handful for you this week, packed in a little paper bag. To remove strings, snap off the stem end and pull the string down the concave side of the pod (the inward-curing side). Throw away the string and eat the pod. The thicker pea pods will usually have a string along both edges. Remove them when you snap off the stem.
Storage: Refrigerate.
Uses: Use to top a raw salad or stir-fry.
Scallions – This is the final scallion delivery until fall. In a few weeks, we'll have sweet Walla Walla onions for you. Uses: Our recipe writers love scallions as much as I do! There are loads of recipes that include scallions in newsletters from the last few weeks.
RECIPES by Phoebe
Fennel Lovers' Risotto
In this recipe, diced fennel bulbs melt into a creamy risotto, while fennel fronds and crushed fennel seeds create a bright, crunchy topping. Needless to say, it has a robust fennel flavor, which I love against the tangy white wine and rich, savory Parmesan cheese.
Serves 4
Prep time: 10 minutes
Cook time: 40 minutes
Fennel Frond & Seed Topping
¼ cup raw almonds
1 teaspoon fennel seeds
3 tablespoons chopped fennel fronds
3 tablespoons freshly grated Parmesan cheese
2 teaspoons lemon zest
For the Risotto
2½ tablespoons extra-virgin olive oil
1 fennel bulb, diced
1 medium yellow onion, diced (or an additional fennel bulb)
½ teaspoon sea salt
Freshly ground black pepper
2 garlic cloves, minced
1 cup Arborio rice, rinsed
½ cup dry white wine
4 cups vegetable broth
⅓ cup freshly grated Parmesan cheese
Make the topping: Place the almonds in a small dry skillet over medium-low heat and toast, stirring often, until fragrant and lightly browned, 2 to 4 minutes. Remove from the skillet and set aside.
Add the fennel seeds to the skillet and toast until fragrant, about 30 seconds. Transfer to a mortar and pestle and roughly crush. Chop the almonds.
In a small bowl, stir together the chopped almonds, crushed fennel seeds, fennel fronds, Parmesan, and lemon zest. Set aside for serving.
Make the risotto: Heat 2 tablespoons of the olive oil in a medium Dutch oven over medium heat. Add the fennel bulb, onion, salt, and several grinds of pepper and cook, stirring occasionally, until the vegetables are soft and translucent, 8 to 10 minutes. Stir in the garlic, then add the rice and toast, stirring often, until translucent but not browned, about 2 minutes.
Pour in the wine, stir, and let it cook down for 30 seconds. Add ¾ cup of the broth and simmer, stirring continuously, until the broth is mostly absorbed. Repeat with the remaining broth, adding ¾ cup at a time, stirring continuously, and allowing each addition to be absorbed by the rice before pouring in the next. The entire process will take about 20 to 30 minutes.
When the final addition of broth is nearly absorbed by the rice, add the Parmesan and the remaining ½ tablespoon olive oil. Turn off the heat, stir vigorously, and allow the risotto to sit for 2 minutes. If it thickens too much, loosen it with a splash of broth before serving.
Season to taste, top with the frond & seed topping, and serve.
Gingery Pea & Scallion Fried Rice
Snow peas add color and crunch to this unconventional riff on fried rice. If you can, cook the rice the day before so that it has a chance to dry out in the fridge. The day-old rice will give this recipe a lighter, fluffier texture, and it'll become lightly crisp.
Serves 4
Prep time: 10 minutes
Cook time: 15 minutes
2 tablespoons plus 1 teaspoon neutral oil, such as canola or grapeseed
8 ounces snow peas or snap peas, strings removed, sliced on the bias into ¼-inch pieces
4 scallions, sliced, dark green tops reserved for garnish
2 garlic cloves, minced
1 tablespoon minced fresh ginger
3 cups cooked and cooled rice, preferably day-old
3 large eggs, beaten
2 tablespoons tamari or soy sauce
1 tablespoon rice vinegar
1 teaspoon sesame oil
Sesame seeds, for garnish
Sriracha, for serving
Sea salt
Heat 1 tablespoon of the oil in a large nonstick skillet over medium-high heat. Add the snow peas and cook without stirring until the peas are charred on one side, about 3 minutes. Add the white and light green parts of the scallions and a pinch of salt, toss, and cook, stirring occasionally, until the vegetables are softened, 1 to 2 minutes. Stir in the garlic and ginger. Remove the veggies from the pan and set aside.
Return the pan to medium-high heat and add another 1 tablespoon of the oil. Add the rice and press it into an even layer at the bottom of the pan. Cook without stirring until the rice is lightly crisp on the bottom, 5 to 8 minutes. Stir, then create a well in the center of the rice. Add the remaining 1 teaspoon oil, then pour the eggs into the well, sprinkle with salt, and scramble. Stir the scrambled eggs into the rice.
Add the veggies back to the pan and stir to combine. Add the tamari and vinegar and cook, stirring, until the liquid cooks down and everything is heated through, 1 to 2 minutes. Turn off the heat and stir in the sesame oil.
Season to taste and garnish with sesame seeds and the reserved scallion tops. Serve with sriracha.
Shaved Fennel & Crushed Olive Salad
From Smitten Kitchen
This simple shaved fennel salad would be a perfect light, refreshing side dish for so many meals. The crisp shaved fennel mingles with juicy smashed olives, sharp cheese, and a tangy orange-scented vinaigrette.
.
.


Photo by Jeanine Donofrio & Phoebe Moore
Zucchini Muffins
From Love & Lemons
Moist, warmly spiced, and studded with crunchy walnuts, these muffins are a yummy breakfast treat. If you like, replace the walnuts with an equal amount of chocolate chips, or sub summer squash for the zucchini.
.
.


Photo by How Sweet Eats
Grilled Zucchini with Burrata & Pine Nuts
From How Sweet Eats
Creamy dollops of burrata play off tender grilled zucchini in this simple summer side dish. A 5-ingredient vinaigrette adds zing. The summer squash from this week's box would work nicely in this recipe, too!
.
.


Photo by Minimalist Baker
White Bean Kale Salad
From Minimalist Baker
This punchy kale salad features lemony white beans, homemade garlic croutons, and a bright, creamy tahini dressing. Serve it as a side dish, or enjoy it on its own for a healthy lunch.
.
.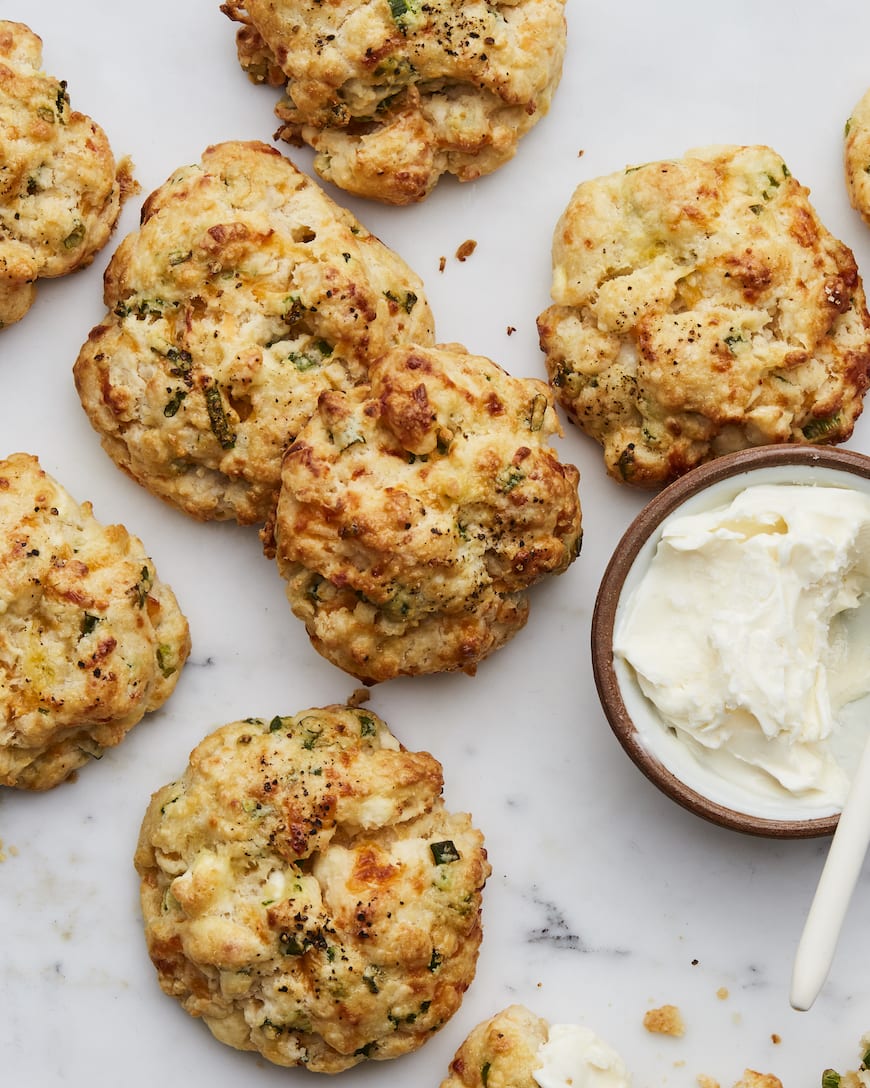 Photo by What's Gaby Cooking
Savory Cheese & Scallion Scones
From What's Gaby Cooking
These savory scones would be such a fun way to use the scallions in this week's box! They feature 3 kinds of cheese – cream cheese, feta, and sharp cheddar.
.
.


Photo by Jeanine Donofrio & Jack Mathews
Baked Feta
From Love & Lemons
I love this recipe because it's really simple, but also really flavorful. A cumin-spiced tomato sauce coats chickpeas and lacinato kale, and creamy slabs of baked feta nestle on top. Serve it with good bread for sopping up the sauce.