Farm Newsletter
This week (October 5/6) is the final delivery for our Sampler/ A group members, unless you rescheduled to a later week.
We are in the final month of our regular-season CSA deliveries. I find this shocking but it is October. Please identify the date of your final delivery on the calendar above. Please communicate that information with everyone picking up your produce. If you don't remember your green/purple/A/B/C/D assignment, then log into your account and view your schedule there. Instuctions are under 'View your schedule and orders.'
FYI, I will continue to send my weekly email to all members each week, even after their deliveries end. I want you to have info on farm events, recipes and we might add an extra late-season share.
Thanks,
Beth
Veggie List & Veggie Notes
Week #21
– Weekly shares
– BiWeekly/ purple
– Sampler/ A group
Sweet potatoes, ~3 lb
Carrots, ~2 lb
Celeriac
Romano beans, ~1 lb
Jalapeno chile (packed in bag of beans so it's easy to identify)
Kale or collards, 1 bunch
Red peppers, mixed bell and frying
Oranos snack peppers, several
Yellow onion
By site: Large cauliflower OR medium cauliflower + broccoli
Next week's box will probably contain carrots, winter squash, peppers, fall greens and more.
'Orleans' sweet potatoes – Store your sweet potatoes at room temperature. They suffer chilling injury below 50 F.
Here are a few things we've learned about sweet potatoes:
– For best flavor, cook your sweet potatoes so they brown and caramelize. We have a simple, favorite way to roast sweet potatoes. We used to prepare sweet potato fries in the oven. Now we just quarter the potatoes, rub with olive oil, dust with salt and place cut-side-down on a cookie sheet. Roast in a 450 F oven without turning until soft. The flavors will caramelize (like sweet potato fries) but preparation is simpler and the cooking time less exacting. Slender sweet potato fries go from undercooked to overcooked in the blink of an eye. Larger slices are less exacting, and therefore are easier. Small sweet potatoes can be cut just in half. Jumbos will need to be chopped into pieces. Otherwise, they take a long time to cook.
– This first batch of sweet potatoes will need slightly longer cooking than ones from the supermarket. I think this is because they contain higher moisture so soon after harvest.
– Sweet potatoes are good at any size. We have cooked everything from tiny to jumbo and consistently find that all sizes taste good.
Carrots – These are from our first harvest of fall carrots. Storage: Refrigerate.
Romano beans – Romano beans are more robust and meaty than green beans. They are excellent raw but really shine when braised (gently cooked for a long time).
Oranos snack peppers – We have a wonderful abundance of Oranos this year! They are a fabulous little package, crisp, jewel-toned, with very few seeds. They are great to pack in lunches or use for dips.

Your jalapeño is packed in your bag of beans so it is easy to identify. Your jalapeño could be red or green.
RECIPES by DEB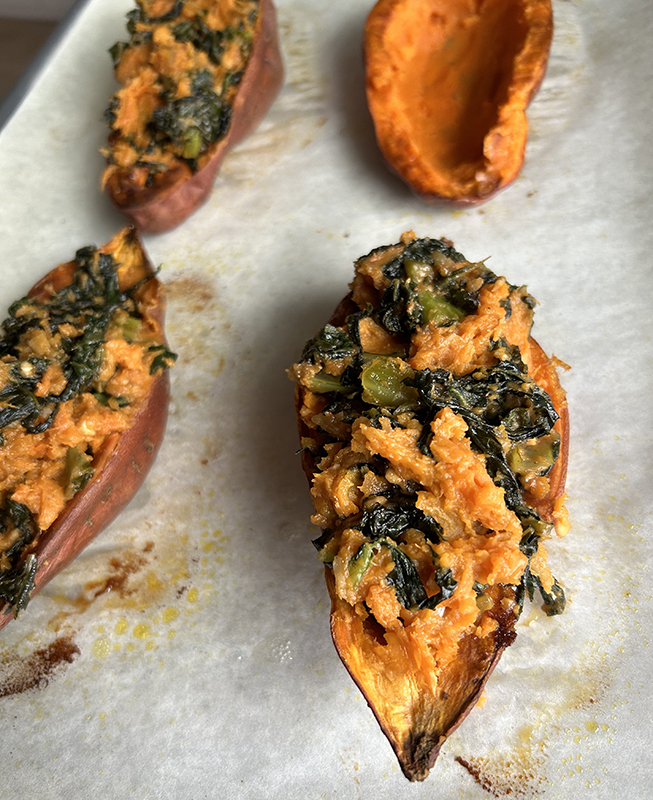 Sweet Potatoes Stuffed with Greens & Peanut Sauce
Serves: 4 as a side; 2 as a main course
Takes: 40 minutes to an hour to roast the potatoes; about 20 minutes active time to make the filling & stuff
The basic technique in this recipe can be varied many ways; try black beans with salsa and cheese, or swap tahini or almond butter for the peanut butter. It's not strictly necessary to scoop out the potato and stuff it back into the shell with the filling ingredients. You can simply pile the filling on top of the potato halves and serve. The stuffed sweet potatoes reheat beautifully in the microwave (or oven) and you can also roast the potatoes and refrigerate for later stuffing and eating. I tested this recipe with Koji greens (minus the stems) because that's what I had, but just about any green will work, such as kale or collards. If using a softer green like spinach use 1 pound instead of 8 ounces.
Potatoes:
2 large sweet potatoes, about 1 3/4 to 2 pounds
1 tablespoon vegetable oil
Filling:
1/2 pound greens, such as kale or collards, washed, large stems removed, and thinly sliced
2 tablespoons vegetable oil
kosher salt
2 large cloves of garlic, minced or put through a press
2 tablespoons fresh ginger, grated
1-2 tablespoons soy sauce or tamari
1 tablespoon brown sugar or honey or maple syrup
1 tablespoon rice vinegar
1 tablespoon Sriracha or other hot sauce, optional
1/4 – 1/3 cup natural peanut butter, smooth or crunchy (I like crunchy!)
Extra hot sauce and chopped peanuts for serving
Roast the potatoes: heat the oven to 350°. Scrub the potatoes and cut in half lengthwise. Arrange on a parchment lined baking sheet and drizzle with the oil. Turn the potatoes cut sides down and place in the oven and roast for 40 minutes to an hour until soft. Remove from the oven and cool until easy to handle.
Make the filling: Pour 2 tablespoons vegetable oil into a wide deep skillet with a lid. Heat over medium high heat. Add the greens and a few pinches of salt, stir to coat with oil, and cover and cook to wilt the greens, 5-10 minutes.
Reduce the heat and uncover the skillet and add the garlic, ginger, soy sauce, brown sugar, and rice vinegar. Stir and then add 1/4 cup peanut butter. Cover the pan over the lower heat for few minutes to melt the peanut butter. Stir and if it doesn't seem saucy enough to you, add more peanut butter.
Stuff the potatoes: Scoop out the centers of the sweet potatoes and mash into the greens and sauce. Spoon the filling back into the potato shells. Set the potatoes back in the oven for about 15 minutes to reheat and serve with optional hot sauce and peanuts. Alternatively cool the potatoes and reheat in the microwave (or oven) to eat later.
Cauliflower Coronation Salad
From DebsLunch
This is a vegetarian version of Coronation Salad, a curried chicken salad that was the official dish for Queen Elizabeth II's coronation in 1954. The chicken version is often served as a tea sandwich filling on buttered white bread; try this vegetarian version in pita or on a bed of greens. I think it would also be good on any type of sandwich roll. You could make this vegan by using egg-free mayo, and non-dairy yogurt in the dressing.
.
.

Celery Root Remoulade (Celeri Remoulade) | David Lebovitz
From David Lebovitz
Here's a French version of Celeriac Remoulade, or celery root slaw, from cookbook author David Lebovitz. Although it may be cooling off soon, the October weather so far has been a bit too warm for some of the other heartier preparations of celeriac, gratins or soups. Lebovitz discusses grating the celeriac into thick-ish shreds with a Moulinex grater so it keeps its crunch, but this type of grater is not widely availble in the U.S. A box grater will work; probably even better is to hand cut the celeriac into julienne with a good sharp knife. Peel the celeriac (Lebovitz provides illustrations), slice into thin rounds, and then slice the rounds into thin strips.
.
.

Romano Beans with Shallots and Bacon | Pinch and Swirl
From Pinch and Swirl
Romano beans are often braised with tomatoes (fresh or canned) and onions – Smitten Kitchen has a good recipe if you'd like to prepare yours that way. This recipe from Pinch and Swirl is a quicker saute with shallots and bacon. Subbing a similar amount of regular onions for the shallots will work just fine!
.
.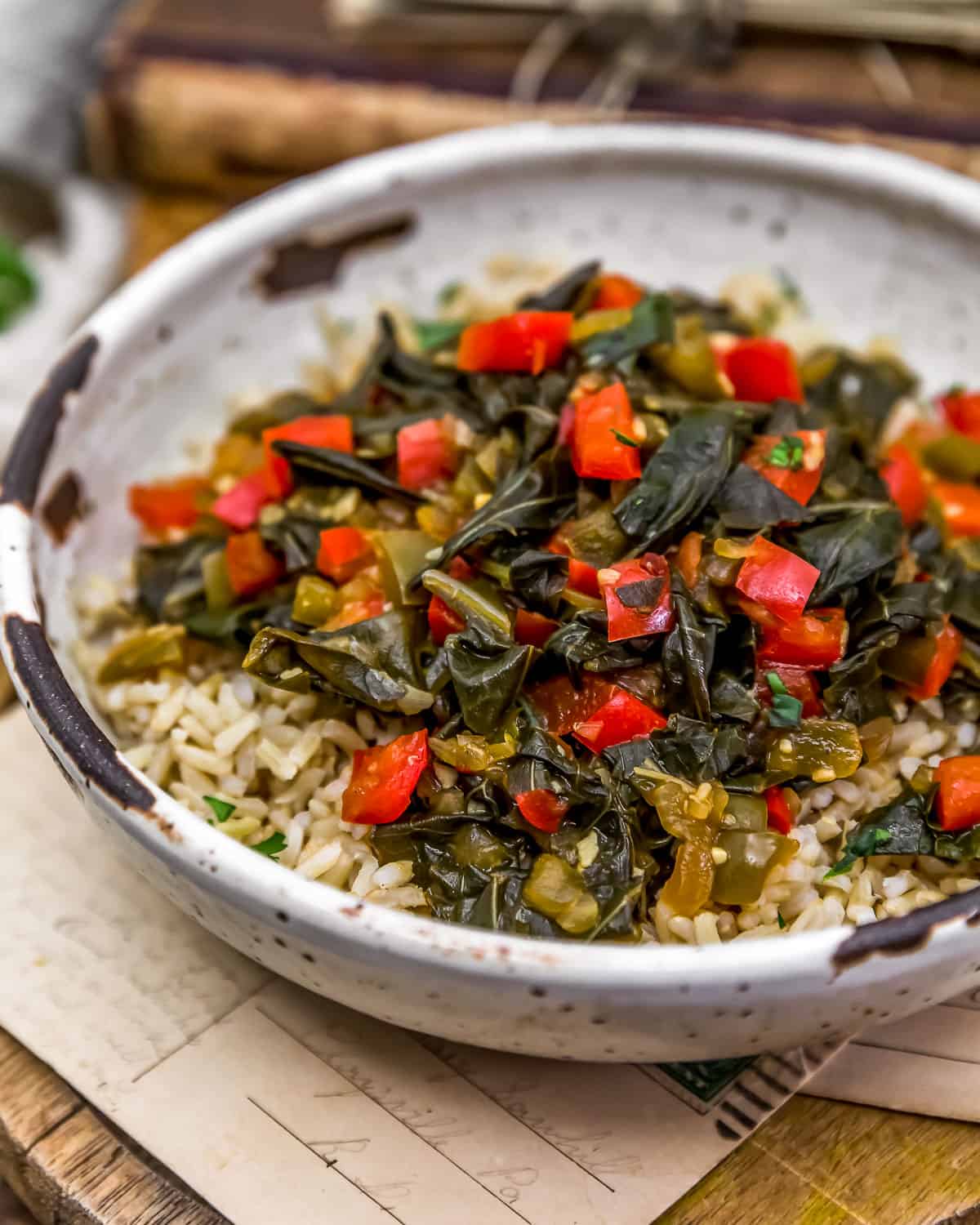 Sweet and Spicy Collard Greens | Monkey and Me Kitchen Adventures
From Monkey and Me Kitchen Adventures
This recipe combines the collards and sweet and hot peppers and onions from this week's box in a stir fry served over rice. Sauce ingredients include a number of dried spices, like garlic powder and onion powder, that you can omit in favor of fresh.
.
.

Vegetarian Sweet Potato Chili | Cookie and Kate
From Cookie and Kate
Along with sweet potatoes and peppers that we get in this week's box, this vegetarian chili recipe use black beans and kidney beans, either canned or cooked from dried. A nice substitution for one of the types of beans would be our Romano beans, cut into 1-2 inch lengths. You might even want to try some of the celeriac, cut into cubes and added with the onions, for a nice celery flavor in your chili.
.
.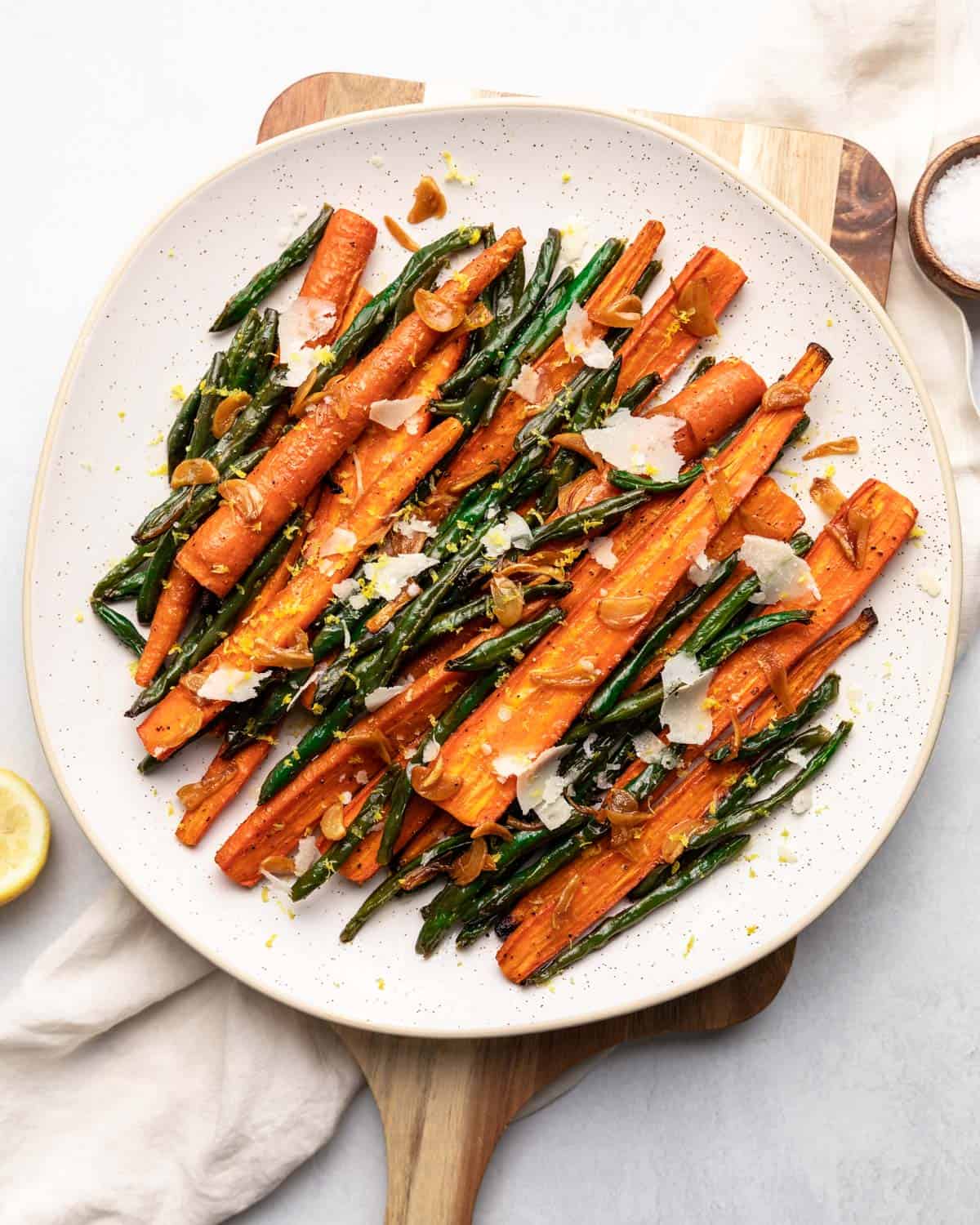 Roasted Green Beans and Carrots | Bites with Bri
From Bites with Bri
Originally written for regular green beans, the Romano beans in our box can sub in perfectly here, in this recipe that combines green beans and carrots roasted with a bit of honey and finished with a butter-garlic-lemon sauce and Parmesan cheese.